It's not something new and it's a deal that has been in the works for some time now, but as of yesterday it is finally official. According to Reuters:
U.S. President Barack Obama and European Union leaders will promise to remove all tariffs on bilateral trade at a summit on March 26, an ambitious step towards the world's largest free-trade deal, according to a draft statement seen by Reuters.

The joint declaration, if delivered as laid out in the draft, seeks to overcome tensions following Washington's offer to cut its duties by less than the Europeans had hoped for and after Brussels pledged to remove almost all of its own tariffs.

"The EU and the United States are firmly committed to concluding a comprehensive and ambitious Transatlantic Trade and Investment Partnership," the draft statement reads, referring to U.S.-EU free-trade talks by their official name.

"Those goals include eliminating all duties on bilateral goods trade," says the statement, which will be delivered at the end of the day-long summit in Brussels.
At last we here in Europe can purchase items from Amazon (NASDAQ:AMZN) and eBay (NASDAQ:EBAY), and many other U.S. retailers, without the European middleman, custom and service duties.
While most people in the U.S. can buy many items dirt cheap -- many times shipping included -- we here in Europe do not have that luxury, and we have to pay through the nose.
Just to give you an example, an item I was searching for that costs about 50 euros from Amazon U.S., costs about 25 euros more when import changers and duties are included, not counting shipping. This particular item is not available on Amazon U.K.. But if it was, I would be willing to pay a premium and have it shipped to Greece. But when the price is more than double, I did not order it.
Let me give you another example.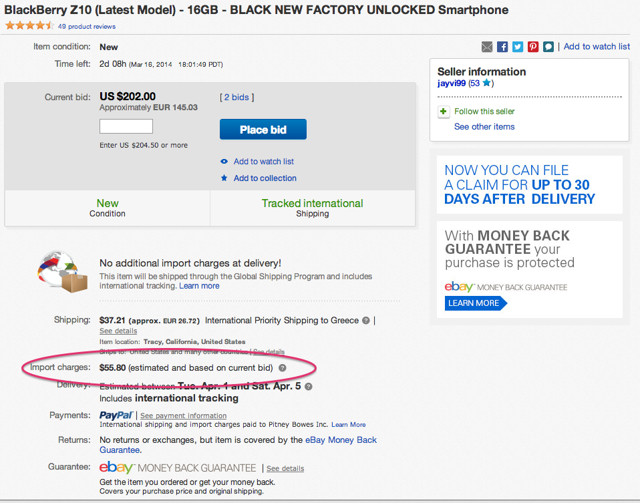 A while ago I was looking to buy a BlackBerry (NASDAQ:BBRY) Z10 device. Here in Greece it originally went on sale for about 600 euros (about $834), but today you get it for about 350 euros (about $487, if you look hard enough). But one can buy the Z10 for as low as $200 in several cases on eBay and Amazon.
In the picture above, if you look closely you will notice that on a $200 bid, the import charges are about $56, while shipping will cost $37.21. Believe it or not, that's still cheaper than buying it in Greece or most other parts of Europe. However with import charges now being waved, that will make it a whole lot easier for many Europeans to buy stuff directly from U.S. online retailers from now on.
Obviously the clear winners from this customs and or trade union will initially be Amazon and eBay, as well as many other U.S. specialty retailers, that sell things we simply can't get (or have to pay thought the nose for) in Europe.
But this will also add to the trade volume between the U.S. and Europe, so companies who transport goods like United Parcel Service (NYSE:UPS) and Federal Express (NYSE:FDX) will also benefit.
Not to say that many European companies will not benefit, but I think that the main beneficiary will be U.S. companies. And with the euro recording new highs as I write this article (EURUSD at 1.39), the bulk of the flow of goods will probably be from the U.S. towards Europe, rather than the other way around.
Disclosure: I have no positions in any stocks mentioned, and no plans to initiate any positions within the next 72 hours. I wrote this article myself, and it expresses my own opinions. I am not receiving compensation for it (other than from Seeking Alpha). I have no business relationship with any company whose stock is mentioned in this article.