Occasionally, uncertainty sweeps into the market based on macro- or specific company events or no news at all. In all cases, investors are apt to overreact and drive stock prices lower with no regard for the intrinsic value of the company. I am always marveled at how easy it is to unsettle investors. A few headlines are often enough to cause stock prices to fall or rise significantly -- dependent on the nature of the news.
While stock market indices and stocks themselves correct from time to time, I strictly adhere to Warren Buffett's advice "to be greedy when others are fearful and fearful when others are greedy." This certainly reflects a certain mindset: A long-term approach is superior to a short-term investment approach. The problem with short-term thinking is, that investors delude themselves by thinking that they are superior market timers. I don't think that this holds true for the majority of investors out there.
Embracing a long-term mindset (and acting opportunistically) is, in my opinion, the solid foundation needed to build long-term wealth. While most investors probably agree with such a statement, only a small group of investors really apply this philosophy. Less trading means less transaction costs -- you would be surprised in how much trading costs take off your percentage gains if you calculated it -- and lower capital gains taxes (depending on tax jurisdiction, of course). Long-term investors who purchase quality businesses when stock prices fall probably sleep better, too, with little emotional costs. Short-term investors, on the other hand, need to check stock prices constantly, as they need the market to pay them.
I think that income investors make up a large percentage of the "long-term oriented segment" because a great deal of such investors want to build sustainable retirement portfolios. As investors age, their propensity for risk taking declines. Naturally, investors in or nearing retirement look for stable income with the prospects of increasing distributions to account for the effects of inflation and the erosion of purchasing power. With many investors relying on dividend- and bond income to fund their retirement, quality businesses with attractive distribution growth prospects can fill potential cash flow gaps.
One such quality company is Kinder Morgan Energy Partners (NYSE:KMP). I am holding quite a few master limited partnerships/high yield plays in my income portfolio including Linn Energy (LINE), Atlas Pipeline Partners (NYSE:APL), Seadrill (NYSE:SDRL) and BreitBurn Energy Partners (BBEP). Most of them are high-growth companies who, at least in the past, have had outstanding distribution growth records. More importantly, the share/unit prices of some of those companies have contracted recently, making them even better income investments for investors who both want to act opportunistically and apply Warren Buffett's approach to long-term investing. Warren Buffett once said that his favorite holding period is "forever": Not needing to act carries an immense amount of power.
Kinder Morgan Energy Partners has fallen back below the $75 mark and currently quotes at $73.80 -- about 21% below its 52-week High at $92.99. I have been Long Kinder Morgan Energy Partners for quite a while and believe it is a superior long-term vehicle for income generation. I don't consider Kinder Morgan Energy Partners as a trade, but as a serious long-term commitment -- just like Warren Buffett approaches his investments.
(Source: Yahoo Finance, click to enlarge)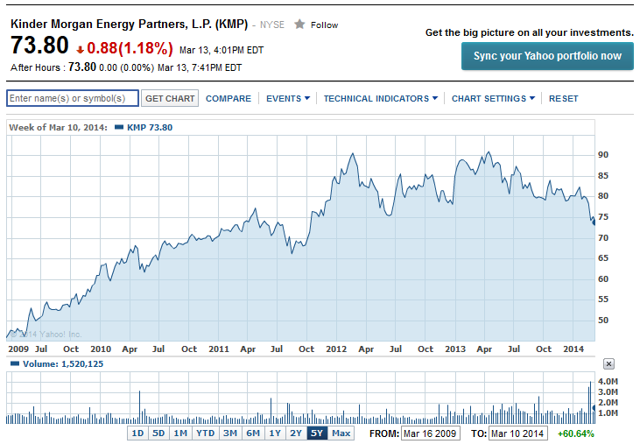 I have also used the pullback to add to my existing position in Kinder Morgan Energy Partners and believe opportunistic investors able to stomach short-term volatility could get a reasonable bargain here as well.
First of all, let's not forget that Kinder Morgan Energy Partners is a true elephant in the room with a market capitalization of $32 billion. Its pipeline network connects the most important shale plays in the United States and I expect solid tailwinds from an ongoing boom in domestic oil- and gas production. Incremental production growth will likely be driven by domestic shale plays and Kinder Morgan Energy Partners is greatly positioned to capitalize on that production growth. Industry dynamics are probably nowhere as attractive as in the onshore oil- and gas business and I anticipate solid growth in industry revenues, -earnings and distributable cash flows for 2014 and beyond.
Secondly, Kinder Morgan Energy Partners has an outstanding shareholder remuneration record with consistently increasing distributions as well as distributable cash flow. Kinder Morgan Energy Partners' currently distributes $1.36 per unit quarterly ($5.44 annually) which translates into an annualized distribution yield of 7.37%. Kinder Morgan Energy Partners' historical distribution stream also carries the implicit promise of prospective distribution growth.
Thirdly, I personally like the idea that I can invest alongside a billionaire who has build Kinder Morgan Energy Partners into what it is today: An industry-leading, high-growth master limited partnership. Richard Kinder, Chief Executive Officer and Chairman of Kinder Morgan Energy Partners, has not only consistently delivered for unitholders, but has also signaled his trust in the future prospects of the Kinder Morgan companies by repeatedly purchasing large blocks of Kinder Morgan, Inc. (NYSE:KMI) shares in the open market. A billionaire business owner who buys more shares when investor sentiment goes south, is the kind of guy I want to invest with.
Final thoughts
While I have repeatedly recommended Kinder Morgan Energy Partners due to an unwarranted change in investor sentiment, I don't think long-term investors who buy KMP as an income vehicle, really care whether they bought at an initial 6% or 7% yield ten years from now. Given Kinder Morgan Energy Partners' solid pipeline footprint in North America and tailwinds from a booming energy business, KMP should be able to deliver further cash flow- and distribution growth. Having a billionaire investor/CEO on my side makes the whole ride so much more comforting. Long-term BUY.
Disclosure: I am long KMP, BBEP, LINE, SDRL, APL. I wrote this article myself, and it expresses my own opinions. I am not receiving compensation for it (other than from Seeking Alpha). I have no business relationship with any company whose stock is mentioned in this article.