By Peter Peng
Last year marked a year of disappointment and uncertainty for potash producers driven by Uralkali's announcement of their breakup with Belarusian partners and the oligopoly pricing structure. Going forward, 2014 looks to provide some stabilization and optimism. Within the sector, PotashCorp (NYSE:POT) is creating long-term shareholder value through enhancing its competitive advantage and returning capital to investors. Significant completion of its expansionary project and a brighter potash environment should drive long-term returns while stabilizing prices could support short-term returns.
This article is the second in our megatrend series, a look at the trends that will drive markets over the next decade. Within each megatrend, we will focus on two companies with the potential to outperform. The idea is that, even if the individual companies fail to execute on their strategic plans, the overwhelming force from the megatrend should drive strong returns.
The article completes our look at the nutrient producers and follows the assessment for cybersecurity after several high-profile data breaches have verified the long-term outlook for the group.
Record crop production leads to nutrient replenishment
We established the need for greater nutrient application to meet yield needs in our prior article for the industry. Potash plays a central role in feeding the ever-growing world population. Used in conjunction with nitrogen and phosphate, it increases the yields of crops such as corn, soybeans, rice and coffee.
Corn production had a record-breaking year in 2013; production was up 29% on a year over year basis. Soybean production recorded its third largest yield on record. Favorable crop economics and the need to replenish soil nutrients led to a robust demand for potash even while lower prices weighed on top-line growth for suppliers.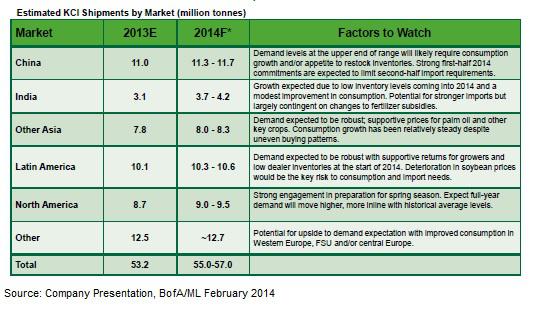 PotashCorp forecasts a potential for record setting shipments in 2014, with a 5% increase in global demand for potash. China remains the largest market for imported shipments though growth may slow in the second half of the year. Demand in Latin America is likely to be higher than expected on severe droughts across producing regions.
Market leader with a focus on enhancing operational efficiency and product mix
PotashCorp is the largest global seller of Potash, and is also a leading producer of nitrogen and phosphate. Capacity building and pricing weakness has led to stalling growth and build up of excess supply over the last year. Beginning 2014, PotashCorp lowered operational capacity in order to match underlying consumption, and optimized production at its lowest cost facilities.
Management is targeting a 25% cut in cost of production over the course of two years. The company's portfolio of products is much more diversified, focusing on higher margin products such as new ammonia, which has the highest gross margin among nitrogen sales. In comparison to PotashCorp's direct competitors, Mosaic (NYSE:MOS) and Agrium (NYSE:AGU), PotashCorp also has the highest allocation to feed and industrial use in its phosphate product mix. This diversification has helped the company achieve an economic moat within a tough environment.
Cash is king
PotashCorp reported disappointing fourth quarter earnings and projected weak guidance for 2014. Management expects to ship 8.2 to 8.6 million ton of potash, well below analyst's expectation of 9 million tons.
The company has strong cash flow from operating activities, generating $3.2 billion in 2013 and allowing the company to enhance long-term shareholder returns through cash return. Since the last quarter of 2010, the dividend has increased from $0.03 to $0.35 per share, an annualized compounded rate of 140%. The company now boasts an impressive 4.2% dividend yield, the highest among its peers.
Share prices have regained 20% since the announcement of the Uralkali price breakup but are still nearly 20% below the good-old oligopoly days. Shares currently trade at 16.7 times trailing earnings, near the median for the industry. PotashCorp is expected to report revenue of $6.16 billion, applying a profit margin of 26.51% would yield roughly $1.97 in earnings per share after accounting for stock repurchases.
PotashCorp's market leader position and high profit margin means shares should trade at a higher earnings multiple, higher than the industry average and closer to the stock's five-year average price multiple of 20.7 times earnings. This would lead to a target share price of $42.31, which is a 24% upside from the current price.
Over the next year, I would expect management to continue the $2 billion buyback strategic plan, reducing the outstanding share count by 5%. Operating cash flow has also been freed up due to the completion of several expansionary projects. I am modeling a moderate 17% dividend growth the next five years on revenue and cash flow analysis. Dividend growth may slow to 8.5% over the second stage and terminal growth is likely around 3%.

These assumptions are conservative given recent dividend growth and the free up of operating cash flow. The model argues for a floor value of $38.60, 13% above the current price.
PotashCorp is the market leader in the nutrients industry, poised to reap long-term benefits from the growth of the world population. The company has the highest capital return among the sector, mainly from its aggressive dividend and share buyback programs.
Disclosure: I have no positions in any stocks mentioned, and no plans to initiate any positions within the next 72 hours. I wrote this article myself, and it expresses my own opinions. I am not receiving compensation for it (other than from Seeking Alpha). I have no business relationship with any company whose stock is mentioned in this article.