As described by Market Eyewitness, one of Twitter's (NYSE:TWTR) key flaws that were seen in its IPO filing was its declining user-base growth rate. It is very clear that this user-base problem still exists.
Last month, Twitter was given a reality check to the intricacies of life as a publicly-traded entity. According to Reuters, Twitter had surpassed Wall Street estimates with a revenue total of 243 million dollars for the fourth quarter.
Yet, investors were not blinded by the lights. Besides being displeased with the decline in Twitter Timeline views, investors directed their attention to Twitter's sluggish user-base growth of 3.8% for the fourth quarter. This was the slowest user growth rate reported by Twitter since it started releasing these numbers. As a result, Twitter's shares crashed by 24% on the preceding trading day to close of $50.03.
Could Twitter's User-Base Growth Rate Decline Further?
A recent forecast by E-Marketer has made it plainly clear that Twitter's days of rapid user-base growth is in the distant past. Much to the dismay of investors, Twitter may have hit the maturity stage of the product life cycle.
According to the forecast, Twitter's yearly user-base growth rate in the U.S will be less than 10% by 2015. Additionally, the growth rate will steadily decline to an annual user growth of 6.4% by the year 2018. There are projected to be 64.9 million Twitter users by 2018.
As reported by the Wall Street Journal, Facebook's (NASDAQ:FB) current user base is twice the amount Twitter's projected user-base total in the U.S for 2018.
Ouch.
Twitter's User Growth and User Engagement Problem could affect Advertising Revenue in the Long-Term.
In Twitter's recently released 10-K document, Twitter acknowledged how critical user base growth, user engagement and ad engagement was to their revenue and overall success. Yet, one has to question the long-term viability of their advertising revenue if the firm's issues with user-base growth continue.
For the past three quarters, Twitter's average cost per ad engagement has declined by 46%, 20% and 18% respectively. However, this has occurred largely due to overall ad engagement increases of 124%, 58% and 74% for the last three quarters. Increases in ad engagement and declines in average cost per ad engagement has been the subsequent trend for Twitter overall in the past seven quarters.
Twitter acknowledged that the increase of overall ad engagements must continue otherwise its advertising revenue will start to decline. It is quite possible that the continued stagnation of Twitter's user growth may have an adverse effect on the overall ad engagement total eventually. In the following graphs, we can see the downward trends in Twitter's user growth y-o-y for the past eight quarters as far as U.S, international and worldwide monthly active users are concerned.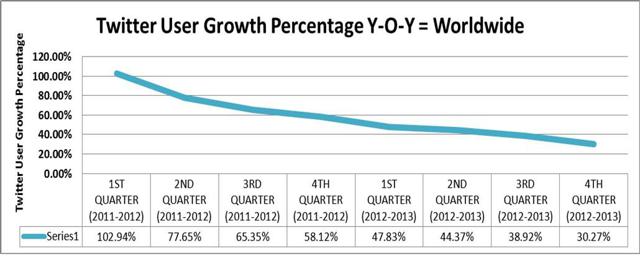 Not only does Twitter have a user-growth problem, they are on the cusp of a user-engagement problem as well. While Twitter's Timeline Views increased by 55% overall from 2012, there is clear evidence of a decline in the growth rate of Timeline views based on y-o-y growth and q-o-q growth. This is evidenced by the next two graphs. As evidenced by the 4th quarter totals of the Q/Q growth graph, it appears that an apparent decline in Timeline views may be under way.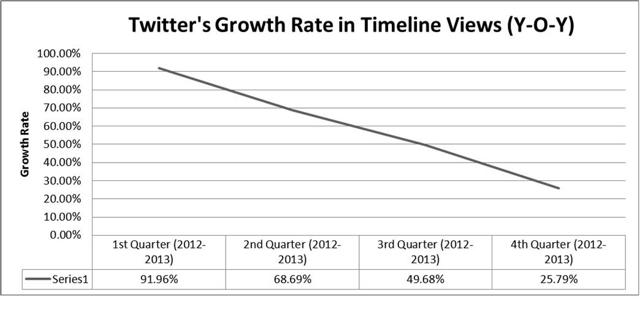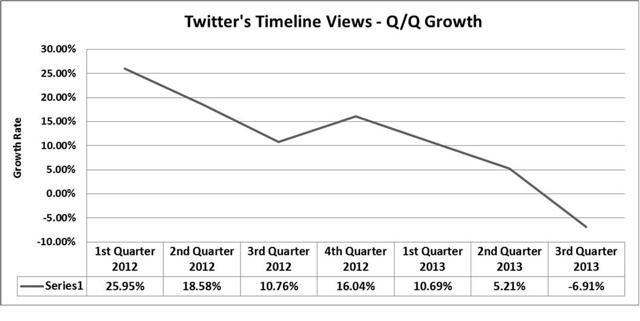 Twitter has touted the fact that its small advertising rates are attractive for small businesses and global advertisers. Yet, there may be potential limitations to a firm's advertising reach on Twitter if the user growth rate continues to decline. The firm has indicated that they expect to see the continued decline of advertising costs.
In the long-term, Twitter's advertising revenue may be adversely affected if the firm fails to develop a strategy to quell the stagnation of its user-based growth and user-engagement on Twitter.
Is there a Bright Side?
Twitter's user base is not only maturing in number totals, but in age as well. This can be seen in E-Marketer's latest forecast that measured Twitter user penetration in the U.S by age group. As you can see on the chart, the biggest potential increase in user penetration from 2013-2018 is in the 35-44 year old age group. If this forecast holds true, this is good news for Twitter in terms of ad engagement. After all, older users have an increased likelihood of ad engagement, as stated by E-Marketer.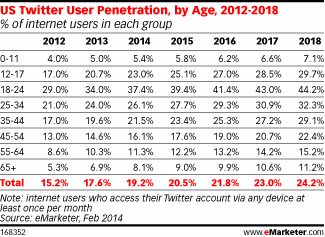 Additionally, Twitter is looking to capitalize on its sizable base of minorities that comprise their user-base. As you can see in the preceding graph by Business Insider Intelligence, a much larger share of Black and Hispanic Internet Users are on Twitter.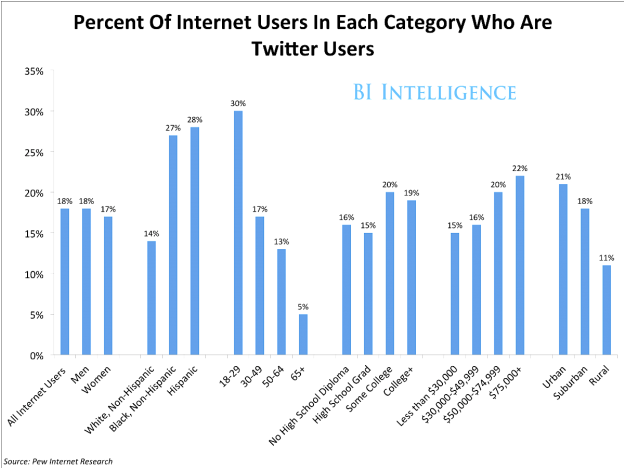 Twitter has a larger combined % share of blacks and Hispanics than Facebook and LinkedIn (NYSE:LNKD), as evidenced by the preceding graph.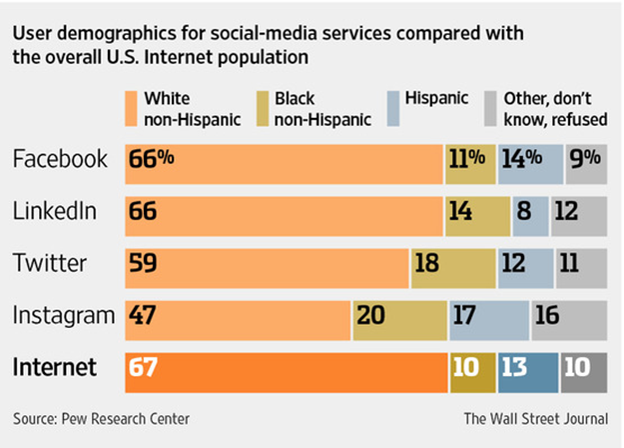 Thus, Twitter may be in a unique position to attract advertisers that are aiming to connect with minorities on social media. Recently, Twitter has played a key role in recent marketing campaigns by All-State Corp (NYSE:ALL) and Home Depot (NYSE:HD) surrounding issues that affect the African-American Community. Twitter has recently hired marketing maven Nuria Santamaria as multicultural strategist to aid the firm in generating revenue based on its demographics.
INVESTORS SHOULD SHORT TWITTER
Yet, Twitter's current efforts to make lemons out of lemonade can only go so far. It is hard for investors to be convinced of the long-term viability of Twitter right now as a stock given their user-base problems. After all, its user-base growth has saturated despite the fact that its user-base still pales in comparison to Facebook. As the graph below shows, the user-base deficit between Facebook and Twitter is very clear.

Thus, I feel that Twitter is in the midst of a reality check and is a good short play. According to CNNMoney, their 12-month median price and low price targets are $51.50 and $32.50 respectively. I feel that they are set for a drop to the $45 mark.
The lack of Twitter's user-base growth is the big elephant in the room. Until it is fixed, Twitter will continue to be mired in vulnerability.
Disclosure: I have no positions in any stocks mentioned, and no plans to initiate any positions within the next 72 hours. I wrote this article myself, and it expresses my own opinions. I am not receiving compensation for it (other than from Seeking Alpha). I have no business relationship with any company whose stock is mentioned in this article.