General Mills (NYSE:GIS) operates in the packaged food industry and is one of the largest breakfast food and snack companies in the world. General Mills has a well-diversified product portfolio to target the U.S. and international markets. The company has performed well and growth has been steady over the past five years. The net sales have increased by 6.70% compared to the previous year, operating profits have compounded at 6%, and adjusted earnings per share have grown by 5.08% compared to fiscal year 2012.
Looking ahead to fiscal 2014, General Mills reaffirmed its outlook for adjusted earnings in the range of $2.87 to $2.90 per share but noted that foreign currency effects are now expected to be a greater headwind than originally estimated.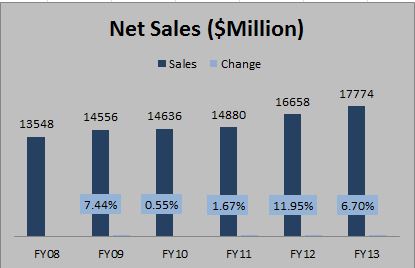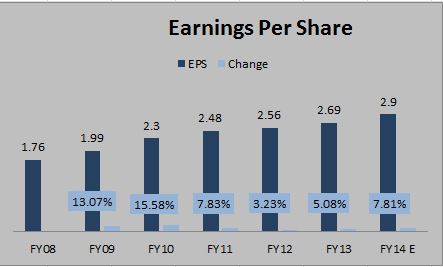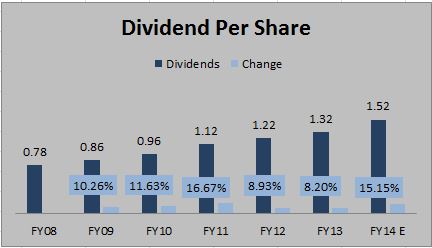 Source: Morningstar
Aggressive New Product Line-up
The U.S. retail segment of General Mills is the core business segment that contributed 60% to sales revenues for fiscal year 2013. However this segment has seen very low average growth of 1.3% annually over the past three years. To boost the growth General Mills has recently introduced an aggressive line-up of new products to target a greater number of customers. In the second-half of the company's fiscal year more than 50 new products will debut in the U.S. retail business and dozens of these products will join the international segment family.
This line-up builds on strong introductions during the first-half of the company's fiscal year 2014 with standouts including Nature Valley protein granola; Yoplait Greek blended yogurt, Nature Valley soft baked oatmeal squares and Old El Paso frozen entrees. Throughout the first-half of fiscal 2014 strong new product innovation from Fiber One and Nature Valley have driven a gain of nearly four more share points and retail sales gains of 11%.
According to Gallup daily tracking Americans spent an average of $87 daily in February a solid recovery after dipping to $78 in January which had been the lowest estimate in 14 months. The February 2014 average is slightly better than that of February 2013 ($83) and the strongest February since 2008. The ready-to-eat cereals are still popular as a breakfast choice in the U.S. with more than 90% of U.S. households purchasing cereals each year. The improving consumer spending combined with demand for General Mills' new product lineup will deliver good earnings and improving growth prospects can be expected.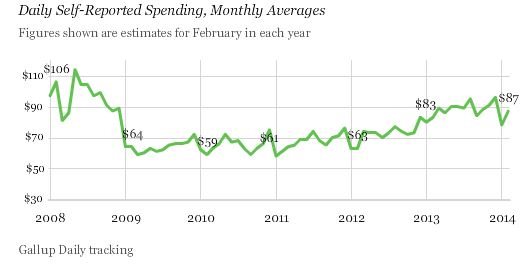 Source: Gallup
The Yogurt Market is Attractive for General Mills
Consumers are turning towards purchasing healthier foods and the demand for yogurt has increased in the U.S. as consumers prefer yogurt in their diet plan. The U.S. yogurt category market is primarily dominated by Greek yogurt with a 43% market share, followed by regular yogurt at 15% and light yogurt at 12%. The yogurt products are important components of General Mills' overall product portfolio and for fiscal year 2013 the yogurt sales were 15% of total portfolio sales with revenues of $2.9 billion. General Mills was late to the Greek yogurt category but the company is making its best attempts to capture market share. To do so company will launch a new marketing plan for its Yoplait Greek yogurt. General Mills' Yoplait Greek 100 succeeded in the market with $150 million sales in its first year and its Greek yogurt sales grew by 100% in the first quarter compared to 50% growth in the entire yogurt division.
General Mills launched Yoplait Greek blended yogurt during the first quarter of the current fiscal year in hopes of earning more revenues. The U.S. yogurt market possesses the potential for growth and it can be expected that General Mills can grab market share through its popular yogurt portfolio.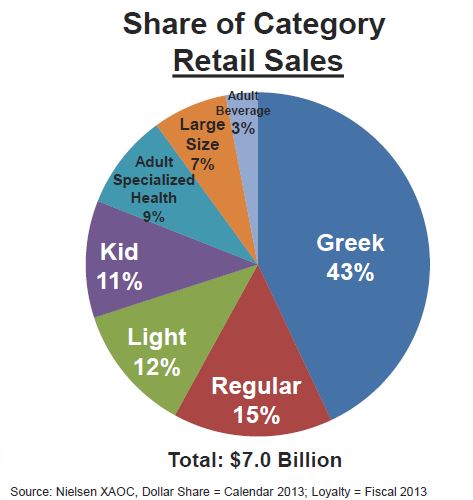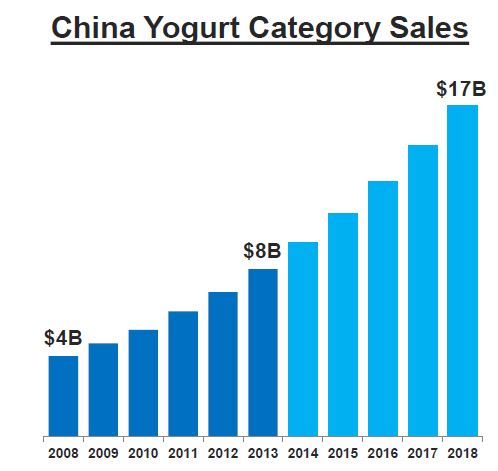 Source: presentation
General Mills has set an eye on the attractive yogurt market in China and the company is starting to build a yogurt plant in China. Category sales have doubled in the last five years to $8 billion and are projected to more than double again in the next five years. Considering the growth potential, this new production facility will enhance General Mills' market reach and one can expect that its Greek yogurt will also be successful in China.
Expansion into the International Markets
The U.S. cereal and snack market is at its maturity stage and the changing diet habits of consumers caused a downfall for cereal demand. In this situation the snack and cereal market is experiencing accelerating growth prospects in the emerging markets. General Mills' international business segment, relatively small compared to the U.S. retail segment, has shown the highest growth among all of the company's segments. General Mills' international sales have been growing by 10% annually compared to U.S. retail sales growth of 1 to 3 percent.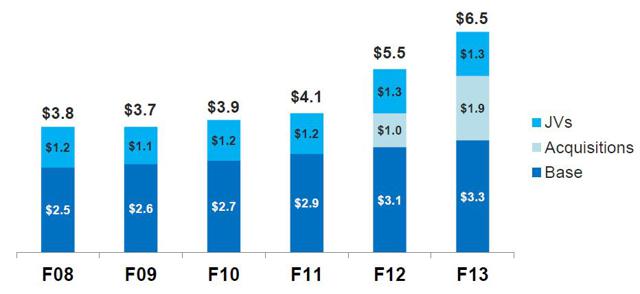 Source: presentation
General Mills' recent international acquisitions of Yoki Alimentos S.A. in Brazil and Yoplait in Canada have been quite successful so far. The company intends to continue its expansion strategy and during an investment conference in Florida General Mills' officials told reporters that the company will look for opportunities to expand its snack, ice cream, and other businesses in fast-growing markets such as China, India, Indonesia, the Middle East and North Africa. If General Mills goes ahead with these expansion plans then combined with existing international operations these expansions can be a core driver for the future growth.
Dividend Profile, Valuation and Conclusion
General Mills has a 115 year history of returning value to shareholders. Over this long period the company has delivered stable and growing dividends. For fiscal year 2013 the annual dividends were $1.32 per share reflecting an increase of 8.20% compared to fiscal year 2012, and a dividend yield of 3% which is not very high but it is quite stable. For the current fiscal year General Mills has estimated a dividend per share of $1.52 with an increase of around 15.2%. The company holds trailing twelve months free cash flows of $1,999 million after allowing capital expenditures of $619 million. Keeping in mind the pretty good cash flows position it can be expected that General Mills' future dividends will be safe and steadily growing.
The General Mills stock is currently trading at trailing twelve months P/E ratio of 18.90X compared to the industry average of 20.80X. This stock is cheaper than the industry at a discount of around 9%. It is more attractive with a forward P/E ratio of 15.4X and a 5 year expected growth of 7.5%.
General Mills' recent measure to accelerate growth in the U.S. retail segment will help the company. The expansion in the emerging markets and the recent acquisitions' synergy benefits in the coming year will boost the earnings. I believe General Mills possesses very good growth prospects and the company will maintain its returns history. I will give this stock a buy rating due to the long-term returns.
Disclosure: I have no positions in any stocks mentioned, and no plans to initiate any positions within the next 72 hours.
Business relationship disclosure: The article has been written by a Blackstone Equity Research research analyst. Blackstone Equity Research is not receiving compensation for it (other than from Seeking Alpha). Blackstone Equity Research has no business relationship with any company whose stock is mentioned in this article.