BlackBerry (NASDAQ:BBRY) has done exceptionally well and the stock is up over 21% year-to-date. In my previous articles, I have discussed the prospects of QNX as it grows its market share with Ford (NYSE:F) on its side. In addition to that, I discussed the threat of new entrants, Apple (NASDAQ:AAPL) and Google (GOOG), and how they can impact the car infotainment systems. As it happened in the case of smartphones, there was a threat that BlackBerry would have its lunch eaten by these two giants. However, this is not the case after all, but the opposite of it, creating favorable conditions for BlackBerry. Further, the cost reduction strategy for the company may make it profitable soon.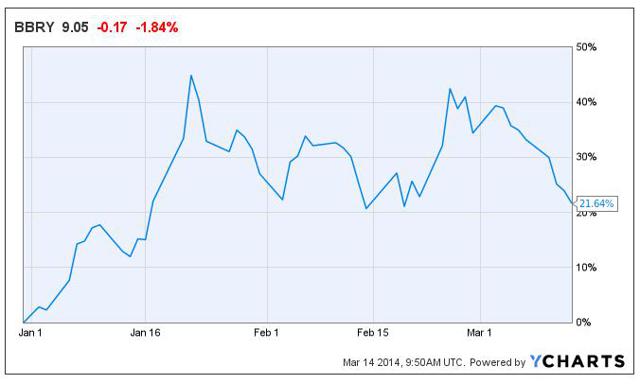 QNX's Position Gets Better
QNX is a layering software on which the infotainment software is supported and run. It is like the system software in your computer with which you don't interact, but acts as pillars for operating systems like Microsoft's (NASDAQ:MSFT) operating system, Windows. The two major players in the car infotainment system are Microsoft and BlackBerry. Apple and Google have been preparing to move into this market since last year as the segment has huge potential to grow.
It was recently revealed that Apple's infotainment system is also based on QNX. This makes it an opportunity rather than a threat for BlackBerry. The company already has around 50- 70% of market share through QNX, and it is already getting an upper hand on Microsoft. As Apple places its roots in the market, it would give more of the market share to BlackBerry as Apple's software also runs on QNX. Although it has not been announced publicly, it is expected that Google's infotainment software would also run on QNX. The way things are going, QNX may end up having a monopoly in vehicle infotainment systems.
However, all that matters is whether the company can make profits on this software. BlackBerry has not disclosed any information as to how much cash it can generate holding this asset. However, as QNX becomes the preferred platform for the car infotainment segment, it will certainly give BlackBerry considerable leverage to extract revenue from this segment.
Fundamentals Will Show an Improvement
BlackBerry is still going through a turnaround and the losses from the handsets business are still huge. However, the company has shown progress in its restructuring plan to reduce its cost. It has recently announced that it is selling its building in Irving, Texas, and leasing back 37% of it. Moreover, the company has also announced that it plans to sell and lease back its headquarters in Canada, which accounts for more than 3 million square feet of office space. This will improve the financial position of the company and provide liquidity.
The trend of selling the property and leasing it back is becoming popular, especially with the companies making a turnaround - we have seen Zynga (NASDAQ:ZNGA) do the same and this measure actually helps bring in some cash flow to tackle concerns about liquidity. In addition, the company will reduce its workforce by 40% by laying off 4,500 employees by May 2014. This will further improve its operating margin and bring the company toward profitability.
Security: A Niche Market?
BlackBerry has always been preferred in terms of security. For instance, the Department of Defense is only allowed to use BlackBerry in order to secure privacy. The news about Department of Defense supporting BlackBerry took the stock higher. BlackBerry has lost heavily to the other smartphone manufacturers in the consumer market, and some loyal government departments may be the only customers the company has for its smartphones in the future - this might not be as bad as it looks for BlackBerry. In fact, the superior feature of security should allow the company to target government agencies and also push its enterprise services. BlackBerry's Enterprise chief has plans to take the company further in this direction as it already has a competitive advantage.
Conclusion
Although we have been getting good news about BlackBerry, the company still has a long way to go in terms of profitability. John Chen is using the right strategy of smartly shifting the company's concentration in its product mix and focus on the areas, which have the potential to grow. However, these strategies would take some time to show real progress and the shareholders will need to be patient. Moreover, the restructuring of the company would allow it to drastically reduce its expenses and increase its profitability. It would also free up some cash for research and development. The products are available for the company to grow in the future. QNX, enterprise services and security features will drive the future growth of the company.
Disclosure: I have no positions in any stocks mentioned, and no plans to initiate any positions within the next 72 hours.
Business relationship disclosure: I have no positions in any stocks mentioned, and no plans to initiate any positions within the next 72 hours. IAEResearch is not a registered investment advisor or broker/dealer. This article was written by an analyst at IAEResearch and represents his/her personal opinion about the companies mentioned in the article. The article is for informational purposes only and it should not be taken as investment advice. Investors are encouraged to conduct their own due diligence before making an investment decision. I am not receiving any compensation (other than from Seeking Alpha) for this article, and have no relationship with the companies mentioned in the article.