When we last left the Questcor (QCOR) saga, it was the day Questcor released its 8-K admitting that Citron's lab results matched what the company was selling, according to Acthar's label.
The debate came to a head when Questcor came out and basically said to Citron, "You're right in what you found, but it's consistent with what's on the label". That led me to believe, if that was true, Questcor potentially had an out - and it gave me a little pause.
If that was the case, the questions regarding Questcor were then questions about how the company marketed and branded the drug as "highly purified", and whether or not the FDA took exception with any of that. The stock has yet to find the confidence it had the week before Citron's ACTH report, trading in the low $60s since then.
However, Citron's report today claims that there is still a case at the chemistry level, which could potentially eliminate a ton of outs for Questcor's explanation of what's going on.
As a reminder, here's the amino sequence that's listed on Acthar's label: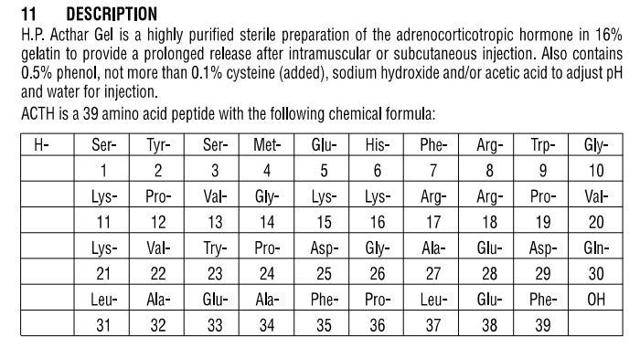 I concluded in my last article that the final questions regarding Acthar were going to have to be answered by the FDA:
However, the very interesting thing is that point 11, thought it doesn't mention deamidation, it shows an ASP in the sequence. So, yes, it is actually possible that the FDA did approve the product as tested by Citron. Then, it becomes a case about simply whether or not the product has been mislabeled.

Which again leads to me the point: if Questcor is misrepresenting the drug as "highly purified" and there isn't any of the active ingredients in it, why do they not have to run clinical trials on it? How can you serve up a drug to someone with the active ingredients seemingly listed wrong and without full and firm cognition of what is making it work? The drug was grandfathered in under the basis of ACTH being the active ingredient - no questions asked. How is Questcor allowed to just come out and say, "Oh, we've found some other stuff in it that's making it work, too" and continue to keep their previous indication without running more clinical trials? Especially when the synthetic version of the drug, which sells for tens of thousands of dollars less per vial, hasn't been shown to have major clinical advantage over the deamidized drug itself?

And again, without knowing with absolute certainty what's making it work, how do insurance companies feel about having to pay the $28,000 markup per vial, while company insiders make money hand over fist?
Today, Citron's article asks some of these same questions.
They claim that the amino sequence, as listed on the label, is not the amino sequence for "deamidated porcine corticotropin", per a 1972 publication that cleared up a question about amino sequence positions 25 and 30.
Today's release alleges that the amino sequence found in the Acthar samples Citron took to their lab wasn't even "deamidated porcine corticotropin" that the company claims it was - and still, not "highly purified ACTH".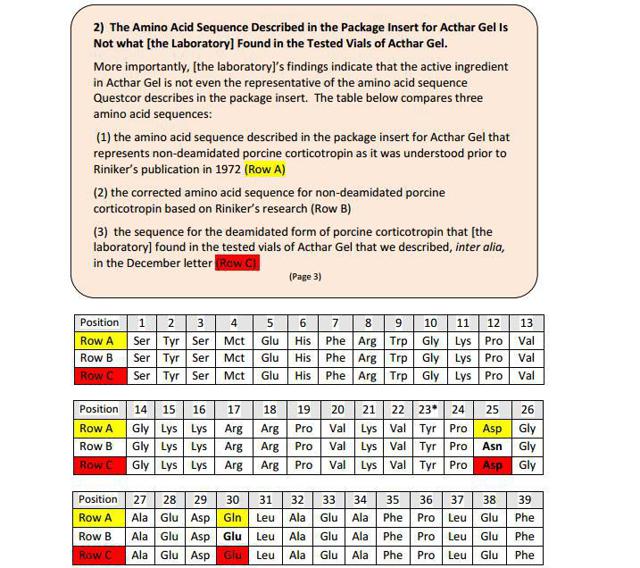 If true, this again turns the question from a labeling/promotional question, back to the question of the chemistry yet again.
There were small talks bouncing around on Twitter amongst a couple of doctors and biochemists that had pointed out that the sequence is wrong in one position - the label shows the old sequence of the drug. If true, this is an entirely different drug than what is on QCOR's Acthar label, and one that would likely require clinical trials and the like all over again. Not to mention, if QCOR was doing it knowingly, that's a whole other bag of worms.
Citron also makes the claim that the samples they tested did not even contain the correct concentration of corticotropin - whether its "highly purified" or "deamidated".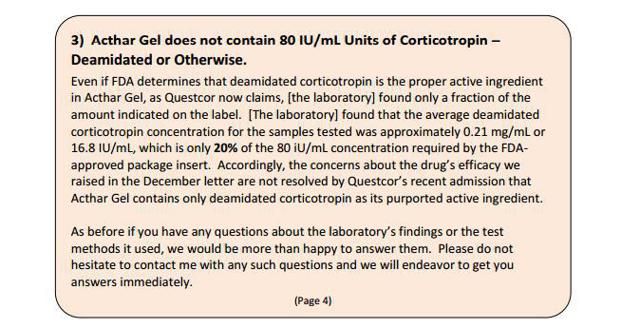 Further, what makes things worse, if Citron's claims are correct, Questcor has been selling a diluted drug - one that it's charging tens of thousands of dollars per vial for. Citron's claims, I'll admit, may seem lofty. There's a road to follow down Citron's case that they want you to believe could lead to the biggest placebo story in history - if they're proven.
For now, that remains to be seen.
I am eagerly awaiting the company's response to Citron's latest report.
However, Questcor bulls have won the day, which saw the stock trading up in the face of this news, as Zacks came out and offered a bullish report on Questcor at the same time. QCOR is near the top of my big board today, trading up 2.8% at the time of me writing this, off its highs of $63.69 for the day.
The ball is in the court of the company to refute Citron's claims today. As the company already acknowledged that Citron's original report found what is consistent with what they found, the odds of the lab that Citron used being questionable are much lower now.
This was my one out for QCOR, and if Citron's claims hold, this will be a really big deal.
I increased my position in QCOR puts today accordingly, and reserve the right to change, add, sell, or modify my position at any time without notice.
Best of luck to all investors.
Disclosure: I am short QCOR. I wrote this article myself, and it expresses my own opinions. I am not receiving compensation for it (other than from Seeking Alpha). I have no business relationship with any company whose stock is mentioned in this article.
Additional disclosure: I'm short through various option spreads.