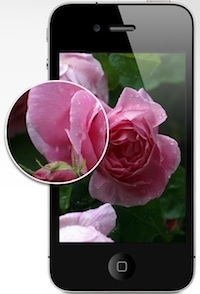 I think the most important thing about the iPhone launch was not revealed during the keynote, but instead came from an FCC filing that was made public Monday. The iPhone 4 supports five radio bands, up from 4 in the 3GS. The technical jargon is that it supports UMTS I, II, V, VI, VIII (1, 2, 5, 6, 8 ). The UMTS band 6 (800 MHz) is particularly key because that band is used widely in Asia instead of the more traditional bands used in the US and Europe; as a result, the iPhone 4 should have better coverage and therefore sell better in some Asian markets like Japan and New Zealand. By the way, a bunch of European markets will come onto this 800 MHz as they decommission analog networks over the next few years. So bottom line: the iPhone 4 is only the second true pentaband world phone made (the first is the Nokia (NYSE:NOK) N8).
I also think the iPhone 4 will sell well because of its build quality. As is often the case with Apple (NASDAQ:AAPL), the whole product is better than the sum of its features. The integrated antennas for the radios, for example, will help Apple get past the iPhone's reputation for being a great data device but a mediocre phone. The high-resolution Retina display and the larger battery should also be differentiators from other hero phones such as the Evo (although I have to say, the EVO is a lovely phone - huge, but lovely). I also think putting all this in a phone that is one of the thinnest on the market is impressive.
I'm not that thrilled by Facetime handheld video conferencing yet, simply because it's iPhone to iPhone and WiFi only for the moment. I have video iChat on my computer and I use it maybe once or twice a year. To my mind, the voice and data features of iPhone 4 are more than enough reason to buy it. I don't see phone videoconferencing as a must-have feature. But being able to both capture and edit 720p video is a definite plus (and a reason I'll be keeping an eye on my AT&T (NYSE:T) bandwidth caps; see my report coming in the next couple of days for details on that).
Last, I'll repeat what I said about the iPad: consumers buy a product, not a list of features. They like to touch, feel, and handle a product before they buy it, and Apple has a unique resource in its approaching 300 Apple Stores worldwide that let consumers do that. I'm writing a second report this month on why these iPhone customers are so valuable to mobile operators, but prior to that, I'll just say one thing: with more than 50 million visitors handling iPhone 4s each year, Apple will sell a lot of them, regardless of the feature list. Nowadays, that's the Apple magic.