(This article covers a microcap stock, investors should be aware of the risks associated and perform their own due diligence or seek professional advice prior to any investment.)
I want to be clear that there is a lot of fact in this article, but also a good deal of supposition. The supposition is not without merit, and in all cases, is founded on basic common sense, along with whatever financial information I could find to support or disprove it. I have found that investing in stocks is a little like doing a dot-to-dot puzzle. If you start by pulling out your ruler and joining the points with hard definite lines, you almost always end up with a crude representation. On the other hand, if you pause, take a step back and add a little imagination, if you add the odd curve at the appropriate time, then you can end up with a much clearer picture. The difference between an octagon and a circle can come down to how you join the dots.
The Dots
Some are press releases, some are SEC filings, but all have relevance in their own way. Unless you have been paying attention to this stock, it is very easy to overlook the value of each of these individual statements. Most financial websites do not even bother to report everything that has been happening, and there is very little info as to what the implication of these events may be.
Thursday, February 27, 2014
Thursday, March 6, 2014
Looking at the last couple of announcements begs one question;
Why is this little company able to attract some of the best and brightest minds in the tech world?
This has been a common theme since the new CEO took over last year. All of the recruits over the last year are top-shelf talent. Some of them coming from backgrounds like Yahoo (YHOO), when it was a small start-up. Many of them have come from Traffic Marketplace or other locations that the CEO founded or ran. Most of them have founded their own successful start-ups, but all have a long career in this field.
So why are they all here?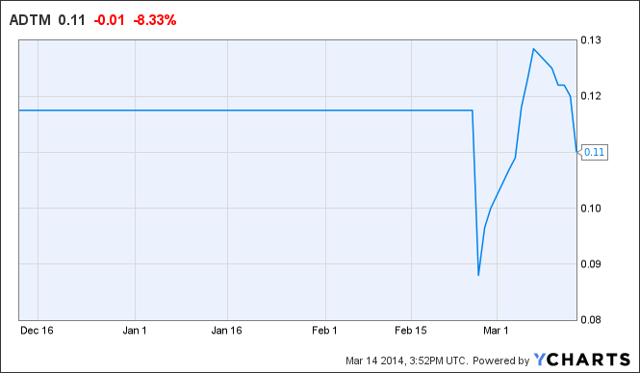 Until recently, you could say that the stock performance has been flat. A lot of the reason for this is the legacy selling that was tied to the practice of using shares to pay outside contractors and settlements for former employees. I discussed this previously in another article, so I will just say that it has aided in suppressing price. Even with all the good news that has been being released, we have seen little recognition of the hard work reflected in the share price. When I say legacy, I mean left over from the old Mimvi management. The new management has been trying to clean up the balance sheet and stop these dilutive practices. I believe the last such issue was taken care of on Feb 11th, with the retirement of the Gemini note. Even without any revenue growth, the stock should have received some recognition for the other steps taken.
Some smart guy recently reminded me that;
"With respect to "figures," I would urge you to keep in mind that companies at this stage are valued by a LOT of factors, not just revenues and EPS. Other very relevant and important factors are "technology platform," "products," "scalability," "team," etc. For example, in the event of an acquisition by a much larger company, which is certainly a potential outcome for Adaptive some day, a bigger player will likely care more about the products and underlying technology, its scalability, and the team that's behind it. A big fish has its own sales, marketing and distribution and if they like what they are doing they'll assume they can crank up the revenues."
I covered the Ember merger in a previous article and explained why I felt it would be accretive. On Tuesday, the 5th, Mobile Guru released an article echoing my thoughts. The main focus of that article, as related to ADTM, was the Real-Time Biding Platform (RTB). It had a nice comparison with Rocket Fuel (NASDAQ:FUEL). They may be involved in the same space, but the potential is radically different. I believe that he gave ADTM a conservative estimate of $10 million in revenues during 2014. If we consider just the OneScreen contract, you will see why I feel that is inadequate.
The ticker symbol is now defunct, but useful for historical reference. According to Yahoo Finance and Bloomberg, OneScreen reported FY 2010 revenues of $2.2 million. That was the last data point I could find for it, other than this press release: November 13, 2013
OneScreen Ranks No. 105 Fastest Growing Company in North ...
North America, in case you were wondering. According to that article and the ranking run by Deloitte Technology Fast 500, OneScreen saw revenue growth of 1,615% from 2007 to 2012. I know that the $2.2 million is from 2010, but if you do the math, you can get a decent figure. I get to about $38 million per annum by the end of 2014. There is no reason to think that growth has slowed. The fact is that if the revenues from Facebook (NASDAQ:FB) and others are anything to go by, it has accelerated. I know that the numbers are a little out of date, but the $15.8 million stated in the press release for FY2012 is just in line with my estimated growth rate. We are only looking at 120%+ growth over 2 years. I know it sounds like a lot, but Rocket Fuel is expected to grow at 240% this year alone.
The estimated $38 million would average $9.47 million per quarter. $9.47 million per quarter is a decent sum, even 80% of that is a decent sum $7.5 million. 80% is important because… ?
According to the SEC filing and press release on February 13th, 2014, Adaptive Medias should receive 80% of revenues from OneScreen for the first quarter in 2014, about $7.5 million or so.
The Licensing agreement only carries through the first quarter of the year. It could, therefore, be argued it only adds 7.5 million to revenues. There is no guarantee that the relationship will develop, and perhaps this is where Mobile Guru got his $10 million estimate. I disagree; the speed with which this initial agreement was reached is a good indicator that both parties are serious. Additionally, why else would OneScreen be giving away 80% of its revenue stream? Surely, it is not just for laughs.
Incidentally, the company that ranked #1 on the Fast 500 list last year was Rocket Fuel. With the Ember deal done, additional revenues from OneScreen and Beanstock, and three quarters of the year left to grow, Adaptive could find itself placed very high on the Fast 500 list next time round.
The Next Earnings Release
In thousands

Q3 2013

Actual

Q4 2013

Estimate

FY 2013

Estimate

Adaptive Medias

375

475

850

Ember

125

125

Total

375

600

975
In terms of estimating the Q4 revenues, we really have nothing to go on other than what the company has been spending in Q1 2014. I would like to start with the Feb 11th announcement and the retirement of Gemini's debt. As a rough figure, it paid $300K cash, that had to come from somewhere and we will attribute it to Q4 revenues. There was also another $100K cash loan done in December, and it also had to run the business. That gets us to a minimum of $400K+. Ember must also have contributed something, even though the merger was completed late in the quarter. The true value of Ember is the RTB, but I believe it was generating some revenue. I low-balled at $125K just to put something in there. The real value, as I just said, is in the RTB, which gives Adaptive an end-to-end product and is helping to attract more custom. We should get actual numbers by the end of the month.
To focus on the Gemini debt for a second, it was due in May and it had 4 million warrants. Essentially, it got out of the deal without Gemini making too much money, and gaining a little over a million shares.
Why would Gemini agree to this? It is not in the business of lending money to lose out. Gemini must be fairly confident that the 1.4 million shares it got in the deal will be worth something very soon; preferably before May. As long as the dilution is over, there is opportunity here!
Connecting the Dots 2014
The figures here are for revenues only. I do not expect to see positive EPS for any quarter this year. All this recruitment, mergers, licensing, etc. is expensive. I should also mention increased overheads, going from 20 to 50 employees. The additional 30 employees would come from OneScreen, if an agreement is finalized. Some of this is offset by the $100K per month synergies announced during the Adaptive/Mimvi merger. There are doubtless more synergies to be had with the new mergers, but they will take time to come to fruition. Be patient and let them materialize.
| | | | | | |
| --- | --- | --- | --- | --- | --- |
| In Millions | Q1 2014 | Q2 2014 | Q3 2014 | Q4 2014 | FY 2014 |
| ADTM | 1.01 | 1.2 | 1.3 | 1.43 | 4.95 |
| OneScreen | 3.16 | 3.16 | 3.16 | 3.16 | 12.62 |
| BeanStock | 0 | 1 | 1.1 | 1.21 | 3.31 |
| Total | 4.17 | 5.36 | 5.56 | 5.80 | 20.91 |
In this first table, OneScreen is only contributing 80% of the $15.8 million stated for 2012. In this scenario, OneScreen effectively had no growth at all after 2012. Even using those figures, it is possible to come to a revenue estimate of $20.91 million for Adaptive this year. That is a little more than a 2300% increase from my FY 2013 estimate. This is also assuming that OneScreen and Adaptive come to a long-term arrangement.
| | | | | | |
| --- | --- | --- | --- | --- | --- |
| In Millions | Q1 2014 | Q2 2014 | Q3 2014 | Q4 2014 | FY 2014 |
| ADTM | 1.01 | 1.2 | 1.3 | 1.43 | 4.95 |
| OneScreen | 7.5 | 7.5 | 7.5 | 7.5 | 30 |
| BeanStock | 0 | 1 | 1.1 | 1.21 | 3.31 |
| Total | 8.51 | 9.7 | 9.9 | 10.14 | 38.25 |
In both the tables above, Ember is now included in ADTM revenues. Although all of these numbers will be attributed to ADTM, I have broken it down to better show when each component becomes part of overall revenues for ADTM. Note, I am also considering a 10% per quarter growth rate for core ADTM revenues, which I believe to be conservative. I have applied the same idea to Beanstock, and held OneScreen flat. In this second table, I am using my estimate of $38 million for OneScreen and attributing 80% of that to Adaptive. Again, this assumes that Adaptive and OneScreen come to a long-term arrangement.
It is easy to come to a figure close to $40 million, even being conservative. This also does not take into account the possibility of them signing another major account in the last 3 quarters of the year. This is just what we know about!
I hope you can now see why I felt that Mobile Guru's projection of $10 million was just a little too conservative. I would also point out that this is an election year, and there will be a lot of cash available for targeted marketing. Targeted marketing is something that Adaptive should excel at, and opens the door to some even greater revenues. This could all be pie in the sky, but I would ask you again to consider: Why is this little company able to attract some of the best and brightest minds in the tech world?
Or,
What do they know that you don't? These are not stupid people, many of them have already founded their own successful companies. Many of these companies are being Ad- or Absorbed by Adaptive at little or no cost to Adaptive Medias.
Can you explain why that is happening?
Summary, price target and justification for this overly bullish article.
Perhaps I am just wrong. I have no idea what OneScreen did in revenue after 2012. It is possible revenues fell off to $100 and I have overestimated the 1,615% increase in sales by over $28 million. Perhaps all of these seasoned IT execs are all insane and just hitching themselves to this little nothing of a company for fun. Maybe Adaptive Medias has made such an effort to clean up its balance sheet purely for the sake of appearances. It is also possible that no one is interested in the products that this company is offering and that there will be no growth. By drawing the odd curve instead of a straight line, I am unable to believe this is true. The one area I entirely agree with Mobile Guru about is: if you could have been involved with Rocket Fuel a year before it went public, you would have made a fortune. Adaptive Medias is a publicly traded opportunity to do just that.
When I fist mentioned Adaptive or (MIMV) in an article, it was alongside Himax Technologies (NASDAQ:HIMX). I received a lot of flak for suggesting that I was taking some of my profits from Himax and was willing to invest in this little start-up.
When I first started to cover Himax on here, it traded at only $1.58. Two years later, and Himax is hovering around $15. I wonder now, six months later, if any of those people who were so upset at that first article are even reading this one. If they are, I would like to know; are you starting to see any value here?
So, if it has the "technology platform," "products," "scalability," "team," and is now adding revenues; it is already buy-out material. I have suggested a few suitors in previous articles. If I am even half right about this year's revenues, does that not make it even more attractive?
I have previously felt that a price target of $1.20 was appropriate for the end of the year. That was when I anticipated moderate revenue growth. I now feel it may be a little inadequate.
So is the cat now out of the bag? That is up to you to decide, but my own opinion is that there are not enough people reading this article or others for ADTM to be fully appreciated yet. I am, however, certain that Adaptive Medias will not be a micro-cap stock this time next year.
I have given you the data points. You decide when to draw that curve. This could be either a circle or an octagon. To me, even the octagon looks good, and I urge you to pay attention.
As always, it is for you to make your own decisions. Do NOT just take my word for it, as I refuse to be held responsible. Do your own due diligence or seek the advice of an investment professional before initiating any position. Remember that for all the lovely things I had to say about the company, this is a speculative proposition. The possibility of you losing every cent you invest here always exists, and on your own head be it. I always recommend starting small. At around $0.12 per share, a little goes a long way at the moment. Whatever you think, I would keep this one on your radar. We get a new data point at the end of the month, and we can judge my predictions then. I will repeat that I am only looking for revenues around $600K for the quarter. Most of the other news will not be reflected until it reports later in the year. The agreement with OneScreen is important to these projections.
The new data point will be just one more dot in the puzzle, and perhaps it is better to wait until then. With each dot, the picture becomes a little clearer; the cat is not out of the bag yet!
Disclosure: I am long ADTM. I wrote this article myself, and it expresses my own opinions. I am not receiving compensation for it (other than from Seeking Alpha). I have no business relationship with any company whose stock is mentioned in this article.
Additional disclosure: This article may contain certain forward-looking statements. I have tried, whenever possible, to identify these forward-looking statements using words such as "anticipates," "believes," "estimates," "expects," "plans," "intends," "potential" and similar expressions. These statements reflect my current beliefs and are based on information currently available. Accordingly, such forward-looking statements involve known and unknown risks, uncertainties and other factors which could cause actual results, performance or achievements to differ materially from those expressed in or implied by such statements. I undertake no obligation to update or provide advice in the event of any change, addition or alteration to the information contained in this article, including such forward-looking statements.
Editor's Note: This article covers one or more stocks trading at less than $1 per share and/or with less than a $100 million market cap. Please be aware of the risks associated with these stocks.