Sirius XM Radio Inc. (NASDAQ:SIRI), the world's largest radio broadcaster, is seeing its share price decline after its third quarter results were reported back in 2013. Many reasons contributed to the decline, including the conservative guidance for subscriber growth and a proposed equity swap between Sirius and Liberty Media Corporation (NASDAQ:LMCA). I am writing this article to look into what investors should expect from this company in the future. I will also try to explore whether the stock price dip offers an opportunity for investors to enter the stock.
Liberty Media Deal
There has been much hand wringing these days regarding Liberty Media buying out Sirius' remaining 48% shares in an equity swap deal. The likelihood of this deal between Sirius and Liberty Media is fading. Any astute investor would vote "NO" for this deal because of the poor exchange ratio offered by Liberty Media that hardly provides any premium on the current price. However, there are some people in favor of this deal and their perception is based on the future prospects of Liberty Media. But the question is, will someone be willing to lose now on Sirius' shares for returns that will be realized in future years? Liberty Media's offer price of $3.68 per share is even lower than the stock's trading price of more than $4 back in 2013. Therefore, my article will be based on the fact that taking this deal is an unlikely event for Sirius. I will be looking at other aspects that can favorably or adversely impact Sirius.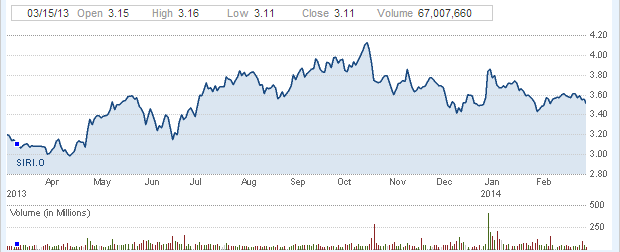 Source: CNBC
Penetration into the Used Car Market
Sirius has adopted the strategy of penetrating the used car market. This strategy comes with its own pros and cons. Most of the company's growth has come through new car sales. This year, nearly 70% of new cars sold in North America were equipped with a Sirius XM receiver, up from 33% in 2007, but in the last year used car sales exceeded new car sales. Out of total vehicles sold in the US last year, only 27% were new. Of the remaining 73%, 21% were sold informally and the rest were sold via formal dealers that are all mainly covered by Sirius XM's dealer agreements. This trend will continue in the future as well because according to the American Automobile Association, the average age of all cars on US roads is 11 years, while the first owner keeps the car for just 6 years or less. That means all cars change owners at least 2 times. Therefore, Sirius is targeting the large scale turnover of vehicles from original owners to the second-hand market to expand its services. Although this opens doors for the company to increase its subscriber base, the market is characterized by people with lower income levels, thus the conversion rates may fall and the churn rate may rise. This was the case in the last reported results.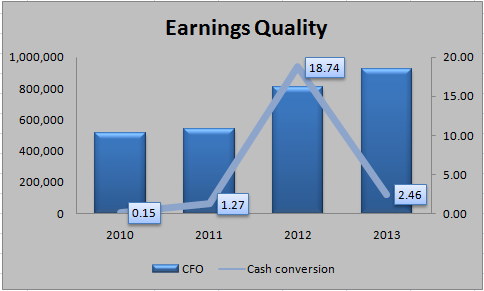 Source: Earnings Press Release
The connected vehicle business of Agero Inc. that Sirius bought in November 2013 will also enhance the company's revenues at an increasing pace due to synergies. Moreover, Sirius will add revenues from Agero Inc. for the whole year to its top line in 2014. By 2019,Sirius expects connected vehicle production penetration rates to increase by more than 50%, which is currently less than 10%. Sirius anticipates $100 million in revenue from connected vehicle services this year, and with the increased penetration, we can expect this revenue stream to bolster over time.
Healthy Cash Position
Sirius has a healthy financial position as indicated by its cash conversion ratio. A cash conversion ratio of greater than 1 indicates earnings of high quality as they are being translated to the cash flows as well. However, over the time period I considered, the ratio in 2012 is enormously high because of a one-time event. Otherwise, the ratio has shown a steady upward trend over the 4 year period. During 2013, Sirius came up with a free cash flow per diluted share of $0.15, up from $0.10 in 2012, reflecting an increase of 41%.The free cash flow increase of 31% and a reduced share count after the company's share buyback program contributed to this growth. Keeping in mind the company's robust cash reserves, we can anticipate further buybacks once this previously mentioned deal is off the table. The company can at least reduce its share count by 2 billion shares over a 5 year time period.
Projecting Future
Sirius has the potential to propel forward leveraging on its expanding subscriber base year over year. For its 2014 guidance, the company predicted 1.25 million net additions to its subscriber base. Conservatively, I will assume the same net addition over the next 5 years because the company itself is conservative regarding its subscriber growth. ARPU is predicted to grow at a rate of 4% since the company is increasing its subscription prices and also passing onto customers the growing music royalty charges year over year. On the other hand, the company is focusing on reducing its costs. Costs of acquiring subscribers are also declining, as illustrated in the graph below. Moreover, key personnel have also agreed to renew their contracts with the company at lower compensation. This is because Sirius is the only satellite radio company, and thus reserves a higher bargaining power.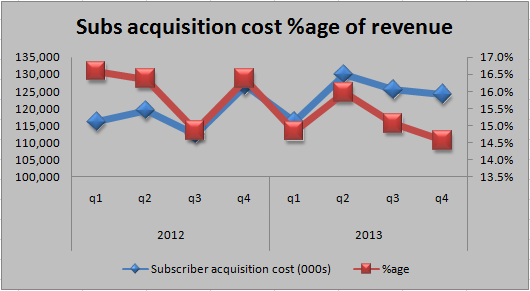 Source: Sirius 10-Q
Through cost efficiency the company will be well settled to enhance its net margin in coming years as it has also reduced its debt significantly, repaying $186 million high yield notes.

Moving ahead we can assume two scenarios: if the company does not re-initiate its buyback program, then that will lead us to conclude that its share count will remain stagnant, and thus EPS effect can be calculated as follows. This assumption will give the lower end of the future price projection for Sirius' stock.

According to the second scenario, Sirius will start buying back its own shares and repurchase at least 2 billion of its shares, then the results would be as projected in the chart below. For simplicity, I have assumed equal repurchases of 440 million shares every year. This will provide us with the higher end of the stock price since the reduced share count will increase EPS.

Even with conservative estimates, the projections above are enough to see that Sirius has a lot to offer its investors in the coming years,and investors should not lose their Sirius share for the Class C share of Liberty Media.
Competition
Out of 250 million cars on the road, those with satellite radios will reach a target of more than 100 million in 2017. Currently, this number stands at only 57 million cars. This shows the percentage of cars with satellite radios will increase from 23% to 40%. This bodes well for the company's future. However there are other players in the market that can hinder Sirius' ability to avail this growth opportunity. Sirius has to compete with other rivals on two fronts. On one side, there are old terrestrial radios with almost 12,000 stations that help the company to generate billions of dollars in terms of advertising. But noticeably, terrestrial radio revenues have been declining year over year since 2001.
On the other hand, there are Apple (NASDAQ:AAPL) and Pandora Media Inc (NYSE:P) competing with Sirius. Apple came up with CarPlay, making it easier for car drivers to make phone calls, play voice messages, get directions with Apple Maps and enjoy other audio entertainment features. Volvo, Ferrari and Mercedez Benz will be first to have CarPlay built in, and they will be followed by various other auto manufacturers integrating CarPlay into their vehicles. Same is the case with Pandora, a music streaming service, which announced last year that it will be integrated into 100 car models. Its targeted marketing approach makes it well positioned to divert more and more advertising spend, using it as a channel rather than free radio.
However, Sirius differentiates from both of the services, as it is a live content broadcaster, while the two are personalized music offerings. They can be a replacement for the in-car CD player, but not for the Sirius XM Radio. Drivers who have a craving for Howard Stern, live sports coverage and sizzling political talk shows will surely keep their radios on. Apple's CarPlay, however, may not be a threat to Sirius, but it eases internet radio and podcasts streaming and diving into iPhone's stored tracks, which is something we cannot ignore. In an era of connected vehicles, Sirius, Pandora and iRadio are viable alternatives to traditional radio stations. Pandora and CarPlay cannot push Sirius out of the market, but they can grab a major chunk for themselves.
Final Word
My analysis shows that the future is not that dull for Sirius, especially since it is the country's only satellite provider. Subscriber growth will be a catalyst for the company in the coming years. The growing subscriber base when accompanied with the growing ARPU will cause the company's top line to be bolstered and operational efficiency will help earnings grow. However, investors will be fearful of any other offer/stance taken by Liberty Media being a majority shareowner that can affect the stock's upward potential. The current offer that is being evaluated by an independent committee is not fruitful for Sirius investors. For now at least, the future prospects of Sirius on a standalone basis appear fruitful. This makes me inclined to believe in this stock as a long-term buy, and that its current price dip is an attractive opportunity to take a position.
Disclosure: I have no positions in any stocks mentioned, and no plans to initiate any positions within the next 72 hours.
Business relationship disclosure: The article has been written by a Blackstone Equity Research research analyst. Blackstone Equity Research is not receiving compensation for it (other than from Seeking Alpha). Blackstone Equity Research has no business relationship with any company whose stock is mentioned in this article.