I am officially pounding the table on gold and the SPDR Gold Trust (NYSEARCA:GLD). I have been recommending gold and the GLD since the start of the year, when I likewise told giddy stock investors on a 2013 high to sell them and put the profits toward gold and the GLD. Since then, other issues have reinforced and reinvigorated my long gold call, including Fed tapering and unreasonable inflation chatter from Fed-men; and then the reassuring statements of Janet Yellen during testimony at her Congressional induction. The latest catalyst is as strong as any of the past factors for the GLD this year, and it has been driving the latest climb. It is my expectation for the imminent invasion of Crimea by Russia, which I believe is clear to see. I want to make sure prospective investors in the GLD are prepared and invested for what I see as perhaps a 10-20% move higher next week.
The Catalyst is Clear
You do not need the gift of discernment to see that Russia is preparing the way for its occupation of Crimea. The evidence is clear to anyone who will spend a moment to study it.
Soldiers without national markings took over command and control centers within Crimea at the start of the month. Some of them have admitted to reporters that they are Russian, despite the nation's denials.
Russia's Parliament then actually opened the legal path domestically to send troops into Crimea and also to annex places like Crimea.
The Crimean Parliament cleared a path to independence dependent upon the pending referendum.
Crimea will hold a referendum on Sunday to determine whether to secede from Ukraine and become part of Russia or become an independent state. There is no option being offered Crimean citizens to retain the status quo.
The west has moved military assets into Poland, while Russia has done the same in Belarus.
Approximately 150K Russian troops conducted war games in the area near Ukraine.
Those same troops are reported now massing at the border with Ukraine.
Today's long meeting between U.S. Secretary of State John Kerry and Russian Foreign Minister Sergei Lavrov ended at an impasse.
Considering there are no options in the pending referendum that keep Crimea under Ukraine control, Russia could move into the country no matter the result. It definitely would do so if Crimea votes to become a part of Russia, and I expect it would act immediately. Russian Foreign Minister Lavrov said today that Russia will respect the will of the Crimean people. This, however, does not preclude it from entering the region with its military under the premise of protection against Ukraine. Theoretically, its presence could be justified and reasoned to be in order to establish an independent government and military without the interference of other powers. Thus, even if Crimea votes for independence from both Ukraine and Russia, I still see Russian occupation near term.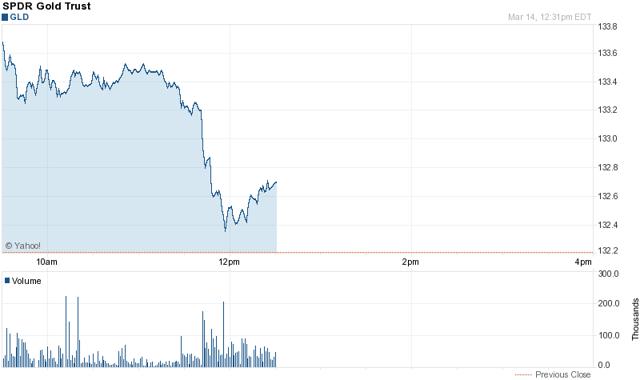 I do not think this chaotic scenario full of likely repercussions is fully priced into gold or the SPDR Gold Trust yet. Much of the risk is though, as seen by the reaction of the GLD right after Sergei Lavrov spoke Friday (see the chart above here). He said Russia had no intention of invading Eastern Ukraine, and the GLD gave back significant ground on that news (chart). So it is vulnerable to a peaceful resolution in Crimea. Unfortunately, it appears by what the two parties said Friday that an unsavory result is much more likely.
The Ukrainians have called up reservists, though most experts agree that the former Soviet Republic stands no chance against greater Russia. This is not to say it would not try. Bravado and pride nearly cost the Republic of Georgia its autonomy when Russian troops moved into "protect" populations within its sovereign territory.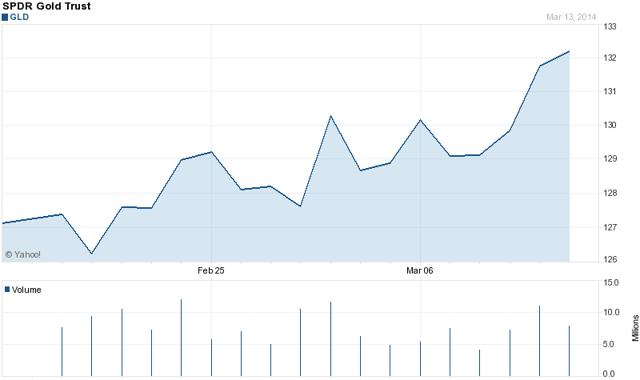 The GLD has gotten quite a lift this month on the geopolitical crisis, but it has been much higher at other recent times of crisis and concern, as seen here.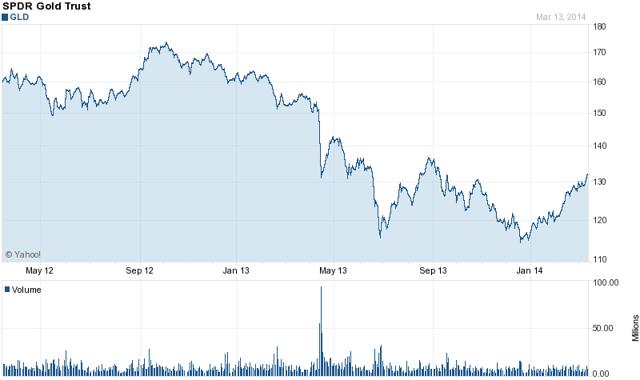 I expect capital will increasingly leave stocks for refuge in gold relative securities like the SPDR Gold Trust. I believe precious metal safe havens like the GLD and peers like the Market Vectors Gold Miners (NYSEARCA:GDX) and iShares Silver Trust (NYSEARCA:SLV) are even more in demand now because of the pitting of Russia against the United States alongside Europe. This makes the traditional safe haven U.S. Treasuries less reliable. I just authored an article warning about the possibility of unexpected action (move higher) in Treasury yields should the U.S. get into a cold-war type situation with Russia, where Russia might counter western sanctions with its own destructive actions against the U.S. and potentially the dollar. This is why I suggest readers consider the gold relative security, the SPDR Gold Trust, today over other safe haven options. It should provide protection against Russian protection of Crimea, which appears too close for comfort.
Disclosure: I have no positions in any stocks mentioned, and no plans to initiate any positions within the next 72 hours. I wrote this article myself, and it expresses my own opinions. I am not receiving compensation for it (other than from Seeking Alpha). I have no business relationship with any company whose stock is mentioned in this article.