The Chinese market gave a resounding welcome to the Nokia (NYSE:NOK) Android phone ahead of the product's March 25 official launch. Nokia proudly announced on its Twitter account that it has received a million pre-order in China for its Nokia X handset.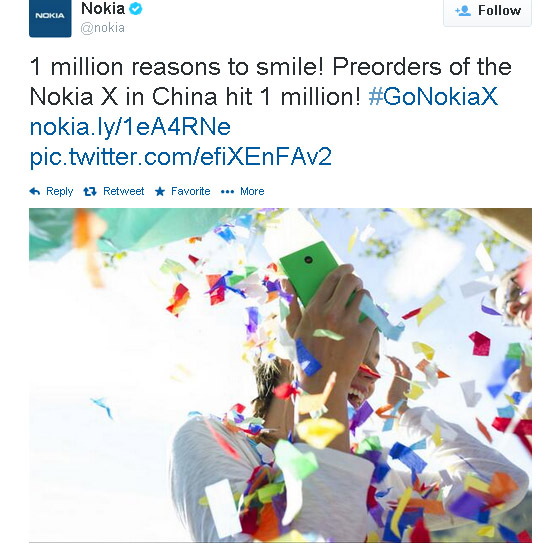 This great market reception should finally convince Microsoft (NASDAQ:MSFT) not to scrap, but rather further develop the Nokia X platform. I don't think any Lumia WP8 model has received the same kind of immediate success. I surmise that this Android phone will eventually beat the success of the Lumia 520 and 521 WP8 models.
Windows Phone OS is last year's fastest growing mobile platform, but Android is so entrenched at the moment. It is smart for Microsoft to concurrently enter the said market segment to fast track its mobile presence. Mobile advertising is a future gold mine that offsets the low-ASP of Nokia X phones.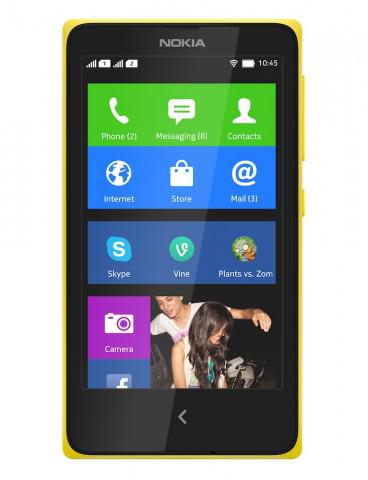 The embedded Microsoft apps that replaced Google's default apps are gateways for data-mining and mobile advertising. Derivative ad money from its own-branded Android phone is a welcome addition to Microsoft and the hefty patent licensing income it already earns from Android device manufacturers.
Putting Bing into Android devices is also a sweet revenge against Google. While many OEM manufacturers have already signed up to pay patent fees, Microsoft failed to extract a legal win in its patent litigation against Google and its old Motorola division.
Microsoft may actually have better chances of cracking the market for cheap Android phones. Google failed miserably with its Motorola experiment. In emerging countries like China and India, the Nokia brand still commands a loyal customer base. The same is true for Europe; Nokia will definitely win back customers from Samsung, LG or HTC. Nokia has the know-how and distribution system to win Android customers.
The Microsoft Buyout of D&S Will Push Through
There's little chance that Microsoft will renege on its agreement to buy Nokia's money-losing D&S because of Nokia X. The buyout will most likely be completed this March. Nadella, seeing the excellent Chinese reception of the Android phone, will support the Nokia X platform.
Nokia is getting a lot of call contracts lately. Calls outnumber puts recently by a 6-to-1 margin. More and more speculators are betting NOK will go north of $8 again. These bullish wagers are clear indications that $7.2 billion cash will get added to Nokia's books very soon.
NOK has yet to fully recover from its beatdown after a better-than-expected EPS performance last January. Shares still trade below the $8.18 price high posted more than two months ago. I dare not suggest you buy more NOK shares at current levels based on the surging calls reported by Schaeffer's Research. A wait-and-see approach is more prudent. An Indian court ruling is delaying the completion of the Microsoft takeover.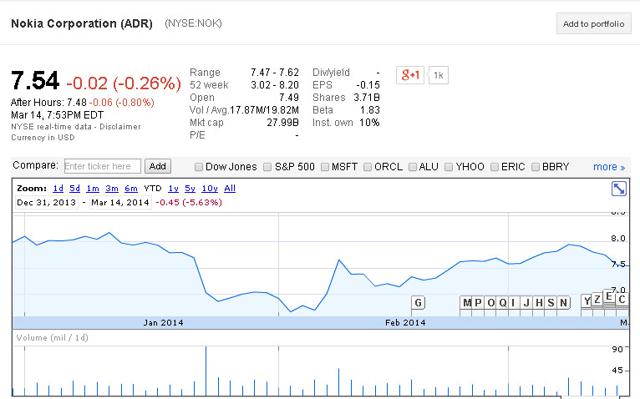 Click to enlarge
HERE Maps Profits From Nokia X Success
While NSN will become Nokia's main bread and butter, HERE has strong potential too. A boost in sales from Nokia X users increases the user base of HERE Maps. Judging by the viral popularity of cheap Android phones, a $100 contract-free Nokia X handset can find more buyers than a $100 Lumia 521 phone.
HERE Maps revenue can increase over the next two years. For 2013, HERE produced a lower €914 million in sales, 2012 was €1.1 billion. However, Nokia's mighty global distribution network is still firmly in place to deliver big numbers for both Lumia and Nokia X products.
The 1 million pre-order report in China is a sign that Nokia Android phones may even outpace Lumia sales soon. I look forward to HERE delivering more than a billion euros in sales for FY 2014 and beyond. Yahoo Maps has also lately licensed HERE to power its indoor venue mapping.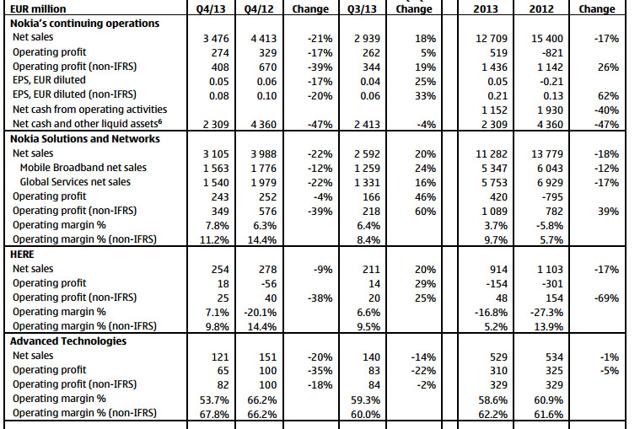 Click to enlarge
Conclusion
The Nokia X platform has obvious benefits for Nokia and Microsoft. Investors should not see the Android phone introduction as a deal-breaker for the D&S sale. Microsoft's mobile reputation is greatly enhanced by the warm reception of the Nokia X in China. Integrating Microsoft apps inside Google's Android OS is a great accomplishment for Nokia.
NOK remains a good-buy-on-the-dip gamble. The recent surge in put calls strongly makes be believe it will trade again above $8 very soon. The company will also get a new CEO in Rajeev Suri, the man responsible for NSN's success. It is not trivial, it really pleases me that Nadella and Suri are both of Indian-origin.
The two are likely to complete the D&S buyout and will further cooperate in their companies' objective to contest Samsung, Google, and Apple's dominance in the smartphone market.
Lastly, Dan Loeb's prediction last year of a special cash dividend after the deal with Microsoft is consummated, might be on the money.
Disclosure: I am long NOK. I wrote this article myself, and it expresses my own opinions. I am not receiving compensation for it (other than from Seeking Alpha). I have no business relationship with any company whose stock is mentioned in this article.