This article supplements my preliminary review of 4Q13 results recently reported by Plains All American Pipeline L.P. (NYSE:PAA). I now evaluate the sustainability of PAA's Distributable Cash Flow ("DCF") and assesses whether PAA is financing its distributions via issuance of new units or debt.
PAA transports, stores and markets crude oil and refined products; it also transports, processes, stores and markets natural gas liquids ("NGL") and owns and operates natural gas storage facilities. PAA's operations are managed through three operating segments:
Transportation Segment: fee-based activities associated with transporting crude oil and NGL on pipelines, gathering systems, trucks and barges;
Facilities Segment: fee-based activities associated with providing storage, terminal and throughput services for crude oil, refined products, natural gas and NGL, NGL fractionation and isomerization services and natural gas and condensate processing services; and
Supply & Logistics Segment: margin-based activities associated with sale of gathered and bulk-purchased crude oil, as well as sales of NGL volumes purchased from suppliers (including the sale of additional barrels exchanged through buy/sell arrangements entered into to supplement the margins of the gathered and bulk-purchased volumes).
Revenues, operating income, net income and earnings before interest, depreciation & amortization and income tax expenses (EBITDA), and DCF for the periods under review are presented in Table 1 below. Given quarterly fluctuations in revenues, working capital needs and other items, a review of trailing twelve months ("TTM") numbers tends to be more meaningful than quarterly numbers for the purpose of analyzing changes in reported and sustainable distributable cash flows. However, I present both: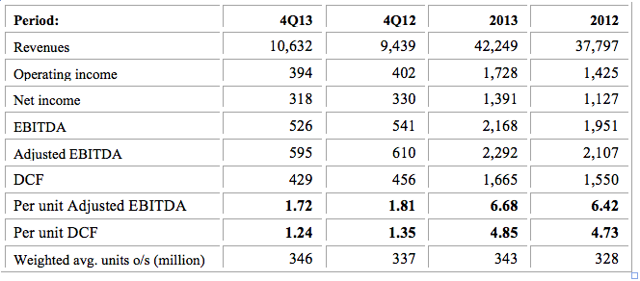 Click to enlarge Table 1: Figures in $ Millions. Source: company 10-K, 10-Q, 8-K filings
Segment performance is shown in Table 2 below: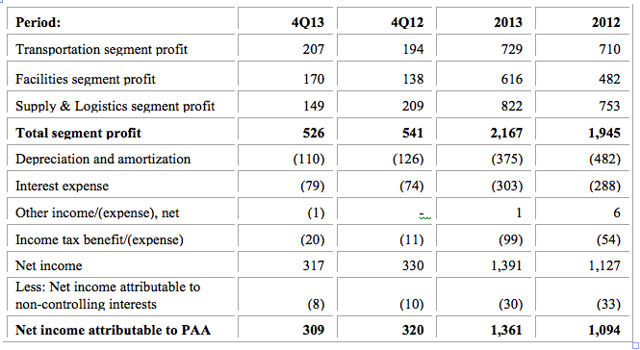 Click to enlarge Table 2: Figures in $ Millions. Source: company 10-K, 10-Q and 8-K filings
The Transportation and the Facilities segments are predominantly fee-based businesses. But the Supply & Logistics segment is, to a large extent, a margin-based business; hence its results are more volatile. Management looked at 2012 as a year in which market conditions were extremely favorable for the Supply & Logistics segment. In a prior article I noted the drivers behind the extraordinary performance generated by this segment. Management rightly predicted there would be a "return to baseline" in 2013. This occurred in 2Q13, 3Q13 and 4Q13 as infrastructure additions began to relieve certain of the transportation constraints that had previously created opportunities for favorable crude oil margins benefiting Supply & Logistics.
A $168 million, one-time, asset impairment charge, principally resulting from PAA abandoning a project called Pier 400 (involving development of a deep-water petroleum import terminal in the Port of Los Angeles), was reflected as an increase to depreciation & amortization in 2012; that is why depreciation expenses were lower in 2013.
The generic reasons why DCF as reported by an MLP may differ from what I call sustainable DCF are reviewed in an article titled "Estimating sustainable DCF-why and how". PAA's definition of DCF and a comparison to definitions used by other MLPs are described in an article titled "Distributable Cash Flow". Using PAA's definition, DCF for 2013 was $1,665 million ($4.85 per unit), up from $1,550 million ($4.73 per unit) in the prior year period.
Table 3 below provides a comparison between the components of reported and sustainable DCF. It shows no appreciable difference in 2013 between reported and sustainable DCF. In 2012, the principal difference between reported DCF and sustainable DCF relates to working capital.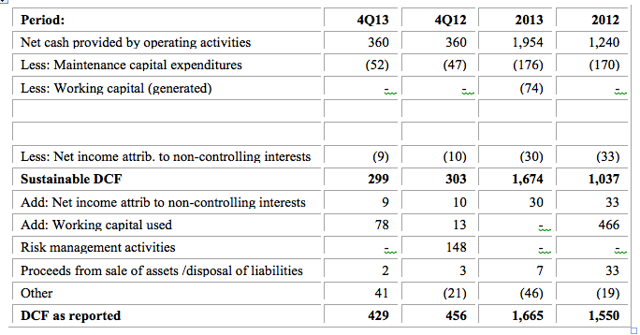 Click to enlarge Table 3: Figures in $ Millions. Source: company 10-K, 10-Q and 8-K filings, author estimates
Under PAA's definition, reported DCF always excludes working capital changes, whether positive or negative. My definition of sustainable DCF only excludes working capital generated (I deduct working capital consumed). Despite appearing to be inconsistent, this makes sense because in order to meet my definition of sustainability an MLP should generate enough capital to cover its normal working capital needs. On the other hand, cash generated by an MLP through the liquidation or reduction of working capital is not a sustainable source and I therefore ignore it. Over reasonably lengthy measurement periods, working capital generated tends to be offset by needs to invest in working capital. In 2012 working capital consumed cash amounting to $466 million. Management added back this amount in deriving reported DCF. I do not add it back when deriving sustainable DCF.
PAA's working capital needs can fluctuate significantly due to changes in market conditions. It stores crude oil and NGLs when their prices for future deliveries are higher than current prices (a "contango" market), thus increasing its investment in working capital and reducing net cash generated by operating activities. Conversely, cash flow from operating activities increases during the period in which PAA collects the cash from the sale of the stored inventory. In periods when the market is not in contango, crude oil and NGLs are typically purchased and sold during the same month, so there is no need to increase the investment in working capital.
Coverage ratios are provided in Table 4 below. TTM numbers tends to be more meaningful than quarterly numbers for the purpose of coverage ratios. However, I present both:

Click to enlarge Table 4: $ millions, except coverage ratios. Source: company 10-K, 10-Q and 8-K filings, author estimates
The extraordinarily high coverage ratio seen in 2013 is expected to drop as the effect of the above-normal results produced by the Supply & Logistics segment in 2012 and 1Q13 dissipates.
Table 5 below presents a simplified cash flow statement that nets certain items (e.g., acquisitions against dispositions, debt incurred vs. repaid) and separates cash generation from cash consumption in order to get a clear picture of how distributions have been funded:
Simplified Sources and Uses of Funds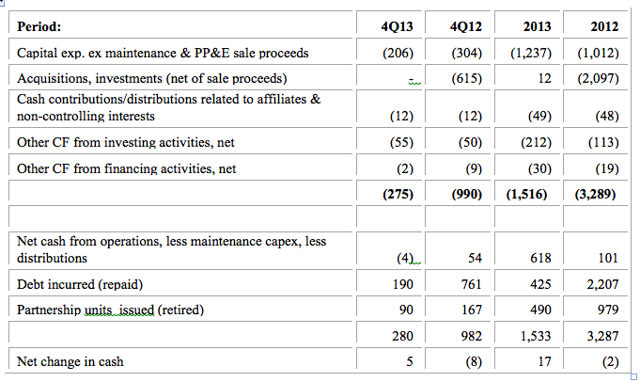 Click to enlarge Table 5: Figures in $ Millions. Source: company 10-K, 10-Q and 8-K filings, author estimates
Net cash from operations, less maintenance capital expenditures, exceeded distributions by $618 million in 2013 and by $101 million in 2012. Clearly PAA is not using cash raised from issuance of debt and equity to fund distributions. On the contrary, the excess cash generated constitutes a significant source of capital for PAA and enables it to reduce reliance on the issuance of additional partnership units that dilute existing holders, or issuance of debt to fund expansion projects. Absent significant acquisition activity, management does not expect to execute an equity offering in 2014 (although funds will be raised via the continuous equity offering program).
On 10/22/13 PAA signed an agreement to acquire ~33 million of the publicly held shares of PNG. PAA owns the rest of the 61.2 million PNG common units, as well as the general partner of PNG and all the subordinated units of PNG. PAA issued 0.445 units for each of these ~33 million PNG units, or a total of 14.7 million PAA units valued at ~$760 million. In a prior article I explained why I believe PAA has built in some margin of safety on this deal.
Table 6 below provides selected metrics comparing PAA to some of the other MLPs I follow based on the latest available TTM results.
As of 03/13/14:

Price

Current Yield

TTM

EBITDA

EV / TTM EBITDA

2014 EBITDA

Guidance

Buckeye Partners (NYSE:BPL)

$72.79

5.98%

627

18.2

710

Boardwalk Pipeline Partners (NYSE:BWP)

$12.24

3.27%

689

9.3

650

El Paso Pipeline Partners (NYSE:EPB)

$29.46

8.83%

1,113

9.5

1,200

Enterprise Products Partners (NYSE:EPD)

$66.85

4.19%

4,685

17.0

-

Energy Transfer Partners (NYSE:ETP)

$54.00

6.81%

2,746

12.8

-

Kinder Morgan Energy (NYSE:KMP)

$73.80

7.37%

5,165

10.0

5,900

Magellan Midstream Partners (NYSE:MMP)

$68.93

3.39%

845

21.7

936

Targa Resources Partners (NYSE:NGLS)

$52.75

5.67%

661

13.1

750

Plains All American Pipeline

$52.82

4.66%

2,168

11.8

2,150

Regency Energy Partners (NYSE:RGP)

$26.90

7.06%

477

18.8

-

Suburban Propane Partners (NYSE:SPH)

$43.06

8.13%

307

12.4

-

Williams Partners (NYSE:WPZ)

$49.05

7.28%

2,215

13.8

-
Table 6: Enterprise Value ("EV") and TTM EBITDA figures in $ Millions. Source: company 10-K, 10-Q and 8-K filings
It would be more meaningful to use 2014 EBITDA estimates rather than TTM numbers, but not all MLPs provide guidance for this year. Of those I follow, the ones that I have seen do so are included in the table.
Within this list, I consider PAA, EPD and MMP to be the outstanding performers. The relatively low yields notwithstanding, their operational results have been excellent and have driven up unit prices, thus generating significant capital gains for the partners. They are a solid choice for more conservative MLP investors.
Management's 2014 Adjusted EBITDA guidance is $2,150 million (at mid-point), $142 million below the $2,292 million achieved in 2013. This reflects management's expectation of a "return to baseline" in the Supply & Logistics segment's performance. In 1Q13 the profit generated by this segment was up 239% over 1Q12, a spike followed by declines of 36%, 55% and 29% in 2Q13, 3Q13 and 4Q13 (respectively) vs. the comparable prior year periods.
My concerns with PAA revolve around capital structure. EPD and MMP are not burdened by IDRs while PAA pays 48% at the margin. While the IDR burden is less of an issue with respect to organic growth (because of the relatively low ratio of required investment to the expected cash flow it will generate), it is a major factor in the case of large acquisitions that, under current market conditions, command high multiples and require lengthy time periods to generate the projected synergies.
On the other hand, it is important to note that a significant portion of the crude oil and NGL production increases in the U.S. and Canada are concentrated in areas where PAA has significant asset presence and that in 2013, unlike the two prior years, PAA invested much more in internal growth than in acquisitions, as shown in Table 7 below:

Table 7: Figures in $ Millions. Source: company 10-K, 10-Q and 8-K filings
Other considerations in PAA's favor are that it trades at a more modest multiple of enterprise value to TTM EBITDA and that the unit price is 1.4% below where it was one year ago (vs. 40% higher for MMP and 18% higher for EPD). EBITDA for 1Q14 is forecasted at $507 million (mid-point of management's guidance), significantly below the $748 million generated in 1Q13 for reasons cited above. A negative market reaction to this could create a buying opportunity for an MLP that increased distributions declared by 10% in 2013 and expects to do likewise in 2014.
Disclosure: I am long EPB, EPD, ETP, MMP, PAA. I wrote this article myself, and it expresses my own opinions. I am not receiving compensation for it (other than from Seeking Alpha). I have no business relationship with any company whose stock is mentioned in this article.