Recently, American Eagle Outfitters (NYSE:AEO) has suffered price-target reductions by several analysts (here and here, for example) and has revised its Q1 guidance all the way down to earnings of $0.00 per share. Understandably, the stock has taken a beating and currently hovers near a 52-week low. However, I like to have a retailer in my otherwise tech-heavy portfolio and recently unloaded my Jos. A. Bank (NASDAQ:JOSB) position since it is being acquired by Men's Wearhouse (MW), so I am loading up on AEO. Here's why
1) AEO Has Zero Debt
If clothing retail sales continues to get hammered for the next couple of quarters, I want a company in my portfolio that doesn't have to finance debt. There are several other retailers, like Buckle (NYSE:BKE), with zero debt on their balance sheet, so this alone didn't seal my decision to buy AEO.
2) AEO Has A Nice Dividend
American Eagle currently has a dividend yield just shy of 4%. This is nice, but again not enough to seal my decision to buy AEO. Especially since this dividend is unsustainable if AEO continues earning $0.00 like it guided to in Q1. But, for now, it is a nice bonus while I wait for sales and earnings to recover.
3) AEO Has Consistently (If Somewhat Erratically) Grown Owner Earnings
The following graph plots American Eagle's owner earnings over the last 10 years. Black dots show the actual owner earnings and red dots are the linearly smoothed values.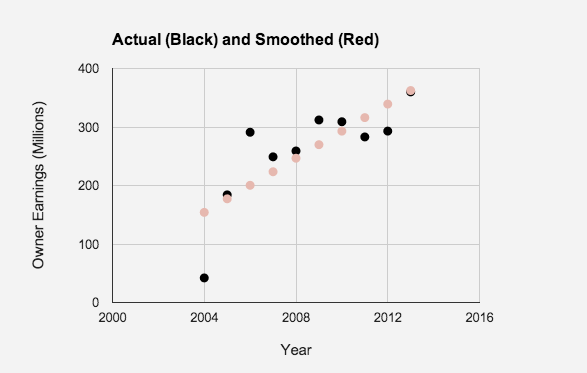 During the last ten year, American Eagle has not had negative owner earnings once and has grown owner earnings (using my linearly smoothed values) at an average rate of 10% per year. During the same period, AEO has averaged a CROIC of over 26%.
4) AEO Is Undervalued
Assuming a 10% growth rate (less than AEO's average CROIC but equal to its 10-year owner earnings growth rate) that decreases by 10% per year to a minimum of 3%, a discount rate of 10%, and a huge 50% margin of safety, I calculate a 20-year DCF valuation of $16.26 per share, approximately a 25% premium to Friday's close.
Conclusions
It takes some bravery to enter the retail space these days, but with Jos A. Bank getting acquired by Men's Wearhouse, my analysis indicates that American Eagle is one of the best long-term picks in the sector. In the short term, the entire retail space is likely to continue to get beat up. However, long-minded investors might want to load up on AEO while shares are on sale. The stock goes ex-dividend on March 31st.
Disclosure: I am long AEO. I wrote this article myself, and it expresses my own opinions. I am not receiving compensation for it (other than from Seeking Alpha). I have no business relationship with any company whose stock is mentioned in this article.