The Oceanstone Fund (MUTF:OSFDX) is a high quality mutual fund managed by James Wang out of California. It has a record of outperforming the broader market, and has been able to do so with high holdings of cash. This suggests that their stock picks have been exceptional, as the extremely low returns from cash drag down the average return. It also provides significant dry powder for new investments if the market were to correct from recent highs.
As you can see from the chart below, the fund had a cash position of over 70% as of its interim report. This suggests the manager is finding it more difficult to locate deep value companies in the current market. In fact, the fund is down to only three holdings!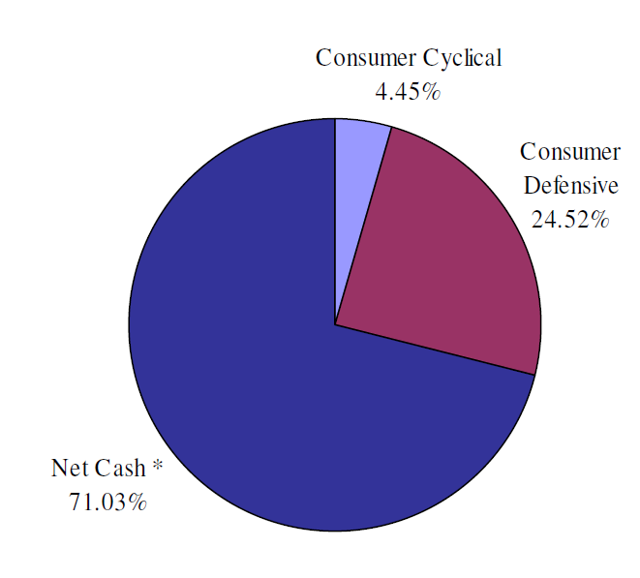 Source: Oceanstonefund.com
The fund made one new investment in the last quarter, in JAKKS Pacific (NASDAQ:JAKK) which is a toy company. When the company announced their 2013 earnings they also announced a line of credit, which should put to rest liquidity fears. The company is a category leader in many of the smaller toy lines, in which the Hasbro (NASDAQ:HAS) and Mattel (NASDAQ:MAT) type companies typically would not be interested in competing. Depreciation and amortization exceeds capital expenditures due to the many acquisitions the company has made in the past. Thus, they can produce free cash flow even if GAAP earnings remain negative.
JAKK has $100 million in long-term debt, and current assets that substantially exceed current liabilities. When combined with the company's market capitalization of $160 million and its guidance for 2014 EBITDA of $41 million to $43 million, the valuation is undemanding. This is typical for picks of the Oceanstone Fund, which has a distinct deep value style.
The fund eliminated its holding in Triple-S Management (NYSE:GTS), the Puerto Rican health insurer profiled in my first article on the fund. That business has deteriorated due to higher preventative medicine expenses and continued losses on their operations in the US Virgin Islands. The company's exposure to the Puerto Rican government has also not helped shares. The fund continues to hold its large stakes in ITT Educational Services (NYSE:ESI) and Rite-Aid (NYSE:RAD). These companies are both still trading at undemanding valuations, even though they have had operational and regulatory difficulties.
The Oceanstone fund has an exceptional track record, and their picks are a great hunting ground for value investors to track down excellent buys.
Disclosure: I am long GTS, ESI. I wrote this article myself, and it expresses my own opinions. I am not receiving compensation for it (other than from Seeking Alpha). I have no business relationship with any company whose stock is mentioned in this article.