We start with a quick look at the chart for Silver Wheaton Corporation (NYSE:SLW) where we can see that the stock price has moved up to the 10dma level, which is a good sign. Also note that the volume increased today as 7.8 million shares changed hands. The technical indicators don't tell us very much as they are more or less in the neutral zone at the moment.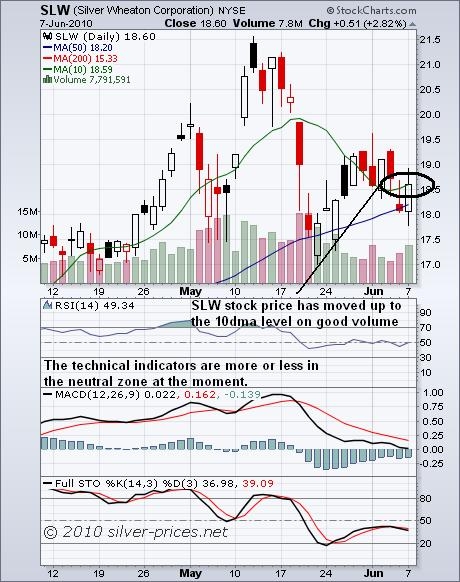 On May 29, 2010 we purchased some Call Options, which are the September 2010 series, with a strike price of $21.00 and we paid $1.30 per contract for them. The last trade finished at $1.25 per contract on the New York Stock Exchange today. To generate a profit we need to see silver prices put in a decent performance, which they did today with an increase of $0.74, having shed a dollar over the last three days. Gold prices continue to show strength despite the the US Dollar playing an absolute blinder, hopefully we will see a challenge of the old highs soon.
The eurozone remains the focus of attention as government officials shovel more and more cash into the an enormous black hole. More debt is not the answer and moving it from a private sector balance sheet to a public sector balance sheet isn't solving anything. It's about the same as re-arranging deck chairs on the Titanic, in our humble opinion.
For now we will watch the action in the precious metals sector with the expectation that our position in the Call Options for SLW will finish this week in the green.
Silver Wheaton Corporation trades on the New York Stock Exchange and the Toronto Stock Exchange under the symbol of SLW and is currently trading at $18.60.
The Company has a market capitalization of $6.38 billion, with 342.54 million shares outstanding, a 52 week trading range of $7.12 to $21.58 with an average volume of 5-6 million shares traded, although spikes in trading have seen 14 million shares change hands.
Disclosure: SLW