Intel's Economic Moat
It is hard to think of a firm that has a more compelling economic moat than Intel (NASDAQ:INTC).
The source of this moat is straight-forward: There is literally no firm on the face of the earth that has Intel's technical capability in mass producing digital logic chips-the electronic brains that power laptops, desktops, and servers. Despite similar financial resources, Intel's largest manufacturing competitors Samsung (OTC:SSNLF), Global Foundries, and TSMC (NYSE:TSM) are still consistently one generation behind its production capabilities thanks to its manufacturing prowess. In an industry that, in a very real sense, has reinvented itself once every 18 months for the last half century, Intel has had a largely uncontested first mover advantage twice every three years.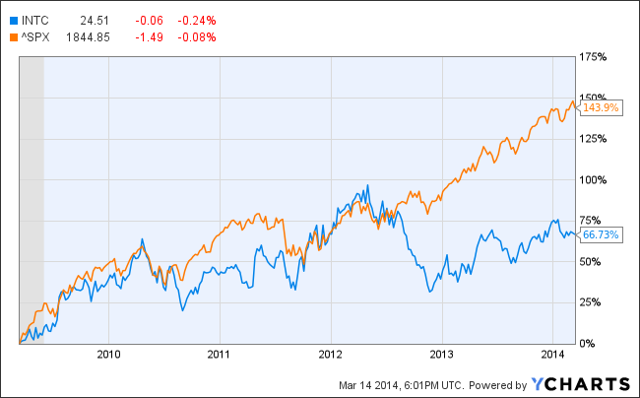 INTC data by YCharts
Valuation Drivers: Revenues
It is a testament to the strength of Intel's microprocessor franchise that it has been able to maintain the revenue growth it has throughout the demand shift toward mobile devices. It has emerging market demand for PCs and demand for cheap, general-purpose servers to thank for that revenue growth. It is interesting to note that Intel's processors were originally considered data center also-rans. That is, until someone realized relatively cheap Intel x86 "boxes" could be chained together to approximate the power and performance of specialty chips manufactured by IBM (NYSE:IBM) and Oracle's (NASDAQ:ORCL) Sun segment. In a twist of Tech Karma, companies selling processors based on designs by ARM Holdings (NASDAQ:ARMH) may now be trying to eat into Intel's server share in the way Intel originally ate into Sun's and Big Blue's.
Over the past 10 years, the year-over-year change in rolling 5-year aggregate revenues at Intel has recorded a median value of 5%, a minimum value of 0% and a high value of 10%.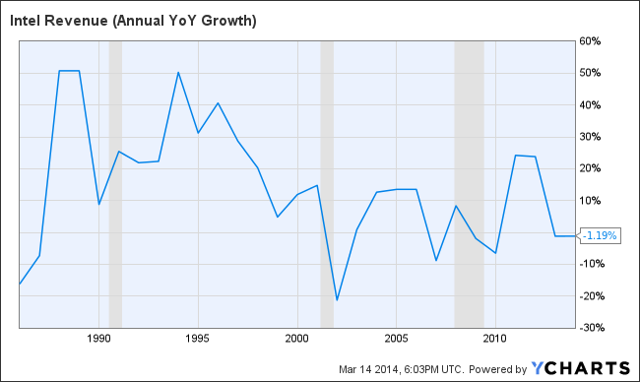 INTC Revenue (Annual YoY Growth) data by YCharts
Valuation Drivers: Profitability
Manufacturing semiconductors is a fabulously expensive proposition with companies spending billions of dollars on building and outfitting fabrication facilities ("fab"). After building the fab, one gets about 1,800 days' worth of use out of the facility before Moore's Law renders it obsolete. Any day the fab is not producing at full capacity is a day with no revenue to cover the fab's fixed costs while simultaneously edging 1/1,800th closer to obsolescence. It is for this reason that Robert Palmer, former CEO of Digital quipped: "Building semiconductors is like playing Russian roulette. You put a gun to your head, pull the trigger, and find out four years later if you blew your brains out."
Over the past 10 years, the median Owners' Cash Profit (OCP) margin at Intel has been 22%, with a low of 16% and a high of 27%. (Owners' Cash Profit is a measure of corporate profitability that focuses on cash available after operating costs and maintenance capital expenditures have been made).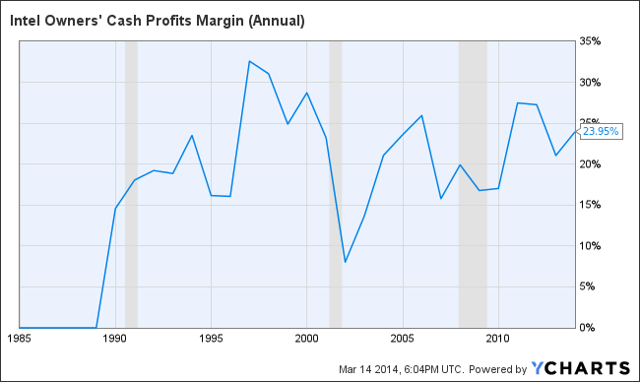 INTC Owners' Cash Profits Margin (Annual) data by YCharts
Valuation Drivers: Investment Level
Intel's acquisition of antivirus software firm McAfee in 2011 under CEO Paul Otellini may make sense from a technical perspective, but its business benefits are questionable, in our opinion. The idea was that protection from computer viruses would be pushed down to the hardware level, so would be operating system agnostic. Several years have passed since the acquisition, but Intel executives spend little time talking about it on conference calls and are not trumpeting the efficacy of this hardware-level protection, as might be expected if the project had been a smashing success.
Even while it was spending money and time on the McAfee acquisition, Intel's core business has faced enormous changes. Its largest clients (Dell, Hewlett-Packard (NYSE:HPQ)) have suffered from a continuing fall in desktop and laptop demand as consumers switched to handhelds. ARM Holdings' chip designs have become ubiquitous in handhelds, while Intel's Atom processors have failed to garner much market share in tablets and are not efficient enough to run in mobile phones.
Intel's median expansionary capital expenditures as a percent of OCP has been at 44% over the last 10 years. Obviously, these investments are lumpy-the company spends heavily on new fabs to create chips on the most recent processing node, pump out as many chips as possible over a few years, then build another fab to build chips at the new node.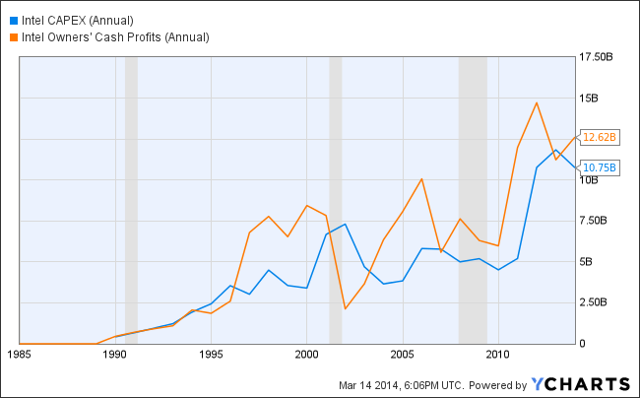 INTC CAPEX (Annual) data by YCharts
Valuation Drivers: Investment Efficacy
The days of Intel's highest investment efficacy-as measured by growth of OCP compared to nominal GDP-are likely behind it, due to the structural shifts mentioned in the Focus Section. That said, the company is still generating healthy cash flow growth on behalf of its shareholders. The growth of OCP varies a great deal depending on what stage of the semiconductor cycle we are in, but over the last 10 years, its median outperformance vis-à-vis nominal U.S. GDP has been 4 percentage points.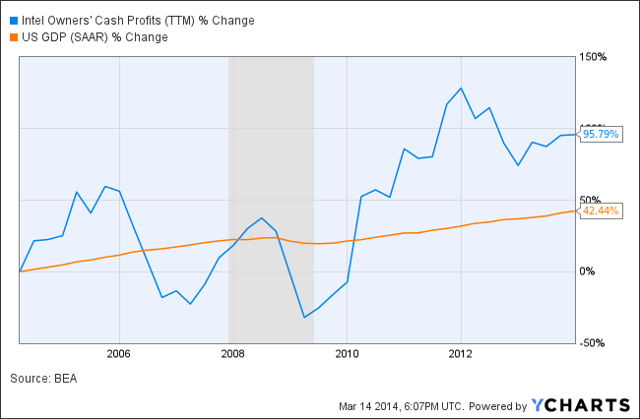 INTC Owners' Cash Profits (TTM) data by YCharts
Valuation: Cash Flow Generation
Comparing Intel to another manufacturer, it is quite profitable, with a median Free Cash Flow to Owner (FCFO) margin over the past 10 years of 10%. Cyclical peak FCFO margins are in the high-teens or low-twenties percentage range and trough margins are roughly in the -5% to -10% range. The median growth for year-over-year aggregate 5-year FCFOs over the previous 10-year period is 6%, but the range is enormous-317% on the high side (2004, coming out of the Tech burst) and -21% on the low side (2011, caused by the cash outflow for the purchase of McAfee).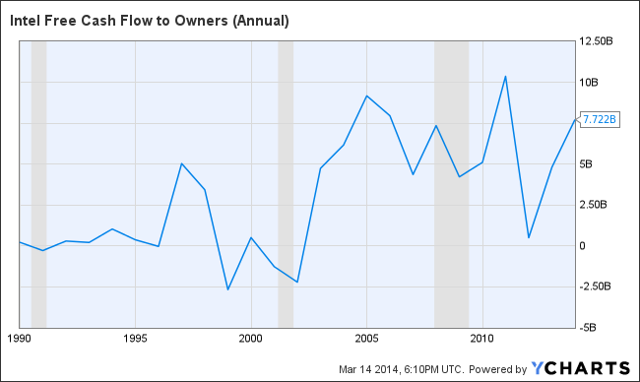 INTC Free Cash Flow to Owners (Annual) data by YCharts
Wintel Collapse?
Some bears, focused on Intel's lack of traction in the mobile space and the increasing difficulty in keeping pace with chip development according to the Moore's Law treadmill, forecast doom for the Wintel ecosystem. However, in our view, this ecosystem in general and Intel in particular is well enough entrenched to avoid a calamitous end any time soon. Intel does have its work cut out for it, however.
Intel's new CEO, Brian Krzanich-a long time company insider-hails from the firm's manufacturing operations and has said that he wants to refocus Intel on its main strength: manufacturing. As part of this, Krzanich has talked about expanding Intel's foundry operations. Chip foundries are contract manufacturers of chips according to the design of a third-party. TSMC is a pure foundry-making only third-party designed chips; Samsung has a hybrid model-producing some branded chips of its own design and offering foundry services to third parties. Long-term Intel competitor, AMD, recently spun off its manufacturing operations into a foundry specialist named GlobalFoundries.
Focusing more on foundry operations would be a big change in business focus and strategy for Intel, potentially meaning that Intel would produce ARM-based processors on behalf of a third party in its own fabrication facilities or "fabs." Despite the big shift in focus, considering the firm's engineering capabilities and manufacturing IP, a greater emphasis on foundry production would allow it to leverage the part of its moat that is suited to the present environment, give the firm a way to amortize the huge costs of building modern fabs, and allow it to profit from the trend toward untethered computing even if it cannot field its own horse in the race. You can also access the 1% report on INTC for a more in depth analysis of the company.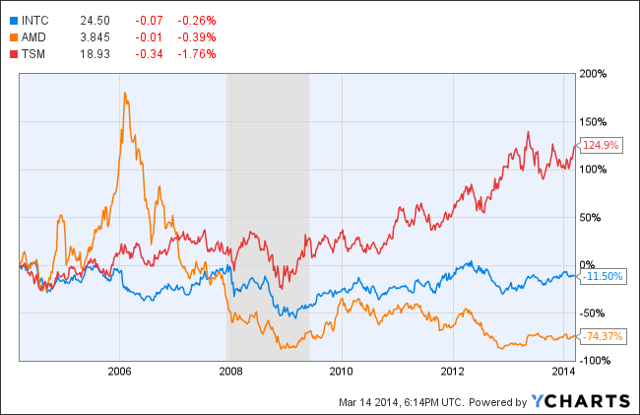 INTC data by YCharts
Intel has worked tirelessly to fine-tune its operations to maximize its manufacturing efficiency and its strong-arm marketing strategy. However, efficiency is always created at the expense of flexibility, and inflexible systems are vulnerable to external shocks.
Since 2006, Intel has struggled to adapt to an external shock brought about a shift in consumer preference. In the near future, it is likely to face another, brought about by physical constraints to chip manufacturing technology.
Intel will need to change to survive and thrive. The question is the extent to which its present technological and commercial advantages will help or hinder its prospects.
Disclosure: I have no positions in any stocks mentioned, and no plans to initiate any positions within the next 72 hours. I wrote this article myself, and it expresses my own opinions. I am not receiving compensation for it. I have no business relationship with any company whose stock is mentioned in this article.