Another week of general volatility against broader negative sentiment due to news from China and the conflict over Crimea. The Alerian MLP index returned a negative 0.45% for the week, however, 13 MLPs hit their 52-week high against 9 with new 52-week lows, including the Kinder Morgan structure of EPB, KMI and KMP. The IRS issued another favorable Private Letter Ruling related to oil field services for fracking operations.
Given the large retail base of MLP ownership, which is approximately 8MM K-1s owning 85% of the $556B market cap, we continue to look at fund flows to understand investor sentiment toward the sector. This week, ETF and Mutual Fund flows were considerable at $326MM, while the aggregate of Closed End Funds experienced a .95 average increase in their discount to NAV.
Unit Value Winners and Losers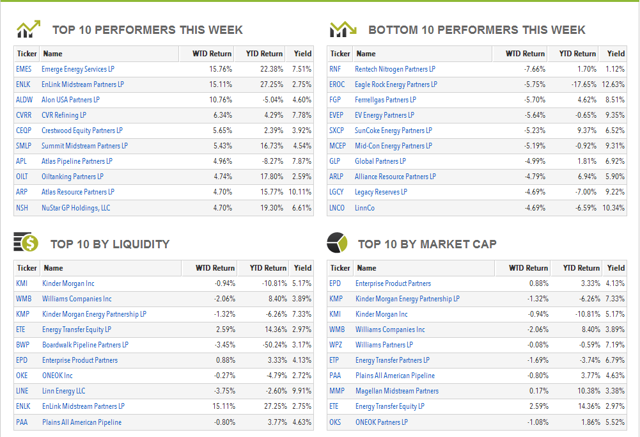 Emerge Energy Services (NYSE:EMES) reported Q4 results which showed continued triple digit year-over-year growth. EMES is up 225% since its May 2013 IPO.
Rentech Nitrogen Partners, LP (NYSE:RNF) released earnings on the company's troubled 2013/Q4. Net income was negative and just a $0.05 per unit distribution was declared.
CrossTex (XTEX XTXI) completed its merger with Devon, forming EnLink Midstream LLC (NYSE:ENLC), the GP, and EnLink Midstream Partners LP, (NYSE:ENLK), the LP.
Distribution Rate Changes
Since there were no dividend announcements this week, here are a couple of charts listing the largest distribution increases and decreases over the last year.


Insider Trading
Plains All American Pipeline, LP (NYSE:PAA) had a notable transaction where the President of Midstream Canada sold approximately $7.2MM.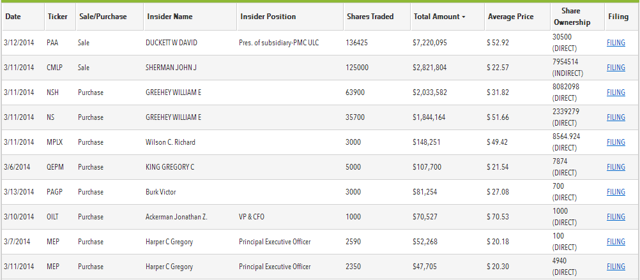 Share Issuance News
Issuance activity was heavy this week with 15 total announcements about evenly split between debt and equity deals. Seadrill Partners (NYSE:SDLP) and Summit Midstream Partners (NYSE:SMLP) announced drop downs. We continue to see use of the ATM with MarkWest Energy Partners (NYSE:MWE) and Calumet Specialty Products (NASDAQ:CLMT) registering new programs. Get the details of any offer of interest by clicking on the specific issue on the Issuance page of the MLPData Dashboard.



ETF, CEF and Mutual Fund Money Flows
Fund flows remained robust with the energy "story" and attractive yields continuing to appeal to both financial advisor and retail investors. Active management continues to outperform assets benchmarked to the AMZ due, in part, to the significant weighting and negative performance of the Kinder Morgan complex.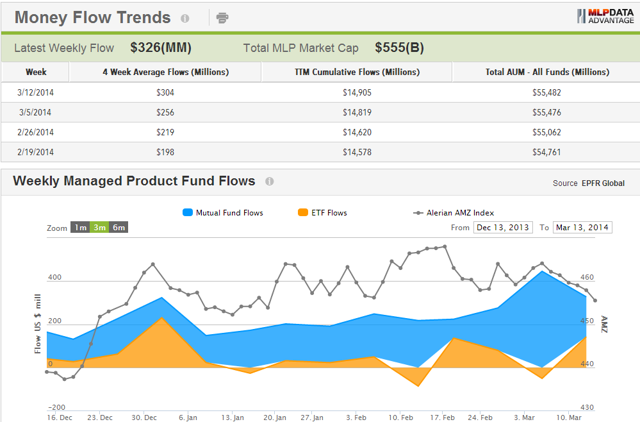 Starting next week, we will be introducing several new metrics, including top yield changes and CAGR growth estimates.
All charts and tables are provided by MLPData.com.
Disclosure: I have no positions in any stocks mentioned, and no plans to initiate any positions within the next 72 hours. I wrote this article myself, and it expresses my own opinions. I am not receiving compensation for it (other than from Seeking Alpha). I have no business relationship with any company whose stock is mentioned in this article.