Recently China XD Plastics Co Ltd. (NASDAQ:CXDC), a specialty chemical Chinese-based company, closed its international offering of guaranteed senior notes.
China XD Plastics Company Limited is one of the leading specialty chemical companies that is engaged in the research, development, manufacture and sale of modified plastics, primarily for use in the fabrication of automobile parts and components.
Its modified plastics are used to fabricate various auto components, including:
exteriors consisting of automobile bumpers, rearview and side view mirrors, and license plate parts;
interiors, such as door panels, dashboards, steering wheels, glove compartments, and safety belt components;
and functional components comprising air conditioner casings, heating and ventilation casings, engine covers, and air ducts.
The company also offers specially engineered plastics and environment-friendly plastics for use ...
in oilfield equipment
mining equipment
vessel propulsion systems
and power station equipment
China XD Plastics Company Limited primarily sells its products to end customers through approved distributors as well as directly. The company was founded in 2004 and is based in Harbin, China.
Some of the key points of this firm are highlighted on its website. For some figures of CXDC's financial statement you can also read my previous articles on this stock (see here and here). Some figures of CXDC are also reported in the picture below:
Table 1.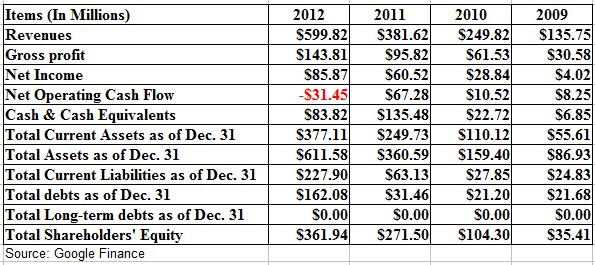 As of March 15, 2014, the share price of CXDC is $4.89, the company has 47.87M shares outstanding, P/E is 3.36, and the company doesn't pay any dividends. NNCAVPS is $3.14 as of December 31, 2012, and $4.97 as of Q3 2013.
The company intends to use the proceeds from the offering of guaranteed senior notes (a class of corporate debt), for ...
repayment of indebtedness incurred by its PRC subsidiaries
for capital expenditures on a production base in Sichuan
and for general corporate purposes
The notes will be offered to qualified institutional investors. Through this way these qualified investors inject capital in the company.
Provided that the standardized expression ''for general corporate purposes'' means everything and nothing, we will try to illustrate some possible scenarios of what might happen as a result of the issuance of this class of corporate debt (please note that the examples provided here are not exhaustive).
It might be a good sign if the company is going to use these proceeds to fund growth, to refinance old debt or to repurchase stock, issue a dividend or buyout an equity investor. But it may be a red flag if these proceeds are used to pay operating expenses because operating cash flow is negative (see conclusions of this article about negative cash flow for CXDC).
Concerning point no. 2, it is a good sign if the company uses the net proceeds from this action mainly to finance the construction of its fourth production base in Sichuan province with 300,000 metric tons production capacity by the end of 2015 and to expand its sales network coverage nationwide as part of CXDC's market penetration program. According to CXDC's Q3 2013 report the company achieved significant progress in market penetration, especially in East China (the largest automobile market in China). This market was a big contributor with 152.8% in revenues increasing compared to the third quarter of 2012. Once the southwest production base is up and running, the company will be able to effectively cover the entire country geographically and reach its goal of 10% market penetration with its major products (read China XD Plastics' CEO Discusses Q3 2013 Results - Seeking Alpha's Earnings Call Transcript).
As part of CXDC's long-term growth strategy, the company remains committed to its investment in research and development in order to enhance its product offerings, especially for higher-end applications. The company believes that this strategy is the key to further strengthening its market position and will deliver long-term value to its stockholders.
But it might not be a good sign, and even a red flag, if the company will use the net proceeds from the offering of guaranteed senior notes mainly to fund operating cash needs.
If we look at the picture below we can see that from 2011 to 2012 there was a use of cash since the receivables increased $98.75 million from 2011 to 2012.
Table 2.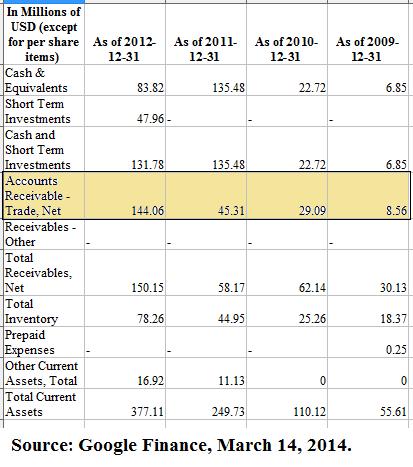 Accounts receivable keep increasing through 2013 as you can see from the picture below:
Table 3.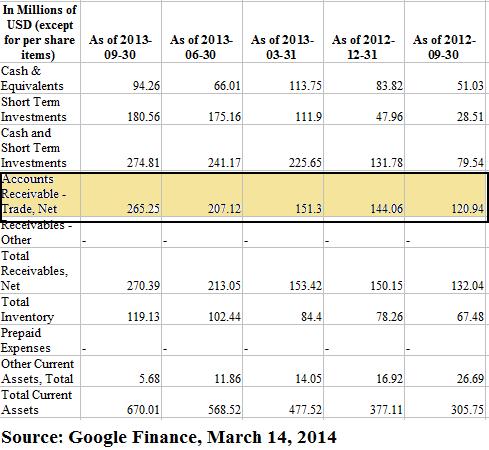 We can also observe this trend when we compare the quarter of 2012 to the same quarter of 2011 and the 4th quarter of 2012 with the corresponding one of 2011:
Table 4.

Click to enlarge
In conclusion from 2011 to 2012 there was a use of cash since the receivables increased $98.75 million from 2011 to 2012, and increased $144.31 million when we compare receivables of Q3 2013 with receivables of Q3 2012, while CXDC has issued corporate debt which consists of $150 million aggregate principal amount of 11.75 pct guaranteed senior notes due 2019.
If these net proceeds are used as a whole or for their majority to fund operating cash maybe it is acceptable in the short run for a company that is in the growth stage, but if the company goes on in consuming working capital and deteriorates its operating cash flow to the extent that they turn to be persistently negative (free operating cash flow for 2012 was negative, see table 1 above and here), this kind of action cannot be sustained forever.
The press release also says that: ''The Notes will be secured by a pledge of the shares of the Issuer held by the company and a pledge of the shares of the Subsidiary Guarantor held by the Issuer.''
Waiting for more details possibly in a footnote to CXDC's 2013 financial statement, these senior notes seem to be not immediately dilutive, even though they can carry the potential to dilute shareholders. What does it mean for the shareholders?
As of September 30, 2013, CXDC's total debt is $260.25 million vs $150 million of senior notes (without counting the interest payments that will mature on the debt), the aggregate principal amount of the debt will represent a significant part of the total debt and the funding instrument has the potential to trigger the issuance of a huge number of common shares and therefore dilute existing shareholders.
''We may, however, require additional cash resources due to changes in business conditions or other future developments. If these sources are insufficient to satisfy our cash requirements, we may seek to sell additional equity or debt securities or obtain a credit facility. The sale of additional equity or equity-linked securities could result in additional dilution to stockholders'' (page 52 10-K for FY 2012).
In the most deadly scenario, if the company's performance deteriorates maybe because there will not be specific investment opportunities that make the stock capable of investing its retained earnings at a return which is higher than the ''normal'' rate of capitalization (see my article on i.o.a. applied to CXDC), then existing shareholders might have the unpleasant surprise of being left with poor performance or even be diluted over a larger number of shares.
Another possible scenario is that the company will use part of the net proceeds to buy some common shares back. If it is the case this will be a good sign for shareholders.
Let's use an example. We will assume that the company will use part of the net proceeds from the offering of senior notes to reduce some short-term indebtedness and to buy back, let's say, 9 million of common shares. Ebit of $188.96 is as we estimate it according to CXDC's annual guidance for 2013 (see here).
Table 5.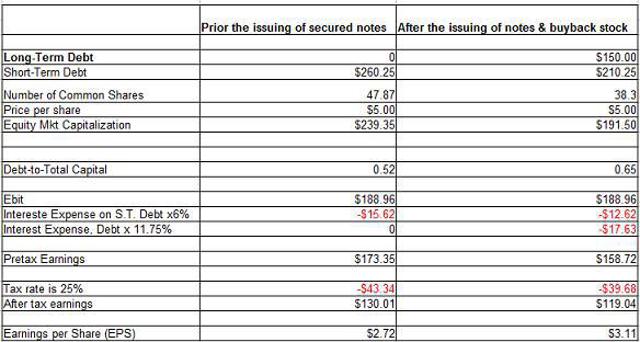 As you can see the number of common shares decreased about 20% to 38.30 million and CXDC must pay annual interest of $17.63 (11.75% on the principal aggregate amount of $150). The debt to total capital is now 65% as we have added some more leverage to the capital structure of CXDC. It causes EPS to increase from $2.72 to $3.11. The company has more earnings that it can reinvest into the business. This might be a catalyst for shareholder value rising if there will be specific investment opportunities for the stock to reinvest its retained earnings at a rate which is higher than its ''normal'' rate of capitalization and if the market will, of course, recognize this ability (see this valuating approach here).
Conclusion
We may seek further explanations, maybe in a detailed footnote in the 2013 10-k form, for the purpose of new debt that CXDC takes out through this offering of secured senior notes.
The issue of this new debt can have many purposes that range from being a good to bad sign for shareholders.
We have imagined some scenarios: 1 of these might indeed be a red flag for shareholders since it appears that this funding instrument carries the potential of dilution, even if it is not immediate.
If there won't be specific opportunities for the company to reinvest its retained earnings at a rate which is higher than the normal rate of capitalization, the stock might turn in disappointing performances for its shareholders. And if bonds will be converted into shares the existing shareholders have to share those poor performances with a more vast number of investors.
But if the company is a true growth stock, this action might even become a catalyst to raise the value for shareholders even if the purpose of this kind of action is also to partially and temporarily fund operating cash needs.
Additional disclosure: This article does not constitute any investment recommendations or professional advice.
Disclosure: The author has no positions in any stocks mentioned, and no plans to initiate any positions within the next 72 hours.
The author wrote this article themselves, and it expresses their own opinions. The author is not receiving compensation for it (other than from Seeking Alpha). The author has no business relationship with any company whose stock is mentioned in this article.
Additional disclosure: This article does not constitute any investment recommendations or professional advice.