1 - A quick presentation.
Gold Resource Corp. (NYSEMKT:GORO) is a mid-tier gold and silver producer based in Colorado with a producing underground gold mine, and five gold/silver exploration properties called the Oaxaca mining unit exploration, all located around 120 km southeast of Oaxaca, Mexico. The company also produces other metals like copper, lead and zinc as by-products.
Gold Resource Corp. was founded in 1998 and is headquartered in Colorado Springs, Colorado USA. The SEC considers GORO as an exploration stage company because it has not demonstrated yet that the La Arista underground mine presents proven and probable reserves. An exploration stage company has to price all expenditures for facilities and mine construction as incurred, and therefore, GORO cannot capitalize them in the balance sheet which is a notable accounting difference.
The El Aguila gold project is the company's flagship project (also called the La Arista underground mine since 2011) - a significant newly discovered high-grade gold and silver system (by-products are copper, lead and zinc). La Arista underground mine development began in 2009, and first production began in March 2011. The company trucks the ore material to its El Aguila mill (floatation circuit, capacity of 1,500 tons per day), and then processes it into three differential high-grade concentrates: a copper/gold, a lead/silver, and a zinc/gold/silver. The mill is about two kilometers away.
The company also owns five exploration properties nearby at various stages of development: Las Margaritas, El Rey, El Fuego, Alta Gracia and El Chamizo. These 5 different projects are within trucking distances of the El Aguila mill complex.
The company has 53,779,369 shares outstanding in January 2014, no debt and no warrants.
Here is a general view, from the company website: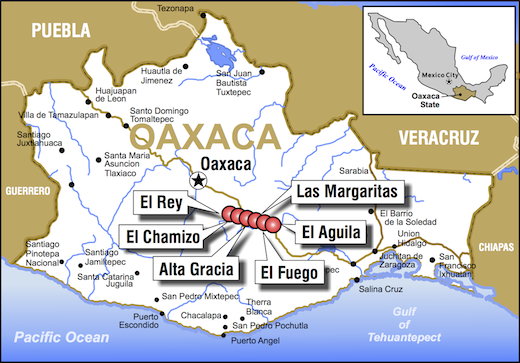 On February 26, 2014, the company announced its intention to acquire about 18.4% of Canamex Resource Corp. (OTCQX:CNMXF), which owns two gold projects, in Nevada, USA, and in Guyana, South America.
2 - The El Aguila/La Arista underground gold mine complex.
Operations at the El Agila open-pit mine ceased in February 2011 with the immediate start-up of the underground mine operations at the La Arista in March 2011. The mine delivers metal concentrates from mineralized material that has two primary metals, gold and silver, and by-products like copper, lead and zinc. The ore from La Arista is trucked to the El Aguila mill which has a total capacity of 1,500 ton per day (Floatation circuit only). GORO achieved an average of 866 tons per day in 2013.
The company produced 84,835 ounces equivalent of gold (ozEq) in 2013, at a cash cost of over $600 (cash cost includes the sale of by-products like copper, lead and zinc). The 2013 year-end results haven't been released yet, and we do not know exactly what will be the cash cost for the year. However, looking at the cash cost for the first 9 months in 2013, which was $609, I am assuming that the cash cost 2013 will be higher. Gold price ended 2013 at $1,200/oz and silver price was also depressed at under $20/oz.
Here is the US Producer Price index chart for Gold Ore & Silver mining for 2013. It illustrates this huge downturn.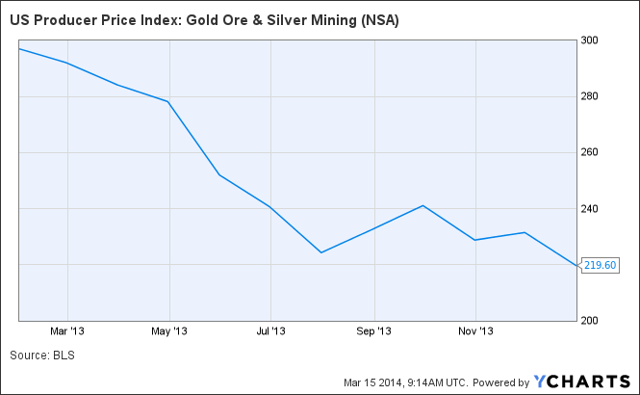 Click to enlarge
US Producer Price Index: Gold Ore & Silver Mining data by YCharts
The company is using the "oz equivalent of gold" (ozEq) because it produces gold and silver as primary precious metals. Precious metal gold equivalent is determined by taking gold oz produced plus silver oz produced converted to a precious metal gold equivalent oz using the gold to silver average price ratio for the period.
Again, we are still waiting for the 2013 year-end results, and I can only show the detailed production for the first nine months 2013 (10Q SEC filing) compared to the first nine months 2012.
Grade for Arista 2012/2013 (9 months)
| | | | | | |
| --- | --- | --- | --- | --- | --- |
| Grade | Gold (g/t) | Silver (g/t) | Copper (%) | Lead (%) | Zinc (%) |
| 2012 | 4.08 | 365 | 0.44 | 1.88 | 4.01 |
| 2013 | 3.72 | 338 | 0.39 | 1.10 | 2.71 |
Production for the first 9 months
| | | | | | |
| --- | --- | --- | --- | --- | --- |
| Production | Gold (oz) | Silver (oz) | Copper per ton | Lead per ton | Zinc per ton |
| 2012 | 24,611 | 2,317,110 | 687 | 2,734 | 6,567 |
| 2013 | 24,976 | 2,321,345 | 702 | 1,786 | 4,932 |
Price of metals
| | | | | | |
| --- | --- | --- | --- | --- | --- |
| Price metal | Gold (oz) | Silver (oz) | Copper per ton | Lead per ton | Zinc per ton |
| 2012 | 1,690 | 31 | 8,162 | 2,080 | 1,997 |
| 2013 | 1,437 | 25 | 7,409 | 2,241 | 1,967 |
| 2014 | 1,383 | 21.60 | 6,494 | 2,007 | 1,992 |
Production Gold equivalent and cash cost (9 months)
| | | |
| --- | --- | --- |
| Production first 9 months | 2012 | 2013 |
| Production (oz equivalent gold) | 66,649 | 64,148 |
| cash cost | 396 | 609 |
We can see above that the production is slightly lower from year to year, or 3.8% down for the first 9 months. The grade seems going down also or about 8% as the company is mining deeper underground.
The cash cost is $609/ozEq, an increase of 54% compared to $396 in 2012, and I expect it to increase in 2014. This cash cost is still very low compared to IAMGOLD (NYSE:IAG). The question is about what represents the cash cost for Gold Resource Corporation? Most of the other gold miners are using the all-in cash cost and I would like the company to give an all-in cash cost that can be compared to other gold miners.
A recent development that will influence the future production in 2014 is the discovery of a new vein at La Arista, called the Santa Lucia, announced March 12, 2014. (2.67 meters of 13.90/t gold and 3,228 g/t silver). It is a parallel structure located 60 meters northeast of the Arista vein. This new discovery is significant, and Jason Reid, CEO and President, said:
"Our original deposit model projected two primary veins, the Baja and Arista. Drilling continues to expand the deposit at depth, along strike as well as parallel to the main structure. With the deposit expanding south towards the Splay 5 and Socorro veins, along with our discovery at Switchback, 500 meters to the northeast of the Arista deposit, we are very impressed with the system's continued expansion potential. We believe we are in a strong position to continue adding ounces to this high-grade polymetallic deposit, with the goal of having three to four years production drilled out in front of us at any point of time."
On January 21, 2014, GORO announced preliminary 2013 fourth quarter and year-end mill production. The release was incomplete and did not mention the cash cost for 2013.
Production comparison 2012/2013
| | | |
| --- | --- | --- |
| Production year | 2012 | 2013 oz equivalent |
| Oz Eq gold | 90,432 | 84,835 |
| cash cost per Oz Eq | 419 | n/a (>600?) |
"We achieved this in spite of a weakening gold to silver ratio working against our precious metal gold equivalent production for the year. We also achieved our goal during a significant expansion year for both the Aguila mill and Arista mine, while sustaining various mill shut down days for construction and maintenance during the fourth quarter. With nominal mill production capacity increased to 1,500 tonnes per day, our primary focus continues on mine development targeting increased tonnage over the 2013 average processing rate of approximately 866 tonnes per day. We are finalizing the Company's 2014 Outlook and targeted production range and remain optimistic our excellent Oaxaca team will continue to achieve our future production goals."
We are still waiting for the 10K filings for 2013, and forecast for 2014.
3 - Conclusion.
Gold Resource Corporation is the perfect example of a mid-tier gold/silver mine company that offers a good opportunity for a potential double in 2014/2015, if the price of gold and silver can rally at above $1,450/$1,550 oz for gold and between $27/$32 per oz for silver.
GORO is producing at the La Arista underground mine, but also has several other prospects around the same area which will give a long growth opportunity.
As I explained in my previous article related toABX and NEM and also in my article about IAMGOLD, the gold miners have suffered a terrible downtrend due to the huge drop in gold and silver prices. I think it is about to change in 2014 and 2015.
The company is still serving a dividend of about $0.12 per share and has no debt. Here is the 2-year chart (GORO/IAG):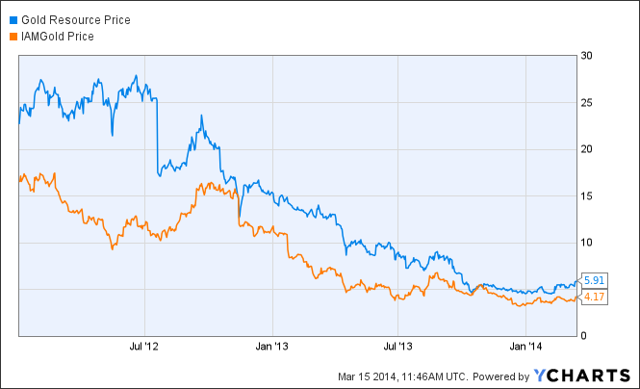 Click to enlarge
GORO data by YCharts
At today's stock price of 5.91, I believe it is a good bargain similar to IAMGOLD. My target is between $10 to $12 in 2014.
I Assumed $1,450/$1,500 per oz for gold, and around $30 per oz for silver. Cash cost at around $750/ozEq and 85k ozEq of gold for 2014 production, and shares outstanding at 55 million.
Disclosure: I am long ABX, IAG, NEM. I wrote this article myself, and it expresses my own opinions. I am not receiving compensation for it (other than from Seeking Alpha). I have no business relationship with any company whose stock is mentioned in this article.
Additional disclosure: I will initiate a GORO position soon.