For investors looking for an independent E&P company situated north of the 49th, Canadian Natural Resources (NYSE:CNQ) is a Calgary based company currently trading at attractive valuation, offers a solid dividend and has capital appreciation potential.
Canadian Natural Resources Limited is a Canadian based independent energy company engaged in the acquisition, exploration, development, production, marketing and sale of crude oil, NGLs, and natural gas production.
As the map below indicates, CNQ has operations in Canada, the North Sea, and offshore Africa.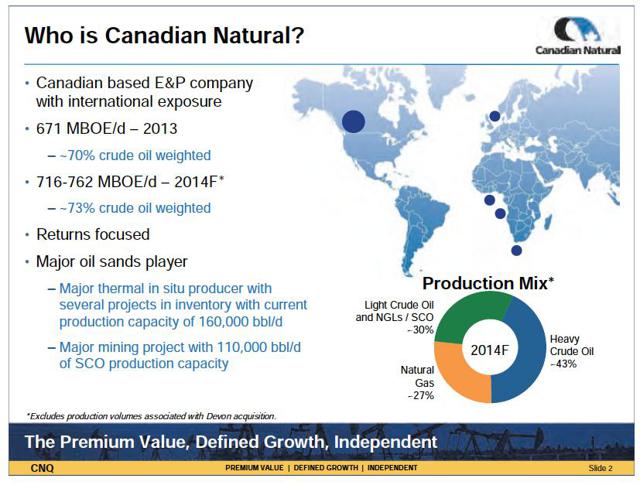 Valuation
E&P companies such as CNQ typically have an EV/EBITDA ratio that trades in the 9x to 13x trading range.
In this case, CNQ's Enterprise Value or EV = Market Capitalization + Total Debt - Cash and Cash Equivalents trades at a discount.
EV = $39.97 billion + $9.393 billion - $18 million = $49.345 billion
EV = $49.345 billion
EBITDA = $8.120
EV/EBITDA = 6.07
As the E&P companies often trade in the 12.98 range, an EV/EBITDA ratio of 6.07 indicates at current levels the stock is trading under fair value compared to other companies in its sector.
Other metrics that indicate the CNQ is undervalued are: Canadian Natural Resources has a P/S of 2.5 below the industry average of 2.7, P/B of 1.7, below the industry average of 1.81, but has a P/FCF of 6.6, which is above the industry average of 5.3.
Why is CNQ Undervalued?
There are a two main reasons why CNQ is undervalued.
1. Pipeline capacity and Railroad Transportation: According to the Sierraclub, Canada's existing pipeline network can handle 3.6 million barrels per day. At current expansion levels the article estimates that Canada will hit that capacity sometime this year.
To continue with growth the oil companies are utilizing the Rail companies to transport the energy. This method of transportation is also fraught with significant political and environmental issues as well. Article by the Huffington Post titled: Alberta Train Derailment adds fuel to the pipeline debate is an excellent example of this issues.
2. Other Environmental Issues Associated with Heavy Oil:
The water-based extraction process uses enormous water inputs, requiring between two and four barrels of water for each barrel of oil produced.
The oil sands industry also uses large quantities of energy and produces massive amounts of waste water, known as "tailings."
Growth and Production
As management is focused on transiting to longer life, low decline assets, they made a major move to that process. Last month, CNQ purchased Devon Energy Corp.'s (NYSE:DVN) conventional oil and natural-gas fields in Canada for $3.13 billion in cash.
This purchase will add production near Canadian Natural's fields in western Canada. The deal is expected to increase output by ~86,000 barrels of oil equivalent a day.
CNQ's president states: "This acquisition provides immediate value to shareholders through production and cash flow."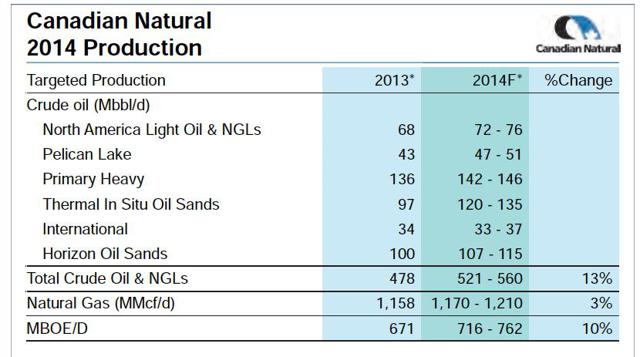 Source: CNQ
As production growth is expected to grow by ~10% in 2014 this is expected to have a significant effect on the company's bottom line. As stated by the chart below, Analysts at the Nasdaq are anticipating significant growth in 2014.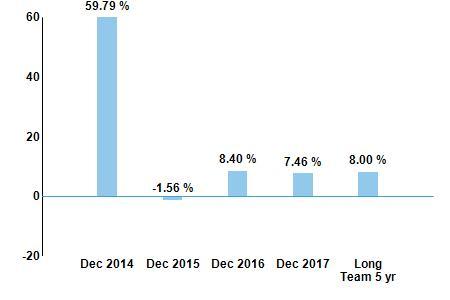 As the chart indicates, analysts are predicting significant growth over the next 5 years.
Key Ratio
Return on capital employed = EBIT / (Total Assets - Current Liabilities)
This ratio indicates the efficiency and profitability of a company's capital investments. The higher the percentage the better.
ROCE should always be higher than the rate at which the company borrows otherwise any increase in borrowing will reduce shareholders' earnings, and vice-versa. A good ROCE is one that is greater than the rate at which the company borrows.
2011 = $3.927 billion / $43.244 billion = 9.08%
2012 = $3.053 billion / $45.004 billion = 6.78%
2013 = $3.172 billion / $47.299 billion = 6.71%
According to the list above, all of CNQ's calculated return on capital employed ratios are higher than the rate at which it has borrowed. As compared to the current WACC of 6.09%, this indicates that the company is making profits on the capital invested.
Dividend
As the ROCE above indicates, CNQ is creating profits on the capital they have invested. This is utmost importance to the investor as industry growth is expected to be muted over the next few years.
At current levels CNQ offers a 2.20% yield which equates to a payout of $0.81. As the payout ratio is 24.00%, this indicates that the company is not overpaying based on their income. With a history of dividend increases this looks to be an attractive long-term investment.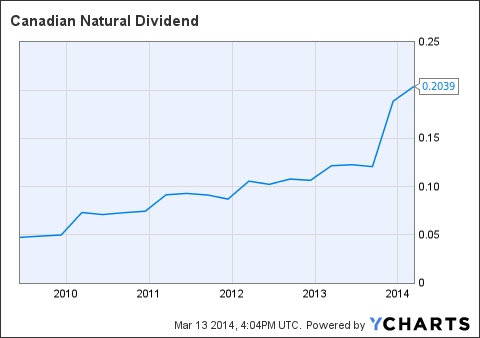 CNQ Dividend data by YCharts
With a long-term investment in mind, CNQ is trading at attractive valuations, has attractive dividends and has a management team that seems to "get it" when it comes to rewarding shareholders with dividends and making capital allocation decisions.
Forward P/E to create a target
To create a target price for Canadian Natural Resources. I will use CNQ's forward P/E ratios with estimated earnings to find a target. Currently, CNQ has a forward P/E of 12.96 and FY 2017 high earnings projected at $3.17. Based on visible forward-looking metrics, this equates to a 2014 target of ~$41.08.
As of March 13th, CNQ was trading at $35.62. Using the forward P/E model, this indicates that the stock has a 15.33% potential upside from this point.
Conclusion
Even after a strong price increase in CNQ over the past year, I believe the company is still undervalued. As there are significant environmental and infrastructure issues associated with the Oil Sands, this leads me to believe that CNQ will not trade at "fair value" anytime soon. Nevertheless, I see significant upside for an investor. Currently, the company offers a dividend of $0.81 or a yield of 2.20%. As management is receptive to shareholder value they have a history of dividend increases. Even though the company is fraught with issues, I own the stock and I have a price target of $41.08 for 2014.
Disclosure: I am long CNQ. I wrote this article myself, and it expresses my own opinions. I am not receiving compensation for it (other than from Seeking Alpha). I have no business relationship with any company whose stock is mentioned in this article.