The Euro was down approximately -0.5% versus the Swiss Franc (CHF). To my mind this is still very negative for EU financials. Many EU mortgages are denominated in Swiss Francs. When the EU moves -0.5% versus the Swiss Franc, it means PIIGS owners with Swiss Franc denominated mortgages owe 0.5% more in principal. It means their payments are 0.5% higher. It means they are closer and closer to defaulting. It means banks are carrying more and more toxic loans. This makes me wince every time I think of Spanish real estate.
The Eastern European countries' currencies usually go down more than the Euro with respect to the Swiss Franc. I haven't checked all of these for Tuesday. However, the Bulgarian Lev was down to 0.70511 Swiss Francs on June 8 from 0.70887 on June 7 (down again). This is down approx. 4.5% since May 22 (2 weeks ago). It is down close to 9% from Dec. 2009. This is a huge change for all those trying to pay off their Swiss Franc denominated mortgages. It goes a long way to explain the widening in the Bulgarian CDS spreads lately. Bulgaria was near the top of the list of largest spread wideners Tuesday (see table below).
Click to enlarge: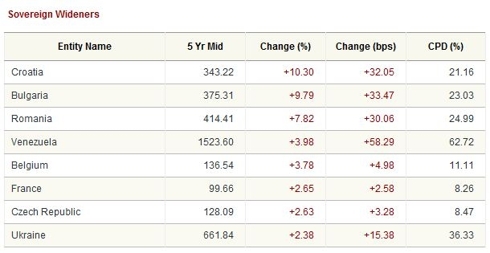 Bulgaria was also the country singled out for an audit by the EU ministers meeting in Luxembourg Tuesday. The old saying, "Where there's smoke, there's fire." comes to mind. The chart of the European Commission GDP estimates versus the Member Country GDP estimates below gives an indication of how far out of sync the Member Country estimates can be vs. the likely "more realistic" European Commission estimates.
I expect the audit to find problems. I am not sure exactly when this information will be released, but do expect negative news from the Bulgarian audit in the near future. You can see the huge differential between the European Commission estimates for Bulgarian GDP (dark blue) and the Bulgarian government estimates (light blue). The likelihood of "fire" being present seems huge.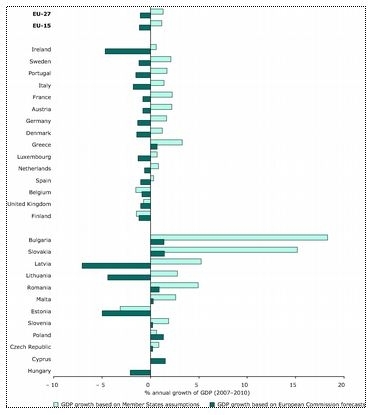 Good luck trading.


Disclosure: No positions at this time