Is it time to "Buy on the Dips?" The question begs an answer, as many have done well over the last year buying on market pullbacks. But the answer may depend on your time frame. Are you a trader or an investor? How much tolerance for pain do you have? If you have practiced this technique for the last month and a half, you have been punished for your efforts.
The sea change to your strategy is projecting where the market will be in six to nine months. The market looks to trade in a declining channel from now until earnings season starts in July. We don't see where the good news will come from to change the skittishness investors are feeling right now.
On January 4th, 2010 we predicted that the S&P 500 would close the year between 1200 and 1400. This may have been optimistic, but as the market advanced in April it made us nervous. The market had reached our lowest target for the end of the year! This was crazy, to think every problem was behind us and we could return to pre credit crisis valuations so quickly.
Beginning on March 6 of last year, you could buy almost any stock, and if you held it long enough, make a profit. In the words of an old friend, "Inflation covers up a lot of mistakes." When the market is on a bull run to almost doubling in value, a monkey can pick stocks and make a nice return.
You better not try that now. The market is dancing right above resistance of 1040 on the S&P 500. If we close below this level, where do we go? The next important stop would be at 1009 This is the 38.2% retracement of the market advance from March 2009 to April 2010 If 1009 does not hold, look for support at 943, this is the 50% retracement level. The 943 level has added importance as it was a resistance level for the market last June and earlier in January of 2009.
We saw buying kick in Tuesday as the market dropped down to 1042 Will these buyers be punished? Maybe. If you are buying high volatility stocks as a trade you may have hooked your wagon on a mustang that will take you for a harrowing ride. Set your stop just below the low and hold on. If you are an investor with a longer window and willing to put up with a little pain, some blue chips are offering attractive prices. Berkshire's B-shares (NYSE:BRK.B) and Coca-Cola (NYSE:KO) shares are discounted 13% off their March and December highs. Exxon (NYSE:XOM) is discounted 20% from its high last November. Freeport-McMoRan (NYSE:FCX) is down 32% from its high in January.
Neither I, nor anyone can predict the future; we can only process the information available and make considered decisions. We are neither bullish enough to jump in with both feet or so scared we won't get in the water. The problem we face is all the talking heads on TV spewing negative views (because if it bleeds it leads). Perception becomes reality. The market will overshoot the bad news this time, just as it overshot the good news in April.
Click to enlarge: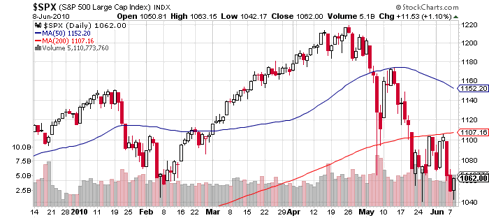 We believe the market will trade in a range, from 1040 to 1150. The chart above shows the 50-day moving average has acted as resistance on the upside in the last two weeks. This are our parameters established so far. We can easily get an outlier to a lower support level. These should quickly bounce back as they are recognized as buying levels for traders. But be cautious, the trip up could be short lived as we must retest and find the bottom that will hold. 1040 has been tested twice now, three times if you count Feb. 5, 2010.
Disclosure: Long FCX, XOM, BRK.B, KO