At first, BP (NYSE:BP) looks like a no brainer. It is one of the world's biggest oil & gas stocks, and is trading at a P/E of 6.5 and a dividend yield of 4.66%. When compared to others in the sector, these numbers are massively low. A company like Exxon (NYSE:XOM), for instance, trades at a trailing twelve month P/E of 12.7 and sports a dividend yield of 2.7%.
So, what gives?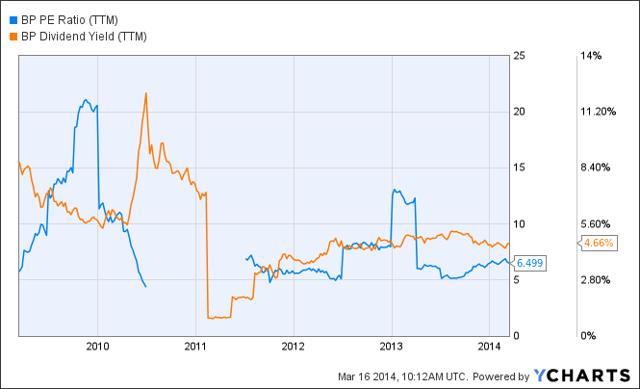 Click to enlarge
BP PE Ratio (TTM) data by YCharts
Well, we have a couple of things going on.
First, BP's trailing twelve month P/E is actually a bit more than the 6.5 that it is listed at. That P/E is a product of one-time asset sales that the company has made; an earnings-based P/E ratio would be somewhere in the 10.3 region, if my back-of-the-napkin math skills serve me correctly.
Secondly, those asset sales are a product of BP trying to "batten down the hatches" with regards to its potential settlement as a result of the Gulf Oil spill of years ago. BP has been throwing billions in cash at its legal issues resulting from its oil spill years ago. It's been a lengthy legal process for BP, but the truth of the matter is that they seem to continue to get hung up every step of the way. This, of course, includes just last week, where the company had yet another request to halt payments denied.
Seeking Alpha reported just last week:
BP's latest bid to temporarily halt payments under its $9.2B oil spill settlement in order to establish improved accounting and fraud safeguards was rejected today by Judge Barbier in New Orleans.
BP, which believes widespread fraud and a faulty interpretation of settlement terms have prompted the payment of millions of dollars in unwarranted claims for damage from the 2010 Gulf of Mexico oil spill, was requesting new computer cross-checking programs to automatically single out claims from some regions and industries or in excess of certain amounts for "enhanced due diligence and closer scrutiny."
Say what you want about SA contributor the Specialist, but he/she has been absolutely dead on thus far with his/her interpretation of risk involved in the oil spill payouts. He/she has clearly read through the immense documentation that is accompanying the suit. When the settlement talk began, part of me wanted to see BP come out unscathed, as I was thinking of buying stock and know people that are long the company. Now, it's simply looking like less and less of a reality.
In addition to BP's looming legal issues, SA contributor Kevin Babb did well to point out potential liabilities for BP regarding the conflict in Ukraine:
BP owns 19.75% of Russian state oil company Rosneft (OTC:OCRNL), which is worth about $65 billion overall. With the Western world still uncertain how to approach the Russia-Ukraine conflict, there is a possibility that economic sanctions would be imposed on Russia, potentially harming Rosneft's business, and consequently BP. In fact, a recent dip in Rosneft's share price caused a loss of nearly $1B for BP overnight. From the 5-day chart for BP, it's pretty clear to see that the impact is significant.
So, things may not be exactly as rosy as the company's stock has made it look.
If you can stomach the risk involved here and love juicy dividend comps, BP might be a stock that could be right for you. Especially if you're looking to allocate funds specifically for oil & gas stocks.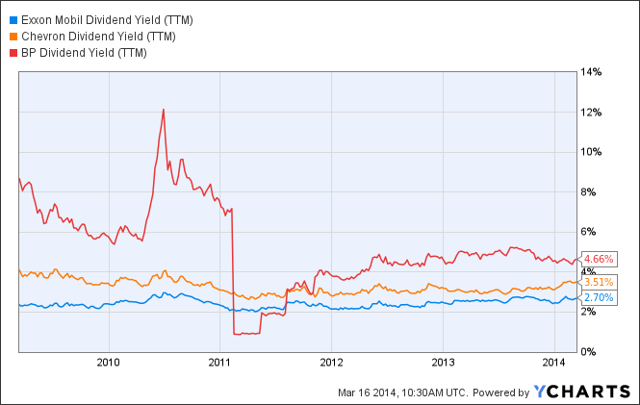 Click to enlarge
XOM Dividend Yield (TTM) data by YCharts
In addition to the dividends, the stock's price has also shown some momentum over the last six months.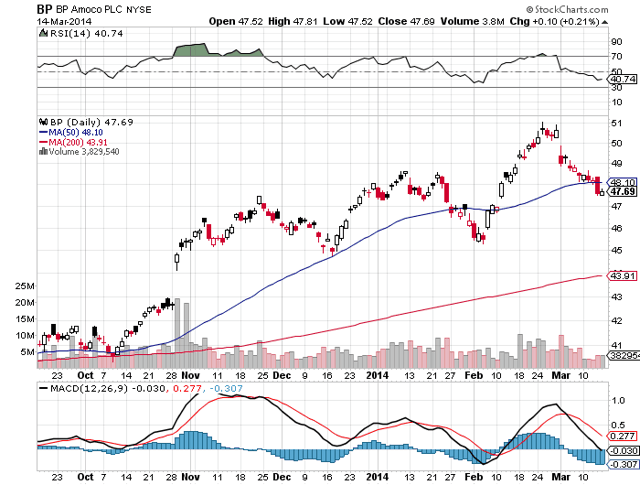 Click to enlarge
However, the looming legal issues [unlike how I feel about Bank of America (NYSE:BAC)] are enough to keep me on the sidelines here. I realize there's an impending undertone of "the big corporation always wins" - and trust me, I subscribe to that as part of my reason for owning BAC, whose dividends are de minimis.
However, with the company's original $20 billion in reserves burned through - and talks of an additional $10 billion-$20 billion potentially being at risk if BP doesn't get a judge who likes them, I tend to agree that the recently raised dividends could potentially be at risk.
I'm currently watching and waiting to see how the company's legal issues will play out, as it doesn't seem prudent to me to enter the stock at this point. As news develops, I could change my position. I'll be watching BP closely - best of luck to all investors.
Disclosure: I have no positions in any stocks mentioned, and no plans to initiate any positions within the next 72 hours. I wrote this article myself, and it expresses my own opinions. I am not receiving compensation for it (other than from Seeking Alpha). I have no business relationship with any company whose stock is mentioned in this article.