Concern over China's economy along with safe haven demand spurred by events in the Ukraine pushed gold and silver prices sharply higher last week and, dependent upon Sunday's secession vote in Crimea and Russia's response, this could continue. Gold notched fresh six-month highs, but the price drivers have been more than just geopolitical concerns, as Western demand is returning, and the technical setup has turned decidedly positive.
Weakness in both the U.S. dollar and broad equity markets have also been supportive of higher metal prices, however, demand in Asia - where most of the world's physical gold is purchased - has cooled markedly during a seasonally slow time of the year. A Fed policy meeting is on tap for this week, and there has been increasing chatter about the renewed threat of higher inflation due to central bank money printing, but Russia's reaction to the secession vote in Crimea is likely to be the biggest price driver for gold and silver in the days ahead.
For the week, the gold price surged 3.1 percent, from $1,340.30 an ounce to $1,382.00, and silver rose 2.7 percent, from $20.89 an ounce to $21.46. The gold price is now up 14.6 percent for the year, still 28 percent below its record high of over $1,920 an ounce in late 2011, and silver is up 10.4 percent so far in 2014, now 57 percent below its all-time high near $50 an ounce three years ago.
To be sure, escalating East-West tensions over the Ukraine have been the most important factor driving precious metals higher and, with Russian troop movements in advance of Sunday's vote on whether Crimea should join Russia, the path of least resistance for metal prices is upward. There is now a hefty "war premium" built into both gold and silver that, should tensions ease, will cause prices to reverse course, possibly in dramatic fashion. But it appears Russia has no intention of backing down, so look for some potentially wild market action starting long before U.S. markets open on Monday.
Fresh concerns over a slowing economy in China and the nation's first corporate bond default have also prompted a stronger bid for gold, but it is the return of investment demand in the West that is likely to have a much bigger impact on metal prices over the long-term.
This changing sentiment in the U.S. is clear to see via the weekly flows into and out of the SPDR Gold Shares ETF (NYSEARCA:GLD) as shown below.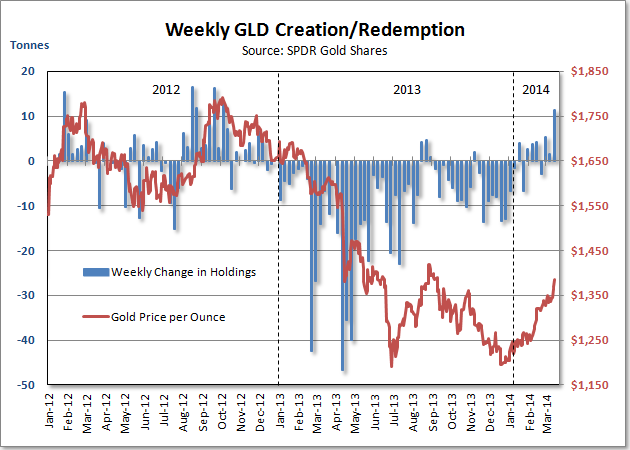 Following modest net gains during the first two months of the year, weekly inflows rose to their highest level in 17 months last week as more U.S. investors added gold to their portfolios.
The fact that gold mining stocks rose even more than the metal, a good example being the five percent surge for the Market Vectors Gold Miners ETF (NYSEARCA:GDX), is also an indication that attitudes toward the gold sector are quickly changing after a multi-year bear market.
This now appears to be a sustainable change in trend, however, don't look for the same sort of signals coming from the silver market, as holdings for the popular iShares Silver Trust ETF (NYSEARCA:SLV) have been down in recent weeks.
A weaker stock market and a falling trade-weighted dollar have both contributed to the recent rise for precious metals. Recall that, historically, the U.S. dollar and gold have a strong inverse correlation, but this same relationship is something fairly new for gold and the broad equity market as detailed in this item from January.
With more and more talk of soaring U.S. share prices taking a break (or much worse) this year, it is understandable that investors would lighten up a bit on what has been working for them in recent years and increase their asset allocation to an undervalued asset such as gold.
The technical picture for precious metals seems to improve with each new day of trading, as last year's double-bottom below $1,200 an ounce fades further and further from view. Last Wednesday, resistance at just over $1,360 an ounce was easily taken out and, over the last three months, there has been a series of higher highs and higher lows, with price dips being shallow and quickly bought. This has all added to the growing bullish sentiment for gold and silver, as traders now eye price levels above $1,400 an ounce for gold and above $22 an ounce for silver.
In this item by Frank Holmes over at U.S. Global Investors, readers were alerted to a fast-approaching "golden cross" as shown below.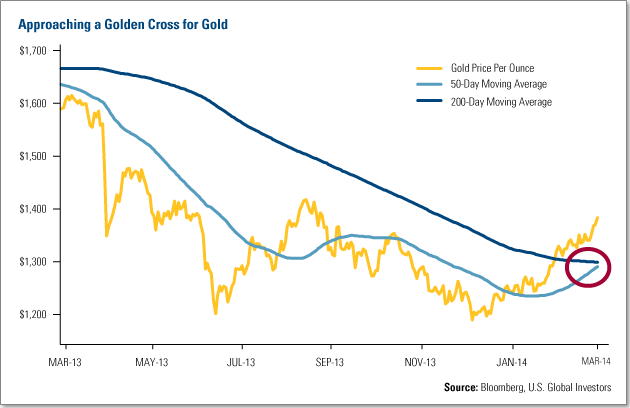 Such an event occurs when the 50-day moving average rises above the 200-day moving average, and this now seems likely to occur in short order. Their analysis indicates that, since 2000, a golden cross for gold has been followed by an average gain of 50 percent lasting an average of 15 months.
Gold traders probably didn't need that bit of information to sustain the current rally (especially if Russia continues to be cause for concern), but it certainly doesn't hurt.
Higher prices have led to lower demand in cost-sensitive Asia, and this should be of little surprise to anyone.
The people of China and India are the best dip-buyers in the world, as evidenced by record gold demand in China last year at much lower prices. Demand in India would likely have set records last year too, if not for the draconian gold curbs enacted by the Indian government.
According to this Reuters report, gold in China was recently trading at a discount of $5-$6 an ounce, a big change since premiums of over $20 were seen just months ago when prices were much lower. This Bloomberg story details how gold demand in China is set to decline sharply during the first quarter, however, the China Gold Association said it expects to set another record for full-year demand in 2014.
In India, jewelers observed a nation-wide strike last Monday to protest government gold import taxes and other restrictions as detailed in this Mineweb report. Should the government relax some of these policies, look for Indian gold demand to surge anew on any dip in prices later this year.
The Federal Reserve meets this week and it is likely to reduce its money printing effort by $10 billion per month. Absent some surprise by the policy committee or from Fed Chair Janet Yellen during the press conference that follows, don't look for the Fed to move the gold market this week. At the moment, the vote in Crimea and Russia's reaction are all that really matter to gold traders.
Lastly, there has been a noticeable increase in the talk about rising inflation (e.g., this item at the blog last week) and, while there is nary a sign of this in the economic data, just the fact that investors show growing concern about it could be important. To be sure, inflation has been to financial markets what "the boy who cried wolf" was to a herd of sheep in the well-known parable, but talk of tightening in the U.S. labor market, rising commodity prices, and fresh warnings from long-time deflationists, such as David Rosenberg of Gluskin Sheff, are worth keeping an eye on.
Of course, higher inflation is a long-term catalyst for higher gold and silver prices, but the metals seem to have about all the short-term catalysts they need at the moment. In fact, the stars could align in the days ahead for gold, depending upon how things play out in southern Ukraine.
Disclosure: I am long GDX. I also own gold and silver coins and bars and metal ETFs other than GLD and SLV. I wrote this article myself, and it expresses my own opinions. I am not receiving compensation for it (other than from Seeking Alpha). I have no business relationship with any company whose stock is mentioned in this article.