Shares of Seadrill (NYSE:SDRL) have been on the downward path since about October of last year. Since October, shares have dropped by 27%, a drop which is significantly more than that of its peers, Ensco (NYSE:ESV) and Transocean (NYSE:RIG).

The reason for such a huge drop is pretty straightforward. Investors are worried about the integrity of Seadrill's dividend. For long-term believers in Seadrill, the price action of the past six months has been particularly baffling. After all, by cash flow metrics and guidance for this year, Seadrill's dividend is indeed secure. Not only that, but Seadrill's future cash flow enjoys high visibility because the company gets most of its revenue from multi-year rig leases. So, not only is Seadrill's dividend safe for 2014, but we can also reasonably say that the dividend is safe through 2015.
With this in mind, one would think that investors could just relax and not worry, but that just hasn't been the case. So what's the problem? In short, investors are worried by a deceleration of capital spending on the part of exploration and production companies. Investors also notice that Seadrill, as well as many other offshore lessors, will spend unprecedented amounts on new ships in 2014 and 2015. While all data thus far points to the slowdown in E&P spending being quite mild, investors are worried that things could quickly get worse and slide down a slippery slope.
If all these concerns sound like speculation, that's indeed exactly what it is. But before bulls disregard these concerns outright, let's first look at them with an open mind. This article will attempt to look at some of those concerns and put them into a greater context for investors.
Speculator Sport
First of all, speculative as they are, these concerns have gained traction because oil and gas is an economically sensitive industry which is prone to supply gluts and demand drops, both of which can lead to sudden downturns in profitability. This is even more true for offshore rig lessors. While overall E&P expenditure looks only to decelerate mildly in 2014, energy investors know that things can go from bad to worse very quickly, and many have therefore sold out of Seadrill.
If deepwater rates fall into the $350,000 range and stay there, even an operator as good as Seadrill will not be able to maintain such a high dividend. When, during the latest earnings call, analysts pressed management for thoughts on day rates in the "intermediate future," the reply was that management "didn't want to speculate." This is a notoriously difficult industry in which to make predictions on even the intermediate future. Management doesn't know more than anyone else where day rates will be in two years. Perhaps that is what has investors so unnerved.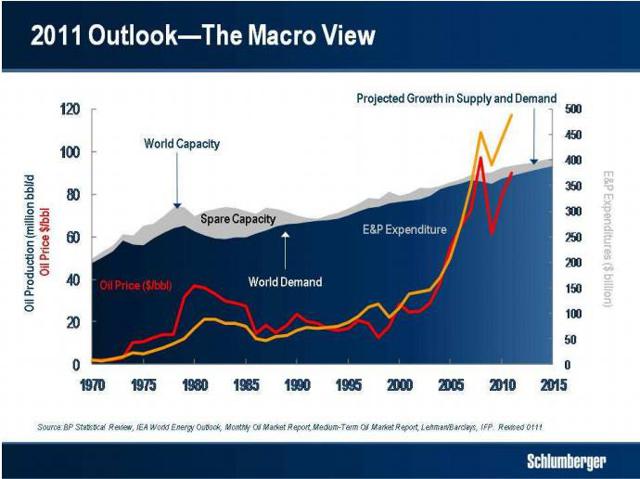 Courtesy of Schlumberger Investor Relations, presentation by former CEO Andrew Gould.
As you look at the chart above, keep in mind that rig day rates are historically correlated to global E&P spending. That may change if offshore drilling ends up being a less costly option than onshore fracking is, but let's just assume that correlation will continue to be tight. Those bailing out of offshore drillers fear that E&P expenditure will draw back sharply. Clearly, the surge in E&P spending cannot go on forever. Given the parabolic rise in the expenditure of E&P since the year 2000, perhaps the correction will be just as sharp.
Thoughts on Fundamentals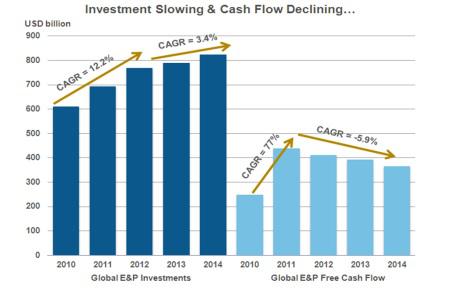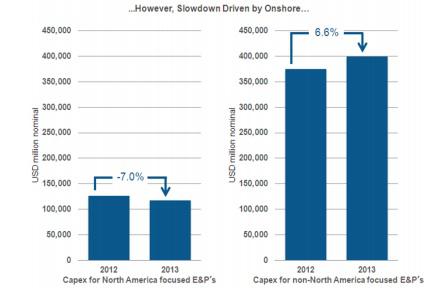 Seadrill Investor Relations
This above chart pretty well encapsulates management's views on the global energy situation. On the top chart, we can see a clear deceleration in capital spending since 2012. But in the bottom two charts, we can also see that the slowdown is, in fact, driven by onshore North America. The bottom graphic also implies that capital spending in the shale has declined since 2012. In any case, management believes that offshore drilling is still somewhat insulated; a good sign for an offshore company such as Seadrill, no doubt.
Thoughts on the Dividend
Seadrill's dividend now sits at a lofty 11.7%, thanks largely to the stock's downfall as of late. At such a high yield, management sees "little use" to continue increasing that dividend. Instead, management will conserve funds for a later date.
Management feels confident enough to claim that the current $0.98 per quarter dividend for American shares is a "floor" for "the next couple of years." Here is why management can say that with confidence.

As the majority of revenue from floater contracts is locked in through 2015, Seadrill's current dividend should be secure through at least the same time period. After that, things will all depend on day rates. Here is one thing we can be fairly certain about: Seadrill will continue to be profitable. The company's average per-day operating costs are only $230,000, with current day rates at over half a million. That's a great margin. And the best part? Management likes returning that margin to shareholders in the form of cash.
Relax, it's European
Many American investors who are spooked by Seadrill's dividend policy need not be. While in American board rooms, the dividend is often sacrosanct, such is not the case in Europe. This illustrates a fundamental difference in management styles across the Atlantic. In Europe, dividends are often paid as a fixed amount of the company's income. So, as income fluctuates, so too does that dividend. In America, on the other hand, companies tend to pay relatively less of a dividend relative to profit, and do so for the sake of income stability. A dividend cut from an American company is often a sign of financial distress or failure to meet a long-term goal, whereas a dividend cut from a European company could simply be part of the business cycle. American investors in European companies should be mindful of this philosophical difference.
Could Seadrill cut its dividend? Yes, but not for at least two years, however, a sharp correction in global E&P spending would most likely result in a dividend cut for Seadrill. On the other hand, stability in E&P spending or even just a gentle decline for a few years would keep the dividend afloat. Looking further out than that, however, would just be speculation.
Disclosure: I have no positions in any stocks mentioned, and no plans to initiate any positions within the next 72 hours. I wrote this article myself, and it expresses my own opinions. I am not receiving compensation for it (other than from Seeking Alpha). I have no business relationship with any company whose stock is mentioned in this article.