"Big Data" visualization pure-play Tableau Software's (NYSE:DATA) "land and expand" business model has paid off in spades. It's a grassroots level strategy that often nets individual customers via free trials, then spreads across an organization's departments, divisions and geographies via word-of-mouth. According to the most recent conference call, the overall average initial order size has consistently been under $10,000. That same document reported Tableau closing 179 transactions greater than $100,000 for the quarter.
It was a blowout quarter in a blowout year for the Seattle-based company. Wall Street has taken notice, and propelled the shares to over $90 after coming public at $31 just nine months prior. Shares reached $100 in a recent market upswing, but have sold off 10% in the past few weeks. However, it still remains one of Wall Street's glamour stocks.
With 2014 revenues guidance at $320-$325 million, and a lofty market cap just north of five billion dollars, my contention is that the equity is way over its skis for long-term investors. Ninety dollars a share is just not sustainable. Nevertheless, the market can stay irrational longer than you can stay solvent, or so the old chestnut goes, so short sellers beware. I believe there are some catalysts for short-term traders that may push shares even higher because the data analytic sub-sector is in vogue at this juncture.
Catalyst #1: Gartner Positions Tableau as a Leader in Business Intelligence
For the second year running, Gartner selected Tableau as a leader in its Magic Quadrant for business intelligence and data analytic platforms.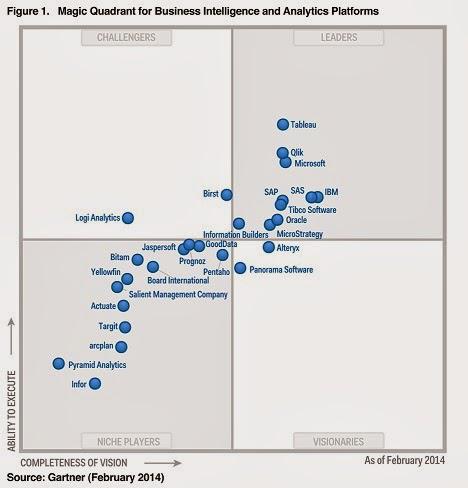 (Chart Source: Gartner)
If you examine the chart closely, you can see Tableau outpacing competitors such as Microsoft (NASDAQ:MSFT), Qlik Technologies (NASDAQ:QLIK), Tibco Software (NASDAQ:TIBX), Oracle (NASDAQ:ORCL), and IBM (NYSE:IBM). According to Gartner:
It is very likely that 2014 will be a critical year in which the task of making 'hard types of analysis easy' for an expanded set of users will continue to dominate Business Intelligence market requirements.
Tableau's easy-to-use, plug and play software makes it a hit for end-users as the company invents and commercializes cutting edge advances in analytics. You can see one reason why Wall Street put share prices at a premium. Traders and investors both like technology leaders, and Tableau certainly fits the bill.
Catalyst #2: The Partnership with Splunk
Earlier this month, Tableau and Splunk (NASDAQ:SPLK) announced a strategic technology alliance. Although both companies reside in the data intelligence sub-sector, they're more or less complementary technologies. Splunk leads the market in enabling organizations to collect, index and make searchable unstructured data. Tableau Software's products allow you to visualize that data in the form of charts and graphs.
To give an example, it's almost like the 2002 movie Minority Report, where police officers can predict murders before they happen. Big banks of computers crunch numbers that will predict the probability of a murder - where and when it's going to happen. That's the analytic side of the equation, where Splunk fits in. The holograms the police use to massage and interpret the data is a function of what Tableau does. Like a souped-up Excel spreadsheet.
Tableau's mission is to help people see and understand data. Coupled with Splunk's large pool of the flotsam and jetsam of the machine age, additional sales should be generated for both companies. More than 7,000 enterprises in 90 countries use Splunk software to deepen business and customer understanding. Combine that with the 17,000 client base of Tableau, and you've got a potent mixture. However, both equities have come a long way in a short period of time. Like Tableau, Splunk has more than doubled in value this past year.
Catalyst #3: The Blowout Quarter
The numbers were outstanding:
Tableau posted a record fourth quarter delivering total revenue of $81.5 million. Wall Street consensus had been modeling for $67.1 million. This represented a 95% increase over the prior year Q4.
For the full year, it posted total revenues of $232.5 million, growth of 82% over 2012.
The company achieved a compound annual growth rate of 89% over the past three years.
International sales were 22% of total revenues. CEO Christian Chabot believes that the international business operations are what the domestic side of the business was like three or four years ago. There is plenty of room for overseas expansion.
As CFO Tom Walker stated during the conference call:
In any given year, we generate the majority of our sales from customers previously acquired.
The land and expand strategy again. Google (NASDAQ:GOOG), PepsiCo (NYSE:PEP), Capital One (NYSE:COF), Delta Airlines (NYSE:DAL), Deutsche Telekom, Ford (NYSE:F), and Bristol-Myers Squibb (NYSE:BMY) are just some of the companies under the Tableau umbrella. Compound this with the partnership with Splunk, and you've got a real growth story on your hands.
Going Forward
According to management, two things in regards to prospective enterprise clients happened last year that helped contribute to the dramatic increase in sales. One was the success of the IPO which introduced Tableau to a larger base of customers. The second is the release of Tableau 8.1 in November. This provided users with more advanced analytic capabilities by integrating with the open source statistics program R. Tableau is scheduled to release version 8.2 in the second quarter, and Tableau version 9 in the first half of 2015. These releases could also be catalysts for increased sales.
Here's where it gets dicey. Although quarter-to-quarter can be lumpy (Q1 is notoriously known for being light), the company has projected annual revenue growth of approximately 40% at the high end for 2014. That's a far cry from the 82% in 2013. Granted, the company can't grow at almost 90% forever, and this 40% projection could be a low ball figure, but that's a significant drop. As far as earnings go, there are none for 2014. The company is expecting non-GAAP operating losses of between $15 and $20 million for next year. This is because the company is investing heavily in R&D, and increasing headcount. In addition, management expects gross margins to decrease because of the additional expenditures.
Conclusion
This is a pricey stock. Yahoo Finance valuation statistics show:
Price/Sales (trailing twelve months) of 23.34.
Price/Book (most recent quarter) of 22.18.
Total Cash Per Share (most recent quarter) is $4.15.
Enterprise Value/Revenue (trailing twelve months) is 22.70.
Short % of Float (as of March 11th, 2014) is 3.7%, as reported by The Wall Street Journal.
It should be noted that the short float decreased by almost 10% right after the earnings release because a short squeeze ensued. This stock is in play, but you're paying top dollar for it.
If you like to trade based on momentum, this could be a stock for you. It sits in the intersection of two red hot sectors, big data analytic pure plays and recent IPOs. That said, if you're like me and prefer growth at a reasonable price, better buying opportunities may be on the horizon. For instance, the company will be issuing additional shares of stock, which may put pressure on the inflated price. Macro headwinds are always in the picture, too.
---
Sections of this article were aided by Tableau Software's recently released 10-K (.pdf file). It is the second in a series of "big data" mining and analytic pure plays posts. The first one featuring Splunk can be found here.
Disclosure: I have no positions in any stocks mentioned, and no plans to initiate any positions within the next 72 hours. I wrote this article myself, and it expresses my own opinions. I am not receiving compensation for it. I have no business relationship with any company whose stock is mentioned in this article.