In my previous three articles on Plug Power1 (NASDAQ:PLUG), I articulated the company's growing place in the lore of stock market manias.
I did not include, however, descriptions of how the stock is being played as a casino game. Indeed, playing PLUG is fast becoming one of the most popular online trading games in America.
There have been only three stocks in the SPX 500 whose recent daily trading volume was more than this tiny forklift company from upstate NY: Verizon (NYSE:VZ), Bank of America (NYSE:BAC) and Facebook (NASDAQ:FB). (See: Plug Power Is Back, Baby! (Nevermind the Losses), by Steven Russolillo & Matt Jarzemsky, Wall Street Online, March 13, 2014, Paragraph 10)
Plug Power's daily volume has been higher than the leaders in international banking, higher than the giants of the automobile, telecom, and high-tech industries. Playing PLUG is truly the minnow that's swallowing the whale of Wall Street.
So I would be amiss if I did not reveal the strategy deployed by some of the game's biggest amateur winners. (In online games, this is called a "cheat". More on this later.)
First, let's get started. You must have a brokerage account and at least $2,000 to play the game. Be sure to "X" off the box on the application denoting "speculation" as your reason for applying. If you lose your shirt, it will become a moot point, because you've already indicated you were in the game solely for the purpose of gambling on stocks - you knew what you were getting into. This will protect the liability of your brokerage.
Second, you'll need a computer terminal with an internet connection - any viable connection will do - home, public library, office, smartphone. There, online in cyberspace, you'll be able to meet up with the thundering herd of daytraders playing PLUG.
The PLUG strategy is simple: buy any dip at any time on any day. Ignore all contrary data.
If, at first, you have trepidations about making such a reckless move, refer to the message boards for glowing online articles regaling the power of PLUG. You'll find dozens of true-life "I struck it rich" testimonials from winning players: those who bought at 15 cents, at 50 cents, at a dollar, even at $5 or $6 (just a day or so ago) - all with a payday beyond their wildest dreams. Such stories encourage and inspire newer players to take the "me too" first step towards getting-rich-quick and playing the game of PLUG.
And if some naysayer whispers uncomfortable words such as "check-out the fundamentals and earnings history first"; another deluded novice will refer you to a tiny cohort of Wall Street cheerleaders who've created infomercials for Plug Power: its sole analyst from Cowen and Co (the underwriting company for its recent secondary offering); or Roth Capital, another private firm who hosted a $17ML secondary for Plug Power in March, 2012. Their reports will regale you with tales of profits-to-be, orders-to-come, and $66ML of cash on the barrel head.
One thing its adherents will not emphasize, however, is how the game of PLUG is funded. The money comes from an ever-increasing cascade of secondary offerings. Although these dilute shareholder equity, they raise cash and thus keep the game going.
For example, Plug Power had 13.1ML shares in 2010; 18.8ML shares in 2011; 38.4ML shares in 2012, and 102.6ML shares in 2013. In 2014, the total share count will likely rise above 150ML because of the two new secondary offerings in Q1 (with warrants for more).
That is an 11 fold increase in the number of shares outstanding - on mounting losses - in 3.25 years. If you include the May, 2011 one-for-ten (1/10) reverse-stock split, it's a 110 fold increase in the number of shares since 2010 - an astronomical share dilution.
Here is a picture of the dilution since the stock first went public on November 2, 1999.
(Click to enlarge)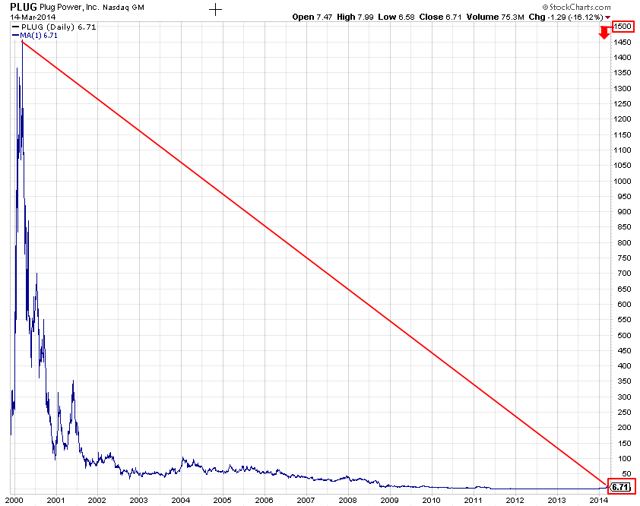 Plug Power fell from $1,500/share (reverse split-adjusted) in March, 2000 to 12 cents/share in February, 2013. It's since risen to a high of $11.41 on March 10, 2014 (a 95/1 increase).
To put this in perspective, let's imagine the fate of a long-term investor who believes in alternative-energy solutions. He buys 1,000 shares of PLUG on the day of its IPO, November 2, 1999, at a price of $18/share (pre-split, an $18,000 investment).
On March 10, 2000, just 4 months later, PLUG closes a whisker shy of $150/share. On that day our investor must have surely thought he bought the moon. His shares are worth close to $150,000. A 733% return! (Sounds familiar?)
So he holds on to his shares - much to his chagrin later - hoping for more. By February, 2013 his $150,000 winner - reverse split-adjusted - has been reduced from 1,000 shares to 100 shares, and is worth $12. That's right. 12 bucks. Even after the legendary run of 2013-14, this investor's 100 shares of PLUG are worth $671 on March 14, 2014.
PLUG had been a veritable fire ($) eater of equity along the way: there were 38.4ML shares in 2012, and the loss was $0.93/share; 102.6ML shares in 2013, and the loss was $0.83/share. The warrants it issues to investors for its secondaries (to sweeten the deals) have contributed mightily to its annual losses. The company stated as much in its most recent earnings report. (See: PLUG Power Announces 2013 Fourth Quarter and Year-End Results, March 13, 2014, paragraph 15).
Why does the company include additional warrants with their equity-raises? To entice investors to take the plunge into PLUG. No one gives away money for free. In the last 15 months, the company has had equity-raises at $0.12, $0.24, $0.62, $3.00, $4.00, and $5.74 per share.
It is probably no accident that the two big purveyors of PLUG - Cowen and Roth - pulled in their horns on March 14th and simultaneously downgraded the shares. Maybe they chose to distance themselves from the media circus surrounding PLUG, or to restore some credibility to their perceived objectivity concerning this company, and escape the taint of underwriting an epic pump and dump.
The fact remains that Plug Power has lost money for over a decade ($800ML+ by some estimates), sports an enormous price to sales ratio of 33.5, and a book value of just 2 cents.
If an investor decides to play PLUG, remember, "Caveat Emptor". You'll need to ignore the cautionary tales that have fallen like manna on deaf ears (See: PLUG Power: Irrational Exuberance to End in Ruin, March 11, 2014; and PLUG Power: Is This Time Different?, by Dr. Hugh Akston, March 11, 2014).
When a stock morphs into a mania and becomes a lottery ticket - and inexperienced players fill in the numbers with glee - disaster is right around the corner. Plug Power will be no exception. There will be new losses to match the losses of yesteryear.
+++++++++++++++++++++
1. Author's previous articles on PLUG Power
2. See also (for humor)
Disclosure: I have no positions in any stocks mentioned, but may initiate a short position in PLUG over the next 72 hours. I wrote this article myself, and it expresses my own opinions. I am not receiving compensation for it (other than from Seeking Alpha). I have no business relationship with any company whose stock is mentioned in this article.