The unit price of Enterprise Products Partners (NYSE:EPD) has risen by 72% over the past 3 years, notably outperforming a return of 44% for the S&P 500 Index. In my view, there remains ample room for further price appreciation owing to the MLP's inexpensive valuation and future catalysts.
Before going into a qualitative discussion, let's evaluate EPD's current valuation. Based on the CAPM model, an 8.0% cost of equity should be warranted given the following assumptions (note that a 1% alpha was added to account for company-specific in order to be conservative):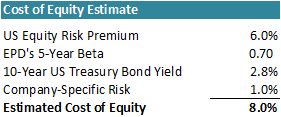 According to Gordon growth distribution discount model, the current unit price of $67.81 implies the following mix of distribution growth rate and cost of equity corresponding to various unit prices:

As such, at 8.0% cost of equity, the implied perpetual distribution growth rate that is currently baked in the unit price is between 3.5% and 4.0%, which is somewhat conservative in my opinion given that EPD's distribution per share has grown by 8.0% CAGR since 2000.
Based on a more realistic 3-stage distribution growth model, a similar conclusion can be drawn. Assuming the distribution per share to grow annually by 6.0% from 2014 to 2016, 5.5% from 2017 to 2019, 4.5% from 2020 to 2022, and 2.5% in terminal year, the present value of all these future distributions per share would be ~$67 at 8.0% cost of equity, which is consistent with the current unit price (see chart below).

Again, I believe the model assumptions used to derive the current unit price to be conservative, meaning that the unit price would rise in the future if EPD is able to deliver higher distribution growth. I believe this scenario is highly likely based on the following reasons:
In the past 10 years, EPD managed to maintain a stable distribution growth at 6.4% CAGR with a very strong distribution coverage, which was at 1.5x in 2013 (see chart below). Looking forward, management has indicated an intention to maintain the distribution growth at around 6.0% and reinvest the excess cash flow in business growth. As a comparison, I only assumed a 10-year distribution CAGR of 5.0% from 2014 to 2023 (the terminal year).
In Q4 2013 earnings call, management announced an almost $8B project pipeline to be taken in between 2014 and 2016. Of the total, approximately $5B will be taken in 2014. It is believed that the strong organic growth prospect should help sustain at least 6.0% distribution growth in the next few years.
As management has no intention to significantly raise distribution even with the strong distribution coverage so as to reinvest into the business, EPD is expected to require less equity issuance to finance its future capital expenditure program, which would otherwise dilute ownership from existing shareholders and drag on growth of distribution per share. In addition, the company's current liquidity of $4.1B (including cash on-hand and credit facility) should also help offset equity financing needs.
Ethane export would likely become one of primary long-term growth drivers for EPD. Management is currently in active discussions with many international customers.
I believe the next near-term catalyst will be EPD's Analyst Day on March 18th, as management is likely going to provide color on progress from major projects such as ATEX, Seaway, and an expansion at Houston facility. In addition, management may also provide more details on the prospect of the ethane export opportunity. The details of these key developments will likely give the investment community a better sense of how EPD would achieve solid distribution growth, which is believed to exceed what I assumed in the valuation models.
In summary, EPD is poised for continued solid distribution growth, but the unit's valuation has only priced in conservative assumptions. Investors are recommended to buy on the attractive risk-reward ahead of the March 18th Analyst Day.
All charts are created by the author, and data used in the article and the charts is sourced from S&P Capital IQ, unless otherwise specified.
Disclosure: I am long EPD. I wrote this article myself, and it expresses my own opinions. I am not receiving compensation for it (other than from Seeking Alpha). I have no business relationship with any company whose stock is mentioned in this article.