A few weeks ago, I wrote an article about Vanguard Natural Resources (NYSE:VNR) and why I felt it was the best E&P MLP available. The catalyst for such a bold pronouncement was Vanguard's strong monthly distribution and likely acceleration of distribution growth. Since writing that article, new information has come to light that not only enforces my thesis but strengthens it. If anything, the best E&P MLP just got better.
Recent Events:
Vanguard recently closed on its acquisition of the Pinedale and Jonah fields from Anadarko Petroleum (NYSE:APC). These fields provide the company with:
14,000 acres of land.
847 billion cubic feet of natural gas, an 80% increase in reserves.
Current production from these fields is 113.4 million cubic feet equivalents/day.
Estimated 20 year reserve life.
Management has announced an aggressive $136 million cap-ex program for 2014. $114 million is slated for maintenance of the newly acquired assets and $23 million for new well drilling.
The growth budget is designed to drill 192 new wells on the Pinedale field, which would bring the partnership's total number of producing wells to 2,000. There are an additional 970 unproven sites on which the company could drill.
In my previous article, I commented how (according to the Q3 2013 earnings call) management intended to use no cost collar hedges on 75-85% of its production through 2017. I pointed out that the cold winter had resulted in natural gas prices rising to a 2 year high of $5.4/million BTUs. This meant that management was preparing to lock in gas rates at a recent high for the next 3.5 years. This would provide predictable cash flow with which to pay and increase the distribution.
According to the Q4 2013 earnings supplemental, Vanguard has already hedged 85% of its gas production out through mid 2017 at a price of $4.61/Mbtu. This is a 32.5% increase from the $3.48/Mbtu the company averaged during Q3 of 2013.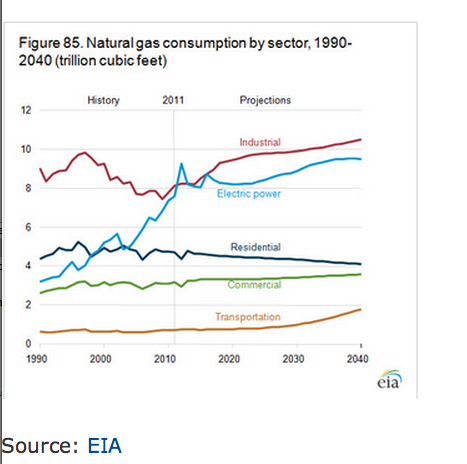 With long-term demand for natural gas expected to increase strongly over the next few decades, Vanguard is likely to be able to re-hedge later at prices at least as favorable if not more so.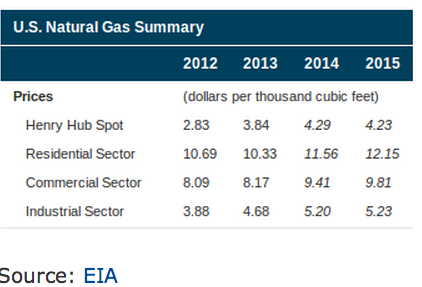 As great as all this general company news is, income investors want to know, "What kind of distribution growth can I expect?"
Distribution Projections:
I recently found a wonderful website called 4-traders.com. This site typically has analyst projections for companies out 3 years and revenue projections for 5 years.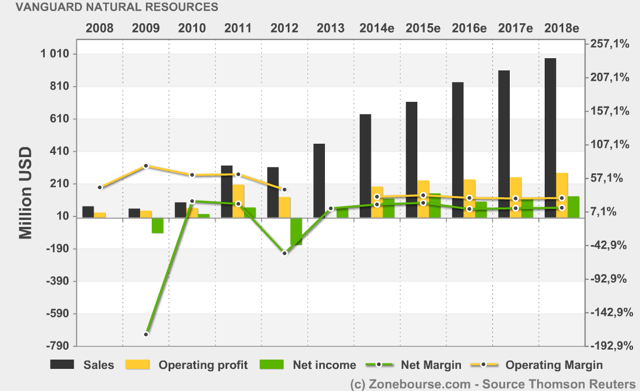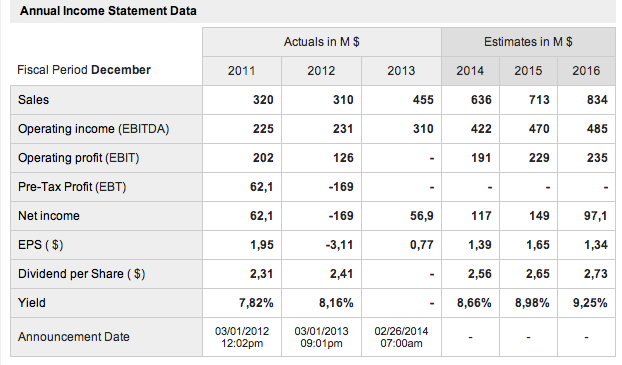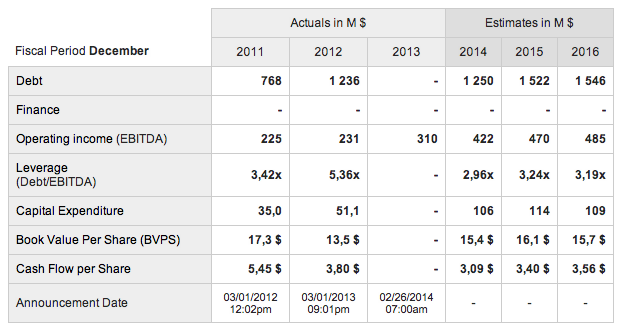 Source: 4-traders.com
Looking at analyst projections for Vanguard shows massive and continued growth over the next 5 years.
Growth in revenues of 120%
Growth in EBITDA of 118%
Growth in Cash Flow/share of 7.3% CAGR from 2014-2016
Growth in Distribution of 8.3% over the next 3 years
I believe this last analyst projection (regarding the distribution) to be overly conservative for several reasons.
Historically Vanguard has achieved a 4.53% CAGR in distribution growth. This 8.3% growth represents a CAGR rate of 3.3% over the next 3 years.
Growth in Cash Flow/share is over double this growth rate, 7.3% CAGR.
Cap-ex spending is projected to rise but stabilize after 2014. Since DCF is calculated by subtracting cap-ex from EBITDA, flat cap-ex growth will result in DCF/share increasing at a faster rate than cash flow/share.
| | | |
| --- | --- | --- |
| | Growth from 2014-2016 | CAGR |
| Cap-Ex | 3% | 1.50% |
| EBITDA | 14.90% | 7.20% |
| Revenue | 83% | 35.30% |
| Cash Flow/share | 15.20% | 7.30% |
| DCF | 17% | 8.15% |
| Distribution (coverage 1.0) | 16.96% | 8.15% |
| Distributions (coverage 1.1) | 15.35% | 7.40% |
| Distributions (coverage 1.2) | 14.06% | 6.80% |
Source: 4-traders.com
Here is a table that presents the above-sourced analyst projections along with my own regarding DCF/share and distribution growth.
The way I determined the DCF/share growth rate is by subtracting the cap-ex growth rate from the growth rate in EBITDA. This represents the growth rate in the growth rate of the DCF/share. The difference of 5.7% must be compounded over two years to get the growth rate in 2016. This results in a 11.7% higher growth rate for DCF/share than for cash flow/share. This is how I arrived at my projected 8.15% growth rate in DCF/share.
Next, I projected the distribution growth using 3 different distribution coverage ratios. Over the last 7 quarters, Vanguard has averaged a distribution coverage of 0.99. To be conservative, I anticipate that management may wish to expand the security of the distribution in the future. By increasing the distribution coverage and securing the distribution the market might give Vanguard a more premium price. This would not only benefit current unitholders, but also help the partnership raise equity in the future.
Valuation and Future Returns:
In my last article, I calculated a fair value using a convoluted method based on P/S. Since that time, I've learned that there is a more reliable way of projecting total returns for high yielding securities.
Total Return=(Yield+CAGR of distribution)*avg yield
This takes into account the current income, capital gains and distribution reinvestment.
By plugging in the current yield and my projected distribution growth, I get 16.5%-17.9% Projected 5 year CAGR. This is inline with my earlier projected total return, which had a maximum value of 18.5%.
To calculate a fair value, I take the average of my projected total return, which is 17.2%. Next, I use this to project the unit price in 2018. A 17.2% CAGR returns 121% in 5 years. I take the projected price of $65.32 and discount it by 5 years worth of the stock market's 1871-2013 9% CAGR. Adjusted for dividend reinvestment, the stock market's 142 year total return is 11.1% CAGR. Over 5 years 11.1% CAGR returns 63%, which I use as my discount rate. Dividing the $65.32 price target by 63% yields my fair value:
Fair Value: $40.07
Discount to Fair Value: 26.3%
Technical Analysis:
Note: I am a long-term fundamental investor. I do not advise the use of technical analysis other than for an initial entry point.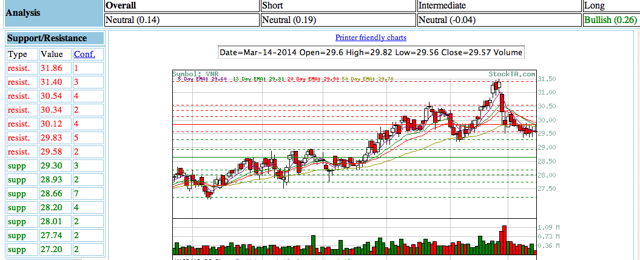 Source: stockta.com
As seen in the above information, the current technical signals are neutral with weak support below and weak resistance above. However, the last candlestick pattern is very bullish.

This technical analysis indicates that Vanguard is unlikely to suffer a short-term decline. Interested investors can buy now without a fear of an imminent decline.
Conclusion:
In my last article, I stated my belief that Vanguard Natural Resources represented the best E&P MLP in America. This was due to its excellent growth prospects, high yield and likely acceleration in its distribution growth rate. The most recent earnings call brought to light new information that only reinforces this belief. Long-term income investors should do very well with Vanguard over the next 5-10 years. This is especially true given how undervalued it is. Considering the current fundamentals of the partnership and the valuation, Vanguard Natural Resources is a "strong buy now."
Disclosure: I have no positions in any stocks mentioned, and no plans to initiate any positions within the next 72 hours. I wrote this article myself, and it expresses my own opinions. I am not receiving compensation for it (other than from Seeking Alpha). I have no business relationship with any company whose stock is mentioned in this article.