BlackBerry stock (NASDAQ:BBRY) jumped 56% to over $9/share when the wireless communication company got a new CEO at year-end 2013.
"BlackBerry is looking to the future and bringing solutions to market that matter most to our customers. These secure solutions emphasize our strengths in enterprise mobility, while empowering end users to become more productive with technologies that drive communications and collaboration."
---John Chen, Executive Chairman and CEO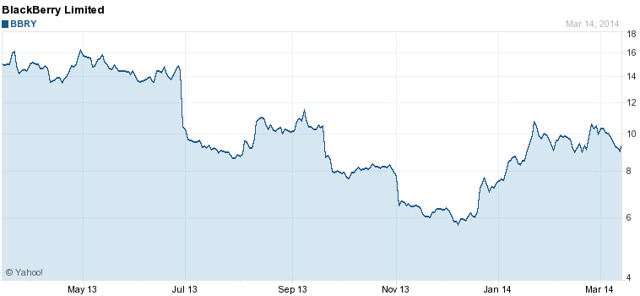 Even with all the evidence that the company has embarked on a new, surer path, investors might want to take a wait and see attitude with first quarter 2014.
Blackberry stock outperforms competitors Q1 2014

BlackBerry left Apple (NASDAQ:AAPL) and Google (NASDAQ:GOOG) in the dust first quarter 2014. BlackBerry was up 36% year-to-date in early March, while:
Google shares were up just around 9% year-to-date.
Apple shares had fallen about 6% since the start of the year.
Much of this out-sized performance was driven by optimism around John Chen taking over for Thorsten Heins at the end of 2013.
But can Chen deliver results in 2014?
BlackBerry restructuring is fierce

After selling its U.S. offices in Irving, Texas, BlackBerry will lease back under 40% of the property. The company has done the same with its Canadian real estate. Making do with less than half of the facility indicates the scale of job cuts envisioned. In September 2013 the company announced:
Job cuts of about 4,500 (40% of workforce).
Operating cost cuts of 50% by May 2014.
Real estate sales and cost-cutting are part of broader efforts to conserve cash and fund a business turnaround. With intense competition from Apple and Google smartphone platforms, especially in the retail market, this makes for good news for investors.
Next-gen phones drive BlackBerry market share

BlackBerry's mobile phone market share increased at a rapid clip between 2007 and 2011, going from less than 1% to over 3%. But in 2012 the company lost market share, dropping to under to 2%, as the company struggled to bring the next-generation BB10 phones to market amid withering competition from bigger rivals. Its market share is expected to continue falling to about 1%.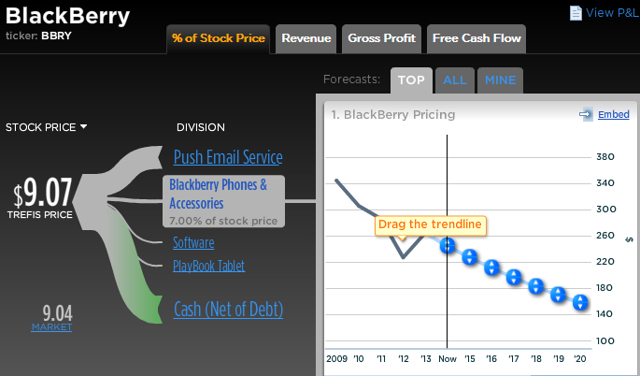 Source: trefis.com
If the new BB10 operating system, and related products, can bring it back to a share of around 3%, BlackBerry could see an upside of 15% on price.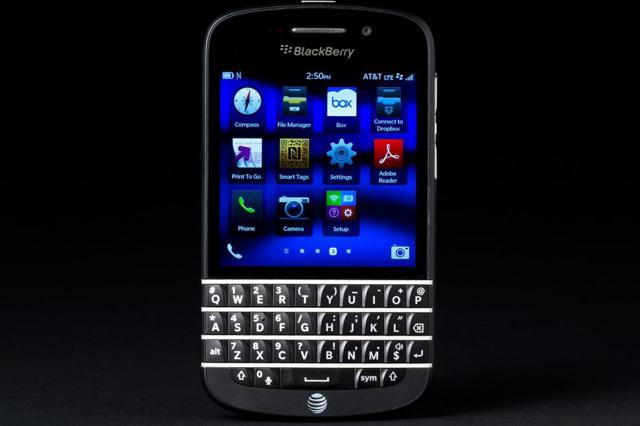 Blackberry Push Email service revenue falls

More than just selling hardware, BlackBerry earns revenues through monthly push email service access which delivers new emails to BlackBerry subscribers' immediately upon arrival. Other mobile email services periodically check for new emails.
The company's Push Email service revenues per retail subscriber have declined almost 26% between 2007 and 2012, down from $4.25 monthly to $3.15. Even with these declining revenues, BlackBerry's Push Email service contributes the most to the company's value as the difficulties with BlackBerry OS in the face of fierce Apple-Google competition have cut its profits in hardware. And Push Email continues to earn margins of 70%.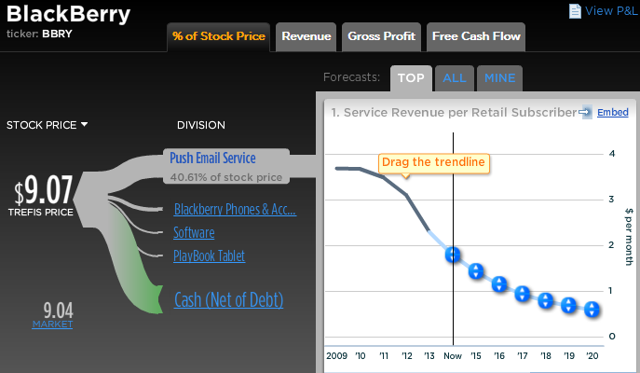 Source: trefis.com
High hopes for BlackBerry PlayBook tablet

With the flurry of inexpensive tablets on the market, like Amazon's (NASDAQ:AMZN) Kindle Fire and Google's Nexus tablet, the company has slashed prices on its own PlayBook tablet, while introducing promotional offers to boost lagging sales. But the company hasn't given up, planning to migrate the new BB10 operating system over to PlayBook. This provides customers a full range of products, building a mobile ecosystem around its new OS.
With the tablet market growing exponentially worldwide, BlackBerry hopes to leverage its established presence in the enterprise sector to lift tablet sales.
Forging ahead with new products and services

Emblematic of BlackBerry's efforts to deliver technologies across the entire mobile spectrum, the company forged ahead with a vast range of new products and services. Chief among these are:
Secure and Private Mobility Solutions for Enterprises: Next generation BlackBerry Enterprise Service BES12 enables organizations to develop enterprise-grade applications for BlackBerry smartphones and other mobile devices.
EZ Pass Program: Enables free migration path for customers from BES and other MDM platforms to BES10.
eBBM™ Suite: Works with BlackBerry smartphones and BES and BES10 to provide enterprise-class mobile messaging.
The company announced the latest major corporations to adopt its new BES10 include Daimler AG and Airbus Group, adding their names to an industry-leading list of 80,000 groups with communications secured by BlackBerry.
Smart investors will take a wait-and-see attitude on BlackBerry

The new CEO has announced his intentions, but results have yet to tumble in. With the company's history of fumbling new product roll-out - especially as competition only intensifies - who can really plan on the success of the new BB10 phones and other products? Restructuring should be completed by May 2014.
The new-CEO run-up in share price could easily fall back to normal levels. The smart investor will wait to see how some of these developments pan out before investing heavily in BlackBerry.
Disclosure: I have no positions in any stocks mentioned, and no plans to initiate any positions within the next 72 hours. I wrote this article myself, and it expresses my own opinions. I am not receiving compensation for it (other than from Seeking Alpha). I have no business relationship with any company whose stock is mentioned in this article.