Apart from a few tidbits here and there, the European Union's economic troubles have silently vanished from the headlines, and the sentiment is best characterized by an acceptance that issues are not resolved, but are undergoing a slow healing process. It is so good in fact that my buddy, Maoist at heart and European Commission President José Manuel Barroso stepped forward and surprised everyone by offering $5 billion in loans and grants to Ukraine to counteract Vladimir Putin's impact on the distressed nation.
It must be extremely rewarding to be able to be so generous, especially when the EU cannot agree on how to pay for its internal debt. Part of the inspiration came from Greece, and in case you didn't know, Greece had, or is projecting, a primary surplus of 1.5 billion euros for 2013, which is achieved by assuming that debt doesn't exist. Then the first thing that came to Prime Minister Antonis Samaras' mind was spending, which is what politicians do best.
Samaras reiterated on Saturday he would use that surplus to alleviate the plight of those hurt by austerity. "This means that we will refund a very large amount to society this year, for example to low-income pensioners and law enforcement officials," he told the newspaper.
Certainly everyone abhors the extreme deterioration of the human condition in Greece, but unfortunately mathematics cannot be redefined when the going gets rough, especially when creditors will not let go. Where the gurus were calling for Greece to exit the euro not too long ago, now they envision every Greek road paved with the most bizarre currency of our times. And if the Greeks choose to leave and revive the drachma, backed by feta cheese and olives, a huge basket of unpaid bills will be left in its wake as they sail away, and their northern neighbors will be left holding the bag - literally. Not that simple, is it? As it stands, everyone is hoping that a miracle will be delivered while the funeral music keeps on playing, and, for the record, I was born at night, but not last night!
Amazingly and convincingly, the European Commission continued to send smoke signals that all is not well, and "macro economic imbalances" persist.
The European Commission put Italy Wednesday on its watch list because of the country's very high public debt and weak competitiveness and warned France will miss agreed budget deficit reduction targets unless it takes action.
The IMF, drawing from its bottomless pit of wisdom, opined that "the European Central Bank should cut interest rates and either inject more liquidity into the banking system via its Long-Term Refinancing Operations (LTRO) or start public and private asset purchases." Never mind treaties and laws, and let's adopt the Nike slogan: Just Do It! I'm all for it because at this juncture we may as well print euros and throw them on the street like confetti in a parade. Then there's a largely academic and usually ill informed opinion by Bloomberg's editorial board, whomever they are, that "the treaty that created the euro casts doubt on whether and exactly how the ECB can use" asset-purchase programs. I would give a friendly suggestion to the editorial board that they should learn how to read treaties before attempting to write about them.
Meanwhile, Europe is literally stressing about the upcoming, and now routine, bank stress tests, and one should keep the date on the calendar, although by November the stress tests will be of little use.
In an unprecedented effort, the ECB will unleash thousands of auditors and regulators to examine the books of 128 banks in the eurozone. The project is set to be completed before early November when the ECB will assume oversight of the common currency zone's largest financial institutions.
A report estimates that the stress tests will reveal a shortfall of $1 trillion, and "trigger further public bailouts," while Germany is reportedly preparing a third Greek bailout to the tune of 10-20 billion euros, and still trying to avoid the mother of all write-offs. The point here is that when you owe one euro, you're a bad debtor, and when you owe billions, you're a partner. To bring perspective to the issue, Portugal, my birthplace and a country that is already celebrating the May 17th exit from the IMF-EU bailout, is expected to be under the EU's supervision at least until 2026, and as far out as 2037 - 12 to 23 years from today - not to mention that restructuring took place late last year that extended maturity by three years on 6.6 billion euros. I guarantee everyone that Portugal isn't the only country, and the supervision's length of time is a clear indication of the trouble that the European Union is facing.
I still remember the introduction of the euro as the currency that would give the dollar a run for its money, a source of pride that would keep on giving and propel Europe to a superpower status. However, they still don't understand what makes the U.S. tick, and never will, and I'm not about to lecture anyone on it. In the 1990s I said repeatedly during verbal bar brawls that, from an economics 101 viewpoint, the concept was as silly as getting everyone to speak the same language, or trying to fry an egg with a lighter. I know that a lot goes by unnoticed, but if you visit the European Central Bank's website, you'll notice on the upper left corner the following: "Language policy: English." That's how confused they are, when the UK didn't adopt the euro. Maybe it is only a reminder of the true objective!
To fully comprehend the intent behind the euro, I submit a recent and not surprising statement by European Central Bank Executive Board member Yves Mersch.
"Due to the size of China's economy and its importance in global trade and, potentially, finance, the renminbi might ultimately come to challenge the U.S. dollar."
Reading between the lines, the assumption here is that Mr. Mersch is admitting defeat, and no longer sees the euro as the currency to achieve that inner, unspoken desire of dethroning the U.S. dollar, while failing to properly identify the Chinese decaying process. It's not so much about whether the dollar remains the reserve currency of choice, which has its drawbacks, but rather how these brilliant people, incapable of turning on a light bulb, harbor certain deep-seated sentiments, and then engage in fallacious policy for all the wrong reasons, dragging along millions of people under false pretenses.
Before we forget, it's common knowledge that austerity has been the key word in the old continent for a few years now, but The Economist shed some light on the issue and how "cuts" have not been… well, "cuts."
Of the 30 countries in a Eurostat database, half are spending more after inflation on public employees than they were in 2007, even in cases where headcount has fallen. The euro zone as a whole spends only 1.7% less on government wages than it did six years ago.
Thus, austerity hasn't even started where it really counts, and those investors who have jumped on the European bandwagon, especially debt, assuming that the disease has been eradicated, with the patient on the road to recovery, will be very sorry, and, according to a source, some big funds will go belly up because a lot of that paper is illiquid and will crater. The other well-kept secret, or not, is that "Eurozone banks' sovereign exposure hits new high."
Banks in the eurozone are now more exposed to government debt than at any time since the financial crisis began, with many increasingly using their balance sheets to prop up ailing governments, deepening the bank-sovereign link that has already pushed a number of countries and lenders into bailouts. Banks in the region now hold about €1.75trn in government debt, equivalent to 5.7% of their assets and the highest relative exposure since 2006, according to European Central Bank data. In Italy and Spain, roughly one in every 10 euros in the entire banking system is now on loan to governments.
In other words, and as I've mentioned numerous times, there's no silver bullet. Throw in the fact that the U.S. economic engine will start to contract, and everyone at the party will find out that the piñata has no candy. The manufacturing PMI macro picture is depicted in the chart below, with the GDP adjusted number weakening as we speak, while both numbers are still below their June 2010 peaks. Almost four years have passed and the robust recovery is leaving a lot to be desired.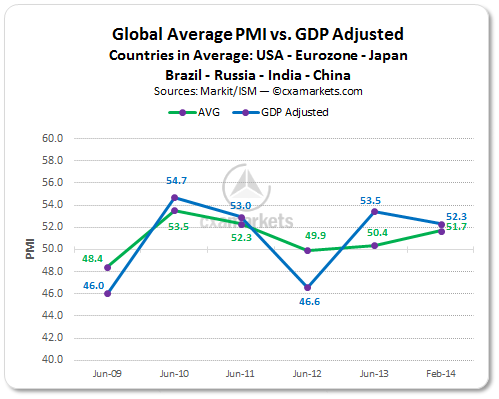 Half way around the world, China's always unreliable economic data was less than inspiring, but, then again, who cares about China by now? It's a done deal. Move along, nothing to see here! Along comes Mario Draghi, the ECB's chief, and his currency and inflation/deflation talk captured the headlines on March 13, 2014, but his speech had the meat and potatoes, and Mr. Draghi candidly, and surprisingly, summarized the future of Europe in a few, unequivocal words, which changed the conversation's tone, and should clear the air for those still looking for unicorns in the Alps.
2014 and 2015 will be a period of recovery. But that recovery remains conditional. It remains conditional on our pursuing the very policies that have brought about the return of confidence: growth-friendly fiscal consolidation; structural reforms aimed at enhancing investment and productivity; a committed monetary policy guarding against all threats to the integrity of our money - in particular, the risk of both too high and, currently more relevant, too low inflation. The deterioration of sovereign credit, on one side, and the clarification of the rules regarding bail-in of bank debt, on the other, have both contributed to putting an end to a funding model that was neither desirable nor sustainable. As a result, the euro area banking system has begun a secular process of restructuring and deleveraging. From a policy perspective, the question presented to us is not whether we can avoid this deleveraging. It is universally accepted that too much debt had been built up in the run up to the crisis, by governments, non-financial firms, households and banks, and that we now have to work through the effect of the subsequent debt overhang.
By "secular," I'm going with the definition "of or relating to a long term of indefinite duration." That, in my opinion, was the curve ball that nobody saw coming, yours truly included, and has the market reevaluating its assumptions and positions, while Crimea was being blamed as the only culprit.
On the geopolitical front, the ongoing Crimean military training exercise is providing a distraction from the real issue - Iran's still unresolved nukes and Syria's chemical weapons that "could be" removed in one month. The unexpected development complicated the situation for the Europeans, who, after decades of delegating its defense responsibilities and costs to the U.S., find themselves in a weak position and incapable of defending against a flock of geese and an army of ants. I envision that Putin has his eyes on the Middle East and its vast energy resources, and has designs on starting a regime change domino effect in every MENA country that is pro-West, with Saudi Arabia being the trophy. Maybe ARAMCO (Arabian American Oil Company) will change its name after 70 years. Meanwhile, If one steps back to the moon, one will see that North America is a large quasi island composed of three friendly neighbors, economically and topographically self-sufficient, and protected by two large oceans.
Meanwhile, the U.S. doesn't appear to be too eager to engage the enemy, while the American people are tired of playing cop for everybody else. According to Dow Jones Trader News (no link, subscription required), "Ukraine's interim government has asked Washington to provide its military forces with arms, ammunition and intelligence support, senior U.S. officials said, but the U.S. has balked at providing lethal aid for now, wary of inflaming tensions with Russia," and that was, in Putin's chess game, an unknown move until now. I'm starting to feel like a genius, and when I become worthy of the title, I promise to wear a bow tie and a propeller hat 24/7.
One development that has me confused, in view of an upcoming conflict involving a major crude supplier, is how oil (NYSEARCA:USO) has tumbled, contrary to gold's (NYSEARCA:GLD) behavior. I know that not everything is designed to be understandable, but is low demand trumping a potential disruption in supply? While there's an avid tendency to correlate economics with markets, especially in the short-term, one must understand that markets are primarily about people, not products, services or stocks for that matter, and if one doesn't know people, one doesn't know markets.
Disclosure: I have no positions in any stocks mentioned, and no plans to initiate any positions within the next 72 hours. I wrote this article myself, and it expresses my own opinions. I am not receiving compensation for it. I have no business relationship with any company whose stock is mentioned in this article.