Before the great rally of 2012 for homebuilders, I was prepared to buy homebuilders into negative sentiment and sell-offs and then consider selling at the top of some presumed range. This was part of the housing bottom thesis I wrote about that included an assumption that housing would bounce along this bottom until 2013. After the Spring of 2012, I rapidly had to readjust to a more bullish outlook. The run-up finally peaked in May 2013 as represented in iShares US Home Construction (NYSEARCA:ITB). ITB made a marginal new multi-year high at the end of February 2014 seemingly validating my expectations for a breakout 2014. Instead, ITB has led the general stock market in the current bout of selling. Now that I think the stock market has put in a top for the time-being, I have to make another one of those major readjustments in my thinking on homebuilders (subject to validation of course).
I'm essentially going back to range-bound thinking. I have no particular downside target although the chart below gives some potential buy points for ITB. I am focused on buy points rather than points for shorting because I think longer-term risk/reward still favors housing for all of the bullish reasons I have spent the past few years writing about. In particular, if/when the economic recovery enters a stronger and healthier mode, housing should soar. Moreover, I want to bet on housing as the potential nexus of pent-up demand for household formation and incipient inflationary forces in the economy sometime in the future.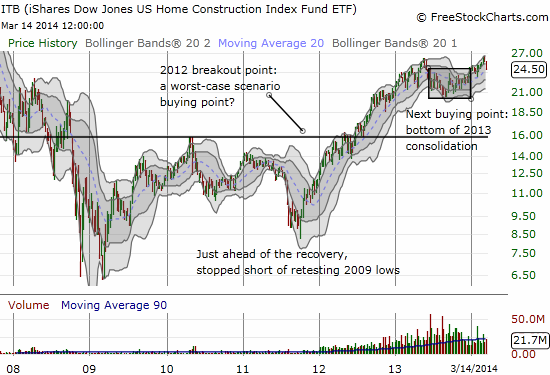 Homebuilders have made tremendous progress since the depths of the recession. An extended time of rest and consolidation may be ahead now.
Source: FreeStockCharts.com
From a fundamental standpoint for individual home builders, I am looking to book values as a potential guide for picking and choosing buy spots among homebuilders that manage to maintain relatively healthy margins. MDC Holdings Inc. (NYSE:MDC) only trades for 1.14x book value and even pays a 3.5% dividend. A deep discount from here - to say book value - would make MDC a tempting bargain. Here is a select listing of major homebuilders by ascending order in book value (all from Yahoo Finance):
MDC Holdings Inc. : 1.14
PulteGroup, Inc. (NYSE:PHM): 1.57
TRI Pointe Homes (NYSE:TPH): 1.68
DR Horton Inc. (NYSE:DHI): 1.71
Toll Brothers (NYSE:TOL): 1.79
Meritage Homes Corporation (NYSE:MTH): 1.83
Taylor Morrison Home Corporation (NYSE:TMHC): 1.86
Lennar Corp. (NYSE:LEN): 1.98
Ryland Group (NYSE:RYL): 2.06
William Lyon Homes (NYSE:WLH): 2.11
Beazer Homes (NYSE:BZH): 2.17
KB Home (NYSE:KBH): 2.71
Hovnanian (NYSE:HOV): N/A
As the list above shows, there is remarkable consistency in the valuations investors are willing to pay for homebuilders. All but a few are priced at premium levels for continued strong results. Seeing KBH at the high end immediately takes it off my "favorite" list.
As I have written earlier, seeing ITB fail to respond to the good news in new home sales and residential construction raised my first yellow flag. The final straw was seeing ITB respond instead in the previous week to a barrage of analyst downgrades. An analysis from Credit Suisse as reported by Benzinga particularly caught my attention. Credit Suisse's "buyer traffic index" posted a second straight month of weakness in February that, to me, prints in stark contrast to the more encouraging signs homebuilders provided in their pre-Spring earnings reports. Add this assessment to the end of upward momentum in the National Association of Home Builder's (NAHB) Housing Market Index, and I get plenty of reason to temper my enthusiasm for now.
Going forward, I am maintaining my small amount of "no regret" positions and will continue to increase those slowly (and/or add new positions) over time into the presumed selling that is to come. These positions are no regret because I am braced for potential losses. If I do find myself once again insufficiently bullish, I will have some positions in place to benefit from the surprise upside. I will also slightly increase the number of more opportunistic (read short-term) trades.
Be careful out there!
Disclosure: I am long ITB, MDC, TPH, TOL, MTH. I wrote this article myself, and it expresses my own opinions. I am not receiving compensation for it (other than from Seeking Alpha). I have no business relationship with any company whose stock is mentioned in this article.
Additional disclosure: Long ITB, TOL, and MTH through call options