A useful resource that others have clued me on to is a site known as Zauba. Zauba essentially allows users to track import/export activity into and from India. Since Intel (NASDAQ:INTC) and other semiconductor companies have R&D labs in India, it is pretty easy to figure out what kinds of products that Intel (and others) are shipping samples of and in what kind of magnitude as long as you know what terms/code-names to search for. Over the last month, there has been a substantial pickup in activity related to Intel's 14-nanometer products that leads me to believe that Intel is now in high volume production of at least Broadwell (14nm Core). Cherry Trail, the first 14nm Atom, is a bit "iffier" at this time.
That's A Lotta Broadwell
If I search for "Broadwell," then the following comes up: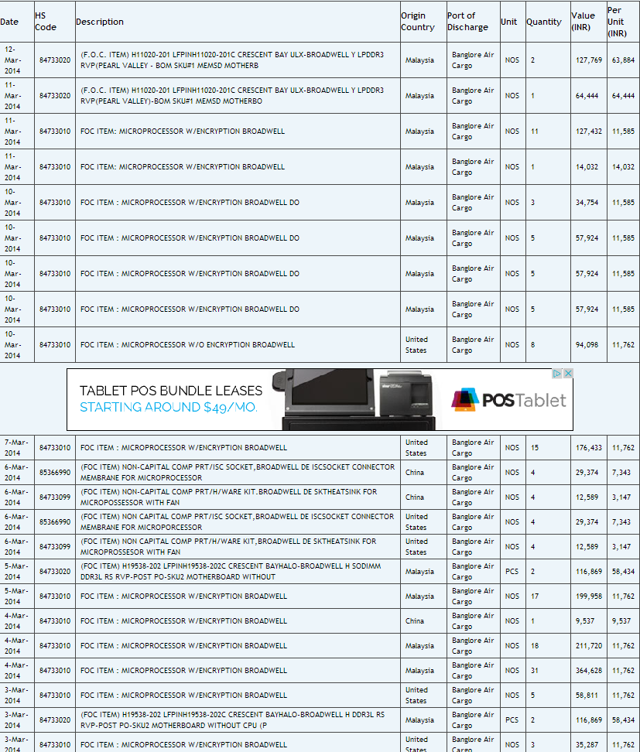 That's a lot of Broadwells for one page...and there's over 10 pages worth of fairly recent data. Intel appears to have gone into high volume production on Broadwell, as would be expected given the company's statements that it would commence volume 14nm production in Q1 2014.
But, given Intel's difficulties in mobile, the more important question is whether the low power 14nm SoC process is also ready.
Not Quite Blazing The Cherry Trail
Intel's first 14 nanometer tablet product, known as Cherry Trail, appears to be sampling in small volumes today, but the volumes into India do not suggest that there is a real production ramp today. Since tablets with this product don't appear to be scheduled for launch until November 2014, I would imagine that the volume ramp would really begin in earnest around the end of Q2 2014 (think May/June).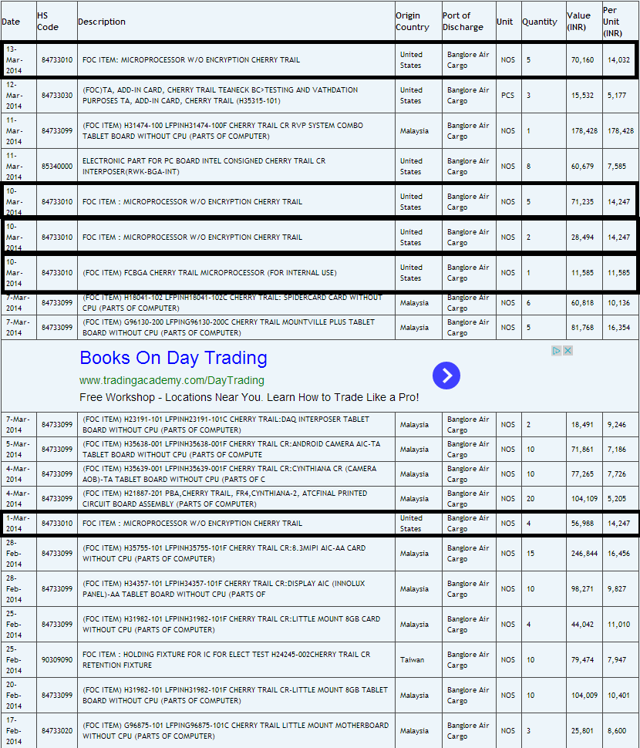 Conclusion
With Broadwell now likely in full production, I fully expect Intel's Brian Krzanich to have a positive update on the status of 14 nanometer on the upcoming conference call on April 15. While only a means to an end, a return to confidence in Intel's manufacturing leadership on Wall Street should make it easier for investors to believe the long-term story.
Disclosure: I am long INTC. I wrote this article myself, and it expresses my own opinions. I am not receiving compensation for it (other than from Seeking Alpha). I have no business relationship with any company whose stock is mentioned in this article.