It is often an encouraging sign when multiple insiders begin to buy company shares. While there may be several reasons for insiders to sell their positions, often there are very few reasons for an insider to add to his/her holdings apart from an optimistic outlook on the company's future. One such company that has seen an increase in insider purchasing in recent weeks is Office Depot (ODP).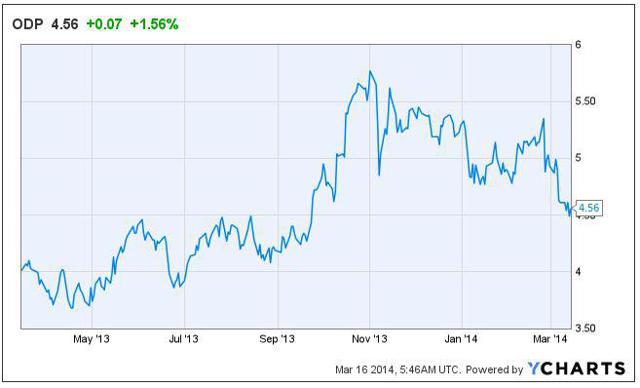 As of March 15, Office Depot carries a market capitalization of $2.43 billion based on the last share price of $4.56. The company also supports a moderately low price-to-book ratio of 1.16 and a significantly low price-to-sales ratio of 0.21. Office Depot trades with a forward price-to-earnings ratio of 12 based on analyst estimates of $0.38.
Office Depot competes against specialty retail and large discount variety stores such as Staples, Inc. (SPLS), United Stationers Inc (USTR) and Wal-Mart Stores Inc. (WMT). These companies carry comparative price-to-sale ratios of 0.32, 0.31, and 0.51, respectively. Additionally, each company supports price-to-earnings ratios of 12.05, 13.22, and 15.18, respectively.
On November 5, Office Depot successfully closed on a transformational merger with OfficeMax. This dramatically improved the company to now support more than 2,200 stores worldwide. By further consolidating with one of its largest rivals, the merged company is now capable of addressing the market with greater pricing control. This provides a significant opportunity for Office Depot to integrate, improve and ultimately grow the company.
Such a growth story appears to be resonating with the company's insiders. Based on recent insider purchases, several of the company's directors and officers have been exploiting current weakness in the company's share price. The following is a brief look at the company's latest insider purchases as described here:
Roland Smith, CEO. On March 12, Smith directly purchased 50,000 shares at $4.61. The latest transaction was valued at $230,645. The CEO now owns 1,249,616 shares of the company.
Nigel Travis, Director. On February 27 and March 10, Travis directly purchased a total of 50,870 shares between multiple purchases priced between $4.61 and $4.95. The total value of the transactions was $247,985. The Director now owns 159,584 shares of the company.
Jeffrey Smith, Director And 10% owner. Smith stands as a significantly large owner of the company through the related entity of Starboard Value and Opportunity C LP. Through this entity, Smith added to his holdings on March 7 and March 11. Combined, the insider purchased a total of 2,873,913 shares of Office Depot at an average purchase price of $4.59. The total value of the transactions amounted to $13,200,373. Smith now indirectly owns 28,872,697 shares of Office Depot.
Joseph Vassalluzzo, Director. Vassalluzzo directly purchased 15,000 shares on March 14 at a price of $4.58. The value of the transaction was for $68,700. Altogether, the director directly owns 60,034 shares of Office Depot.
Warren Bryant, Director. Bryant directly purchased 6,000 shares on March 14 at a price of $4.66. The value of the transaction was for $27,953. The company Director now owns 218,831 shares of Office Depot.
Here are five highlights from the company's latest earnings conference call found here:
In light of the transformational merger, the two foundational priorities for 2014 are to create a lean organization and establish a high-performance culture. These practices will include ongoing innovation and improved execution.
Establishing synergies between Office Depot and OfficeMax remain one of the most important goals. The company expects to realize more than $600 million in annualized cost synergies by 2016.
Office Depot expects to deliver on its annual operating plan for 2014 in order to generate not less than $140 million of adjusted operating income. This represents a 30% improvement versus the 2013 pro forma.
However, just as revenue declined in 2013 versus the prior year, this negative trend is expected to continue into 2014. Yet the negative direction of this metric is expected to be countered via the planned synergies found between the two companies.
Overall, the SG&A expense is expected to decline by $170 million for 2014 through synergies obtained through the merger. By year three, the company expects annualized savings of $470 million for selling, general and administrative expenses.
A Look At The Company Now
At the end of 2013, Office Depot carried total assets of $7.48 billion. Of this amount, total liabilities for the company were $5.36 billion and total shareholder equity was valued at $2.06 billion. The company maintained total current assets of $4.40 billion in contrast to the $2.92 billion in total current liabilities.
Total revenue for 2013 was $11.24 billion. Despite the gross profit of $2.63 billion, the company endured an operating loss of $205 million. This operating loss was significantly lower than the $31 million loss experienced in 2012 and the $34 million in operating income seen in 2011. Selling, general and administrative expenses accounted for $2.56 billion.
Final Thoughts
The outlook for 2014 continues to be far from impressive as market trends are expected to remain challenging across product lines and distribution channels. However, the company does expect to capitalize on cost savings found in synergies derived from its latest merger. The rather large amount of insiders purchasing shares at these levels suggest a sense of optimism found among those in inner circles. While Office Depot appears to trade at a slight discount to its peers within the industry, it remains to be seen if the company can capitalize upon the expected savings yet to be realized.
Disclosure: I have no positions in any stocks mentioned, and no plans to initiate any positions within the next 72 hours. I wrote this article myself, and it expresses my own opinions. I am not receiving compensation for it (other than from Seeking Alpha). I have no business relationship with any company whose stock is mentioned in this article.