On Tuesday, June 6, 2010, a one line item on Bloomberg TV showed that Norway is going to put a break on deep sea exploration.
Norway won't award deepwater drilling permits in new areas until the causes behind the Gulf of Mexico incident have been determined, Oil Minister Terje Riis-Johansen said today.
The article is also included a quote from the Norwegian Petroleum Directorate:
We don't see any reason to postpone or stop the activity in deep water," Bente Nyland, head of the agency, said in an interview today in Stavanger, Norway.
Reuters states that Statoil has the bulk of production in the North Sea; according to Rigzone.com, there are 158 deepwater rigs in the North Sea excluding Statoil.
Firms that could move from the headline risk are Transocean (NYSE:RIG), Noble Corp (NYSE:NE), ConocoPhillips (NYSE:COP), and Seadrill (NYSE:SDRL).
click to enlarge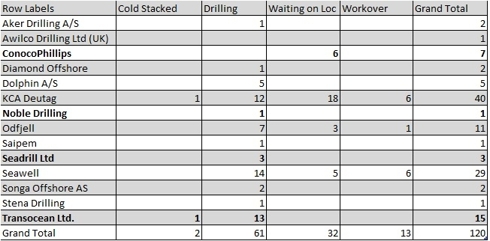 Click to enlarge
Disclosure: Author holds a long position in NE