This is the year that Santa Barbara Bank & Trust (Pacific Capital Bancorp; Nasdaq:PCBC) celebrated its fiftieth anniversary. It also may be the year it goes out of business if a recent rescue deal isn't completed.
For almost 50 years, SBBT was a Santa Barbara institutions. Founded by civic leaders, it was one of the few local banks that thrived and survived over the years. There were a number of other local banks that started here which either went out of business or were acquired by a larger institution. Only one other local bank has survived long-term and thrives as an independent entity, the much smaller Montecito Bank & Trust founded in 1975. That bank is privately owned by a single local entrepreneur.
Since 1960 SBBT had built itself on a conservative business model that relied on lending to local individuals and businesses, using the connections and reputation of their founders and the knowledge they had of the community they served. After a few years it was clear that the bank was enjoying solid, but not spectacular, growth and paid regular dividends to its shareholders. The stock was closely held in that no one ever sold stock unless they had to or died. There was a standing list of people who wished to invest if stock became available. Many investors became very well off from their investment, especially the early investors who benefited from stock splits over the years. I know several that became wealthy and the stock comprised most of their asset base.
They hired bright people who took the firm's banking philosophy seriously. Many of the senior level executives were life-long employees of the bank and had acquired a great deal of wealth from their stock options and purchases over the years. I'm not going to portray the people who founded and ran the bank as geniuses or saints, or that they never made mistakes, but I will say they were honest, careful, concerned, and dedicated to the bank. I found it was not so easy to get a loan from them, as some of my real estate clients discovered.
Some of the senior loan officers, executives, and managers who had been with the bank for many years had the opportunity to retire well relatively young, relying on their bank stock sitting in their 401(k) plans. Some came away with very substantial amounts. The bank was generous to their retired employees, providing some health and dental care benefits.
Then things changed. They went for regional expansion starting in the late 1980s and started establishing branches out of the immediate Santa Barbara area. At that time, as now, the population on what is called the South Coast, the coastal towns including Santa Barbara, was was relatively small, about 200,000. They expanded south into Ventura and even Northern Los Angeles counties, and northward into San Luis Obispo, Monterey, San Benito, Santa Clara, and Santa Cruz counties. Much of their expansion was through acquisitions made from 1997 to 2005. Now it has 48 branches and has assets of $7.369 billion.
click to enlarge images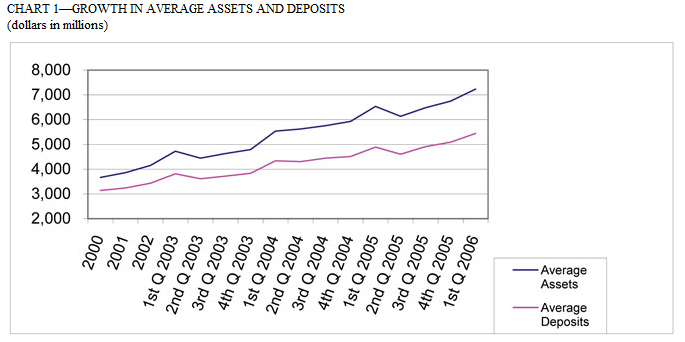 It seemed that SBBT went from the conservative local bank to a forward-looking and expanding regional bank. It seemed that the culture had changed with its size. Perhaps that is inevitable with growth. In order to compete with other regional players they had to be more aggressive in attracting deposits and borrowers as they entered new territories. They had to offer different products and services. They built up a trust department and engaged in wealth management. They completed about ten mergers over the years to acquire smaller banks in these areas.
Now they are struggling to stay in business.
Looking back with quite a bit of hindsight, there were basic flaws in its business model and some of the business choices it made that led to its downfall. To be fair, hindsight is a wonderful thing for a commentator looking on from the outside. Perhaps my observations are wrong, but here's how I see it.
1. In 2005 they implemented a new computer system for its banking business and added customer relations management programs. From what I heard on the street the implementation was a disaster and the bank had substantial problems which ultimately resulted in the replacement of the then current president. It's kind of interesting because their 10K in 2006 only said, "The Company has experienced some challenges with the installation that have caused inconvenience to customers." Having been on the lawyer side of securities issues I believe that statement is quite an understatement. What I think it says was that "We had a disaster but fixed it. Sorry."
It makes one wonder about management when something like that happens. While it had fine people at the top, perhaps they under-appreciated the complexity of the new world in which they operated. I see the computer fiasco as a symptom of that stress.
2. They had acquired a tax anticipation loan business (Refund Anticipation Loan "RAL" and Refund Transfer "RT") that generated a lot of cash flow. Basically tax preparers submit loan applications to the bank for clients who want an immediate payment of their tax refunds and didn't want to wait around for the IRS to pay them. The interest charged on such loans is very high and the bank caught a lot of criticism from consumer advocate groups. According to their Q1 2006 10K, "In the first quarter of 2006, funds lent in RAL transactions totaled $6.0 billion compared to $4.8 billion in the first quarter of 2005. The funds processed through RT transactions totaled $12.1 billion in the first quarter of 2006..." They had revenues of $87,573,000 from these loans in Q1 but loan charge offs were rising. They borrowed the funds to make these loans by securitizing the loans.
They sold the business for $10 million in January of this year. While profitable, the securitization business had dried up making it difficult for them to raise capital to fund these loans. The need to raise additional capital to fund RALs compounded their problems since they needed a lot more capital just to maintain their Tier 1 capital ratio because of their growing problem with real estate loans. So, a significant amount of cash flow was lost to them which only compounded their problems.
3. They jumped big into the residential real estate development business, mainly through acquisitions of other banks. From their Q3 2006 10K, their president says,
From a core bank perspective, our business development efforts during the third quarter remained strong, particularly in the construction and residential real estate segments, which helped drive annualized loan growth of approximately 9% during the quarter. However, the competitive deposit pricing environment and higher borrowing costs continue to drive compression in our net interest margin and present challenges to generating earnings growth. We are pleased to have partially offset this through implementation of the expense management initiatives that we announced last quarter. Our operating efficiency ratio improved nearly 400 basis points from the second quarter of 2006, and we are focused on making continued progress in this area.
The management statement notes that much of the loan interest growth was driven by loans from a bank they acquired in San Luis Obispo county.
This is where the money train goes off the tracks. A growing portfolio of commercial real estate (CRE) and residential real estate loans, both for development and acquisition, were made throughout the boom, including loans made at the very top of the market.
No one saw it coming.
Loan Portfolio Analysis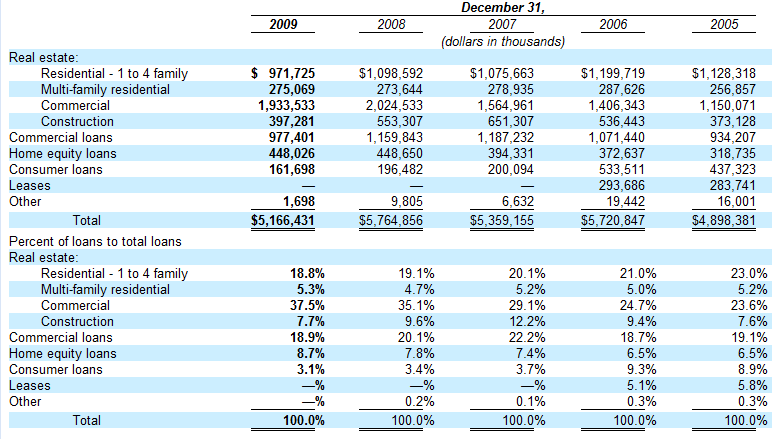 As you can see their loan portfolio grew substantially during the boom years, especially loans to developers and for CRE. You can also see how their non-real estate commercial loans, consumer loans, and home equity loans increased along with real estate. This demonstrates the "wealth effect" of any boom where increasing asset values, in this crisis, housing, encourages people to take on more debt and spend.
As with most regional or local banks, SBBT was not caught with the toxic assets usually blamed for the crash. Their loans and assets were more traditional, and were heavily weighted to real estate, which at the height of the boom in 2006 constituted two-thirds of their loan portfolio (including home equity loans). As you can see from the below chart, these loans now account for 78% of their problem loans.
Allowance For Loan Losses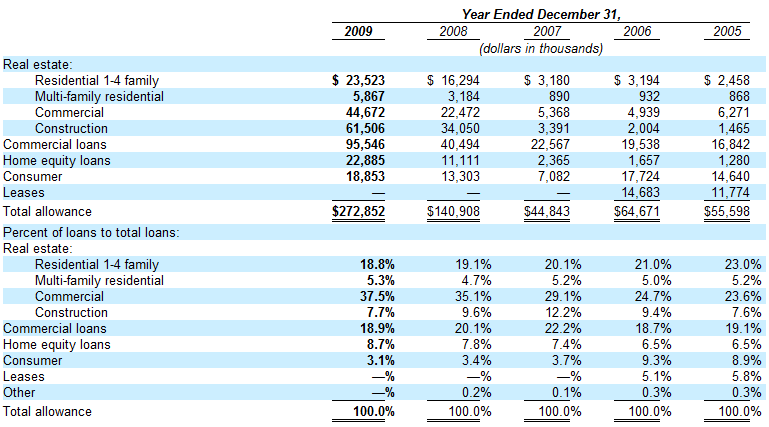 I don't think most people in Santa Barbara had a clue that SBBT was having problems until they announced that they took $180.6 million of TARP money in November, 2008. That knocked me off my stool. As a mere depositor and borrower, I had not realized that there had been fundamental changes to the bank, much less any substantial structural problems.
I think we can all guess what is happening to them now as loans for residential real estate construction are being written down or written off, as CRE continues to decline in value, and as home values decline. While Santa Barbara real estate is still relatively expensive when compared to the rest of the U.S., it is unfortunate that many of SBBT's loans are not confined to this area. As a result, the value of the bank's stock is almost zero ($1.60 per share at last look):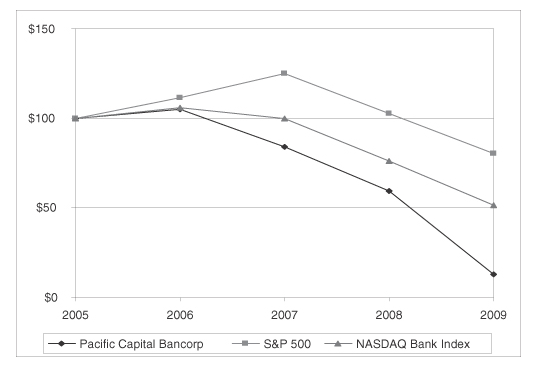 Their most recent 10Q report for Q1 2010 was not encouraging. They restated earnings, actually losses, to -$83 million to reflect a $3.1 million under reporting mistake. On May 11 the OCC and the San Francisco Fed imposed new harsher conditions on them, and which give the regulators greater oversight. Among the requirements: "to achieve and maintain thereafter a total capital at least equal to 12% of risk-weighted assets [now 10.1%] and Tier 1 capital at least equal to 9% [now 4.6%] of adjusted total assets (the "Minimum Capital Ratios") by September 8, 2010."
Then came the following statement in the 10Q report:
If we fail to consummate the investment and the recapitalization or otherwise fail to raise sufficient capital, our ability to continue as a going concern would be in doubt and we may file for bankruptcy and/or the bank may be closed by the OCC and placed into FDIC receivership ...
The only thing that will keep the bank from the above consequences is a pending deal from an investor who is willing to invest up to $500 million in the bank. The investor, [not The] Gerald Ford, is an experienced banker who apparently sold his bank at the top of the market and is sitting on a pile of cash looking for good banking opportunities. The deal will give Mr. Ford and his company 80% control of the bank. The existing shareholders have a chance to buy up to 20% of new shares at the same price Mr. Ford is paying.
In either case it appears that the shareholders will be wiped out. It is not a pretty sight in a small community where many people had invested in the bank and the bank's stock represented a major (if not the major) portion of their assets. It is sad to see the many employees who spent their entire working lives with the bank, and who thought they had retired well, now find themselves considerably poorer, not able to earn it back at their later stage of life.
For what it's worth, this is the unfortunate side of capitalism's creative destruction that Austrian theory economist Joseph Schumpeter wrote about. This is the part where failed and unprofitable ventures go away so that capital may be directed to more productive enterprises. This is the process that corrects the mistakes of the business cycle and keeps the economy moving forward. It is necessary and unavoidable, but it leaves only the destruction part behind for those involved.
I think the big question on everyone's mind is: why did this happen to such a fine institution? Or, to be more specific, why did those running the bank put it in a position that left very little margin of error?
Let me restate that I knew several of the bank's founders, senior employees, and I bank with them. I also know several of the current board members who are rather stuck with the problem. I have the highest respect for them as professionals and business persons and I am well aware of their achievements and capabilities.
But for them, the crash was a Black Swan event. No one apparently saw it coming, or if they did, they were not able to sway opinion to their viewpoint. To be fair to SBBT and their executives, most of the financial world did not see the bust coming. Most people on Wall Street only saw the boom.
I further will disclose that I didn't see it coming either. I worked for a local developer at the time and didn't want to see it coming. I only saw piles of potential money. Mea culpa. But then that was before I had the leisure of unemployment and re-retirement which enabled me to resurrect my Austrian theory roots and become a famous blogger.
To those practitioners of Austrian theory economics, the event was not a Black Swan. In fact, Black Swan author, Nassim Taleb, says it was not a Black Swan event because the potential of a major crash was obvious. Taleb, I should point out, is of the Austrian School of economics for the most part. Many Austrian theory economists saw the boom, understood its causes, and predicted the inevitable bust.
The purpose of this article is not to chastise human behavior, but to criticize the state of economic knowledge in our world. Our current economics is now dominated by Keynesian or Monetarist econometricians. If one looks candidly at how our government has responded to this crisis, one can see that the same policies that caused the boom are being redeployed to rescue the economy from the bust. I am not going to discuss why these policies are wrong here because I have written extensively about the current state of the economy. I will say that propping up failed companies and banks is the wrong policy and that is why we, like Japan who tried these policies many times and failed each time, still suffer from a credit freeze, deflation, high unemployment, and stagnation.
I think a reflection on the plight of SBBT and the people who suffer from its downfall is a sad but valuable lesson in economics. We need to take a fresh look at economic theory. I'm not talking about egg-headed ivory tower-ism here, I'm talking about the practical effect of the policies our government uses. These Keynesian and Monetarist policies are directly responsible for the booms and busts we seem to be facing with increasing regularity. Unless we change our ideas of how the economy should run, the tragedy of SBBT will only be repeated.
Disclosure: No positions