by Jeff Bailey
Warren Buffett speaks frequently of businesses protected by a competitive moat, and few if any Berkshire Hathaway (NYSE:BRK.B) units can out-do the moat enjoyed by Burlington Northern Santa Fe, the railroad Buffett bought 77.4% of (Berkshire already owned the rest) for $34 billion in 2009.
Assembling the rights-of-way to lay down tens of thousands of miles of track seems next-to-impossible at this late date, giving the existing railroads enormously lucrative franchises. You can't buy stock directly in BNSF, as Berkshire's rail unit is known, but, as we've noted in the past, Buffett didn't buy all the railroads.
The one that most mirrors BNSF is of course Union Pacific (NYSE:UNP), its roughly 32,000-thousand-mile network of track paralleling the BNSF lines covering the Western two-thirds of the U.S. And as happy as Buffett sounds about his railroad, Union Pacific holders have easily as much to cheer about.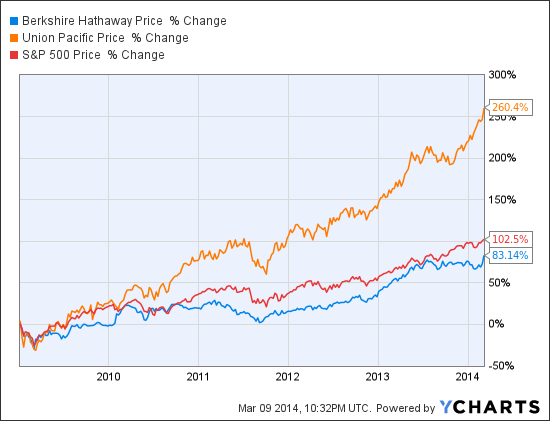 BRK.B data by YCharts
That chart shows performance since November 3, 2009, the day the acquisition of BNSF was announced.
Union Pacific's results are a reminder of how scale is supposed to work in a business: gradually rising revenue (up 5% in 2013), once it covers high fixed costs (expenses rose just 2%), yields more dramatically rising net income (up 10%); throw in some stock buybacks to reduce shares outstanding, and diluted EPS rises even faster (+14%). That's operating leverage.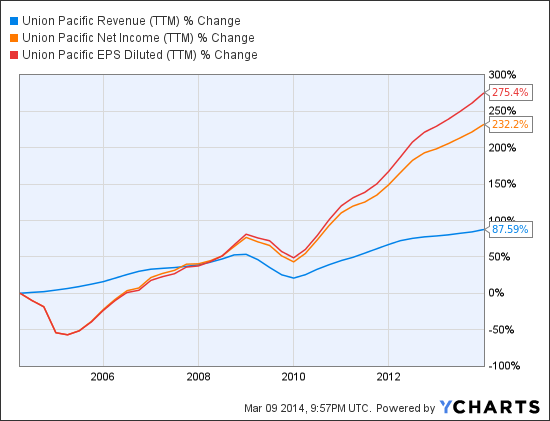 UNP Revenue (TTM) data by YCharts
Union Pacific's 2013 revenue of $22.0 billion is roughly equal to BNSF's revenue. Union Pacific out-earned BNSF, however, $4.4 billion to $3.8 billion. No ding on BNSF - they're both great companies.
Union Pacific realizes nicely growing cash from operations. And that has funded a dividend up 500% over the last decade. The dividend was last hiked a month ago, by 15%, to a quarterly 91 cents a share. And the payout ratio remains a very reasonable 30% or so. Union Pacific also announced last fall a new stock buyback program covering 60 million shares, or about 13% of those outstanding, that runs through 2017.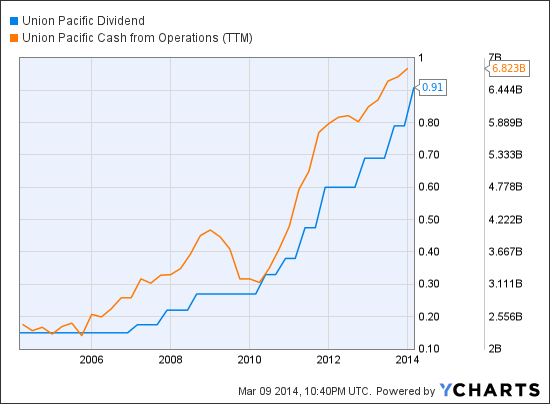 UNP Dividend data by YCharts
Those competitive moats give the railroads pricing power. Union Pacific's second largest freight category is coal, after Intermodal, and given conditions in the coal business these days you'd think, ouch. Coal-fired power plants have been closing, due to cheap natural gas prices and to environmental compliance costs. So, Union Pacific hauled 9% fewer carloads of the stuff last year. But it was able to increase its prices - average revenue per coal carload rose 12% -- enough to show an increase in revenue for the category.
With a dividend yield of about 2% and a forward PE ratio of about 17, Union Pacific might not look cheap to you. Neither did BNSF when Buffett bought it. These are companies with rare competitive advantage. Environmental forces will push even more freight onto trains and out of trucks in coming years. The domestic energy boom is already giving the railroads a new growth market, as demand for oil and gas pumped in North America vastly exceeds pipeline capacity to move it.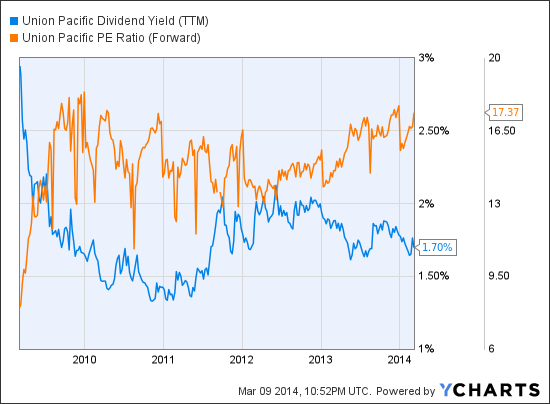 UNP Dividend Yield (TTM) data by YCharts
Unleash some financial advisor tools on Union Pacific shares. YCharts Pro's Union Pacific rating includes a perfect 10-out-of-10 for fundamentals. We'll be back soon with more on the railroad's story.
Disclosure: No positions