All is not lost. John Chen made a bold appraisal that ailing BlackBerry (NASDAQ:BBRY) has a decent 50% chance of recuperating. Chen made this assessment in an interview published last March 5. His buoyant outlook makes me really believe that BBRY is sick but will not die anytime soon. Citron Research's $15 price target for BBRY has yet to become a reality. However, the $11 barrier may soon be breached. The stock is now trading just above $9.30 but it did a high of $10.78 back in January. Profit-taking has beaten BBRY down but I'm betting it can beat the January high soon.
John Chen is superconfident that BlackBerry has a good chance of regaining its old glory days in smartphones. Knowing his background, Chen is not just paying lip service to please journalists and investors.
The $85-million restricted stock grant for signing up as CEO is not a reason for me to doubt Chen's candor or sincerity. That stock option is rather a strong motivation for Chen to make good on his promise of Sybase-like rescue of BlackBerry.
Aside from Jobs' rescue work of Apple in the 90s, Chen's Sybase turnaround feat is considered by many as one of the great comeback stories. Larry Ellison even considered Chen to run Apple in 1997 when he tried to buy the company. Chen opted to work for Sybase instead and it is where he gained his turnaround artist fame.
The Sybase rescue wasn't his first though. Back in 1991, Chen also helped server manufacturer Pyramid Technology Corp. return to profitability and eventual sale to Siemens AG. Ask Kobe or Jordan, third time's the charm - BlackBerry will be John Chen's championship three-peat.
BBRY Bulls Trust Chen
I share Chen's bullish sentiment. BlackBerry is still sick and will continue bleeding money this 2014. However, I see the company returning to profitability by next year. The upcoming March 28 earnings report will bring disappointing revenue and EPS numbers. However, like what happened last December, I expect BBRY bulls to once again outnumber bears.
The previous quarter's $4.4 billion loss did not deter BBRY's rally. This quarter's EPS should be better than the -0.67 last December. Estimize users and Wall Street analysts' estimates are -0.46 and -0.48, respectively. The huge loss last quarter included one-time charges so I'm hoping for a lower loss this quarter.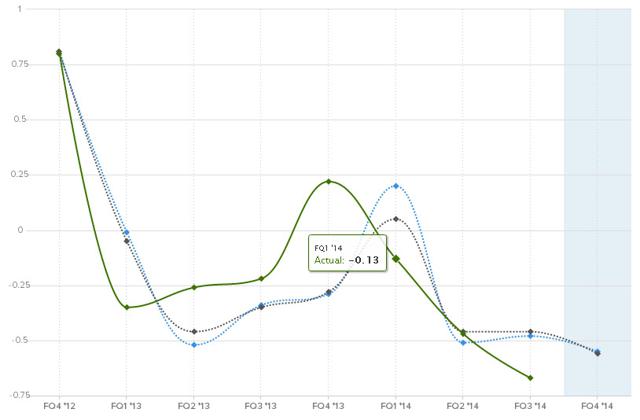 BlackBerry Enterprise Is Still Strong
BlackBerry's comeback is spearheaded by its Enterprise Services division. Chen's success in turning Sybase to a mobile data management powerhouse to gives him deep knowledge and contacts in the lucrative corporate market. The company's current 80,000 enterprise customers will further increase thanks to the new Bring-Your-Own-Device support in BES 10.
Enterprise accounts for around 80% of revenue so news that multinational corporations like Daimler AG and Airbus Group are upgrading to BlackBerry Enterprise 10 and BlackBerry OS 10 smartphones are very encouraging. Latin America's biggest private bank, Itau Unibanco is also upgrading to BES 10 and replacing its 7,000 BlackBerry units to BlackBerry OS 10 phones.
Governments still find BlackBerry the trusted name for Enterprise Mobility Management. The Australian National Audit Office uses BES 10 and BlackBerry Secure Work Space for iOS and Android to manage and secure multiple devices in the workplace. The upcoming BES 12 can only help fortify BlackBerry's hold on enterprise mobility.
New Tactics On Hardware
Chen's master stroke 5-year deal with Foxconn (OTC:FXCOF) is helping BlackBerry make another pass towards smartphones without the risk of unsold inventory charges. The sub-$200 entry-level Z3 BlackBerry OS 10 foretells a new strategy for BlackBerry phones. The Blackberry Z10 and Z30 premium handsets have failed miserably to gain market success.
A cheap BlackBerry 10 smartphone is attractive to low-income people. Former BlackBerry loyalists who defected to cheap Android phones should be more amenable to returning to the fold.
The large-screen, 5-inche display, Z3 will first launch in Indonesia next month. Should it receive the same success that Nokia X is having in China, I see Z3 getting launched in China and other countries too. I, for one, would like to see it here in the Philippines.
The emerging markets will also receive the new QWERTY keyboard-equipped Q10. Its price should also be below $200. People who are averse to touchscreen typing will consider this model.
These two new affordable phones running the latest 10.2.1 OS which lets users easily install Android games and apps. This is one more incentive for people to try the Z3 and Q10.
Chen's focus on low-ASP phones for the Non-U.S. markets gives BlackBerry a chance to gain back its lost market share. Asia, Africa, and Latin America are perfect for cheap BlackBerry 10 phones. Samsung (OTC:SSNLF) and Apple (NASDAQ:AAPL) own the premium smartphone business right now.
The disastrous PlayBook tablet launch in 2011 has not discouraged Chen from trying again. The tablet market is an avenue that BlackBerry's new management is considering a re-entry. Samsung did well selling cheaper Android tablets to loosen Apple's former dominance with the iPad.
The PlayBook Version 2.0 may come next year and it will likely be geared towards the low and mid-tier market. This makes sense because the enterprise sale is central to Chen's recovery plan.
It is still more convenient to work on office documents using large-screen tablets rather than on phones. BES corporate users ought to have tablets made by BlackBerry rather than by Apple or Samsung.
Conclusion
John Chen's coin flip estimate of the odds that BlackBerry can recover is much better than I initially thought. Chen has the experience and motivation to get BlackBerry back to profitability. Chen's revived enthusiasm for smartphones complements his enterprise push.
While BBM and QNX are future cash generators, I believe that enterprise contracts and hardware sales will greatly determine how fast BlackBerry can recover. I just don't see QNX or BBM generating billions of revenue in the next two years.
Trading at less than $9.50, BBRY is now a good a buy if you believe my assessment that $11 is not impossible to breach. The event last December, which saw the market do a rally for BBRY despite the company reporting record losses, may happen again.
Disclosure: I am long BBRY. I wrote this article myself, and it expresses my own opinions. I am not receiving compensation for it (other than from Seeking Alpha). I have no business relationship with any company whose stock is mentioned in this article.