One of the reasons our members love us is that we tell the story through the numbers. Every income statement says something, every balance sheet has a history and every cash flow statement reveals a firm's true intrinsic value. The numbers talk--and we think every investor should listen to them. Let's see what they say about Waste Management (NYSE:WM).
But first, a little background to help with the understanding of this piece. At Valuentum, we think a comprehensive analysis of a firm's discounted cash-flow valuation, relative valuation versus industry peers, as well as an assessment of technical and momentum indicators is the best way to identify the most attractive stocks at the best time to buy. This process culminates in the Valuentum Buying Index, which ranks stocks on a scale from 1 to 10, with 10 being the best. If in-depth academic research on our process is your fancy, please click here. Here's a brief summary of the abstract:
The benefits of value and momentum strategies on an individual basis have been well-documented in financial literature. Academic research has also concluded that a simply-constructed portfolio consisting 50% of a long-short value-oriented portfolio and 50% of a long-short momentum-oriented portfolio produces a higher Sharpe ratio and lower volatility than either value or momentum alone. We study the reasons behind this phenomenon and strive to answer the question: what are the types of stocks that drive such outperformance? Though the benefits of using a combined value and momentum approach in a portfolio management setting have been widely-accepted, we believe we are the first to identify the abnormal-return benefits of investing in a cohort of individual stocks that have both good value and good momentum qualities...We also reveal the inherent link between the diverse backing of combined value and momentum strategies in financial literature and our stock-selection methodology, the Valuentum Buying Index, which identifies undervalued firms with strong momentum qualities.
Essentially, we're looking for firms that overlap investment methodologies, thereby revealing the greatest interest by investors (we like firms that fall in the center of the diagram below). At first, this may sound strange, but we think it is genius in its simplicity. By focusing on what drives stock price movement, namely valuation and technical/momentum analysis (and dividends, too!), we position our members to identify the stocks that are most likely to appreciate. Said differently, all investors are interested in stocks that go up. We think those stocks are ones that are underpriced and are just starting to get noticed by the investment community as being so. More interest in the shares by various investment methodologies --> more buying in shares --> greater likelihood of price-to-fair value convergence. Though we show our work like all good students do, it doesn't get more simple than that. Here's the process in a flow chart (DCF = discounted cash flow).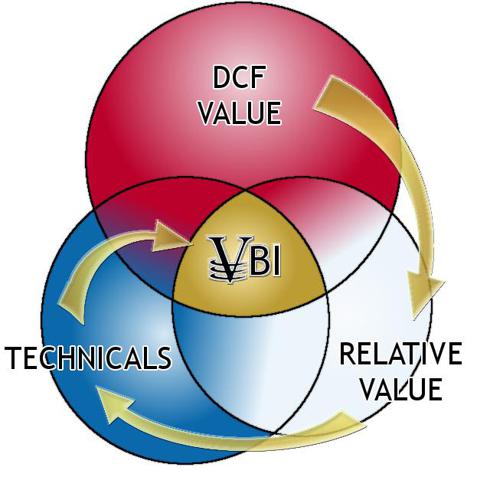 If a company is undervalued both on a DCF and on a relative valuation basis, it scores high on our scale. Waste Management posts a VBI score of 4 on our scale, reflecting our 'fairly valued' DCF assessment of the firm, its attractive relative valuation versus peers, and bearish technicals. We compare Waste Management to peers Waste Connections (NYSE:WCN), Clean Harbors (NYSE:CLH), and Republic Services (NYSE:RSG). We add Clean Harbors to the mix, even though it's not a pure peer, in order to offer additional context with respect to overall valuation parameters in the waste industry.
Our Report on Waste Management
Waste Management's Investment Considerations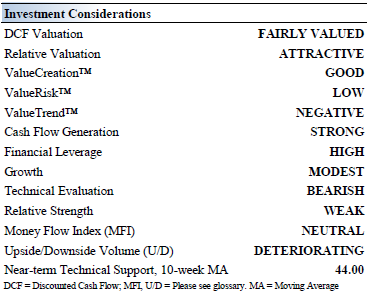 Waste Management's Industry Background
The US non-hazardous solid-waste services industry generates annual revenue in excess of $50 billion, a staggering number just to keep our streets clean. Waste Management, Republic Services, and Waste Connections dominate this market, generating greater than 60% of industry revenues and controlling an equal percentage of valuable disposal capacity. The top line for the group can be expected to expand at a nominal-GDP rate, with pricing growth in the industry adding an additional tailwind thanks to recent consolidation (Republic Services/Allied Waste), a rational focus on return on invested capital, and cost pressures facing independent mom-and-pop trash companies and municipalities.
Operators generate strong and predictable cash flow. Within the collection line of a waste hauler's business, residential services provided to municipalities and individual households are on a service-based model (not-volume based) and can largely be viewed as insulated from economic pressures. Such a constant revenue stream helps to mitigate cyclical pressures in a trash taker's commercial collection and industrial roll-off lines, which also fall into the overall waste-collection category. Cell-by-cell landfill build-out provides additional flexibility with respect to capital outlays, as haulers can scale back expenditures during troubled economic times.
Transfer and disposal is the most lucrative revenue stream in the waste business. Landfill ownership can largely be viewed as the primary competitive advantage for a solid-waste operator. Though anyone that can finance a truck can bid on collection routes (service is undifferentiated), new entrants are at a significant disadvantage for disposal. For starters, building a landfill is expensive, time-consuming (permits can take 3-7 years to obtain, sometimes longer), and NIMBY (not-in-my-backyard) opposition has only increased with suburban sprawl. Subtitle D of the Resource Conservation and Recovery Act (1991) significantly increased the cost and complexity of landfill ownership (composite liners, leachate collection systems, zoning, etc.). As a result, many landfills in the US have been closed, and disposal airspace should only become more valuable over time.
Since collected waste must go somewhere (direct haul is only practical for 40-50 miles), the company that controls the disposal assets in a given "wasteshed" (locality) often dictates pricing. Owning the only dump in town also limits hefty tipping fees paid to other participants. Waste Management and Republic Services internalize--dispose of into their own company-owned landfills--more than 60% of collected waste, bolstering operating margins relative to privately-held, independent operators. Importantly, landfilling still represents the most prominent form of disposal, declining only 3 percentage points (as a percentage of generation) during the last decade. Materials recovery (including recycling) should continue its march upward, but the pace of this trend is far from tragic for the waste-hauling sector.
The structural characteristics of the garbage industry are among the strongest in our coverage universe given the value of landfill ownership.
Waste Management's Investment Highlights
Waste Management scores fairly well on our business quality matrix. The firm has put up solid economic returns for shareholders during the past few years with relatively low volatility in its operating results. Return on invested capital (excluding goodwill) has averaged 12.4% during the past three years.
Waste Management is the largest environmental solutions provider in North America, serving more than 20 million customers in the US, Canada and Puerto Rico. The company has the largest network of
recycling facilities, transfer stations and landfills in the industry.
Waste Management's cash flow generation is robust, but its financial leverage could potentially be concerning down the road. If cash flows begin to weaken, we'd become more cautious on the firm's overall financial health.
Waste Management's asset base is the largest and most diverse in the industry. Its landfill operations boast significant barriers to entry due to regulatory requirements and stiff NIMBY opposition. The company's business is generally recession-resistant, though volatile commodity prices can cause swings in revenue.
Waste Management has a hefty dividend payout, but the company's score on our Valuentum Dividend Cushion leaves much to be desired. If you haven't heard about the Dividend Cushion, please take a read of its efficacy here.
Waste Management's Business Quality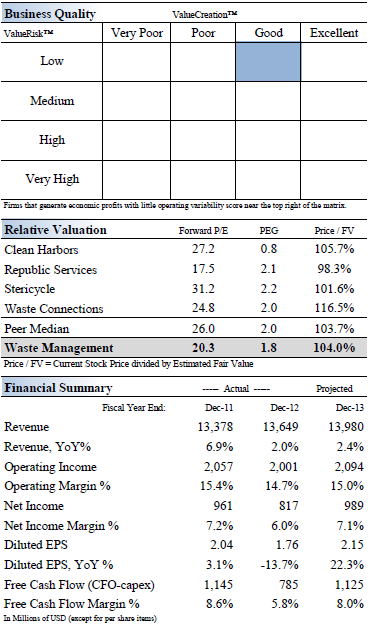 Waste Management's Economic Profit Analysis
The best measure of a firm's ability to create value for shareholders is expressed by comparing its return on invested capital (ROIC) with its weighted average cost of capital (WACC). The gap or difference between ROIC and WACC is called the firm's economic profit spread. Waste Management's 3-year historical return on invested capital (without goodwill) is 12.4%, which is above the estimate of its cost of capital of 8.8%. As such, we assign the firm a ValueCreation™ rating of GOOD. In the chart below, we show the probable path of ROIC in the years ahead based on the estimated volatility of key drivers behind the measure. The solid grey line reflects the most likely
outcome, in our opinion, and represents the scenario that results in our fair value estimate.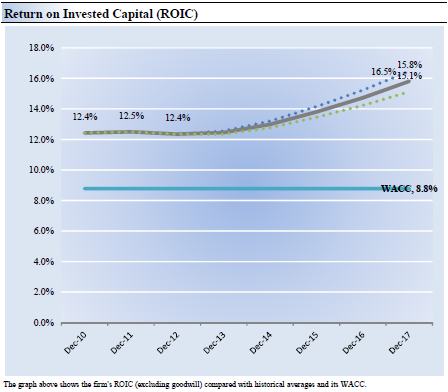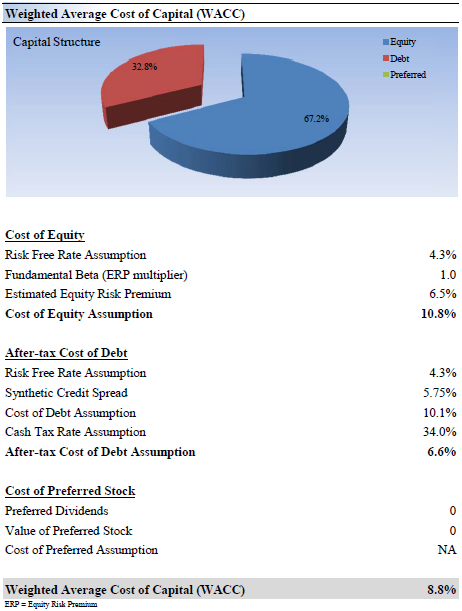 Waste Management's Cash Flow Analysis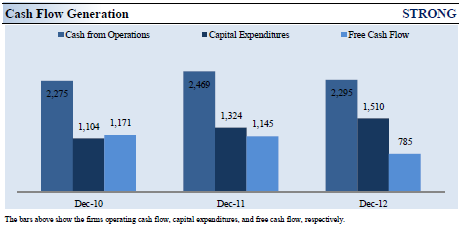 Firms that generate a free cash flow margin (free cash flow divided by total revenue) above 5% are usually considered cash cows. Waste Management's free cash flow margin has averaged about 7.9% during the past 3 years. As such, we think the firm's cash flow generation is relatively STRONG. The free cash flow measure shown above is derived by taking cash flow from operations less capital expenditures and differs from enterprise free cash flow (FCFF), which we use in deriving our fair value estimate for the company. For more information on the differences between these two measures, please visit our website at Valuentum.com. At Waste Management, cash flow from operations increased about 1% from levels registered two years ago, while capital expenditures expanded about 37% over the same time period.
Waste Management's Valuation Analysis
The estimated fair value of $42 per share for Waste Management represents a price-to-earnings (P/E) ratio of about 23.9 times last year's earnings and an implied EV/EBITDA multiple of about 8.8 times last year's EBITDA. Our model reflects a compound annual revenue growth rate of 2.7% during the next five years, a pace that is lower than the firm's 3-year historical compound annual growth rate of 5%. Our model reflects a 5-year projected average operating margin of 16.4%, which is above Waste Management's trailing 3-year average. Beyond year 5, we assume free cash flow will grow at an annual rate of 1.9% for the next 15 years and 3% in perpetuity. For Waste Management, we use a 8.8% weighted average cost of capital to discount future free cash flows.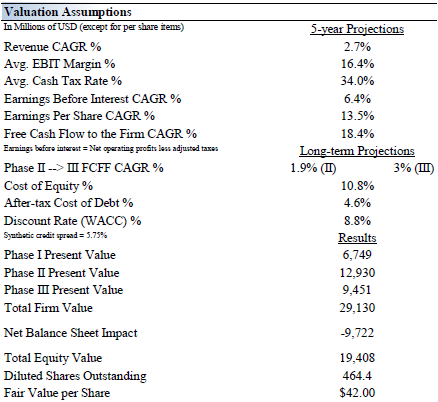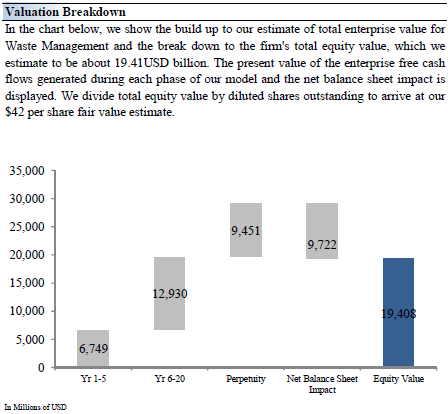 Click to enlarge
Margin of Safety Analysis
Our discounted cash flow process values each firm on the basis of the present value of all future free cash flows. Although we estimate the firm's fair value at about $42 per share, every company has a range of probable fair values that's created by the uncertainty of key valuation drivers (like future revenue or earnings, for example). After all, if the future was known with certainty, we wouldn't see much volatility in the markets as stocks would trade precisely at their known fair values. Our ValueRisk™ rating sets the margin of safety or the fair value range we assign to each stock. In the graph below, we show this probable range of fair values for Waste Management. We think the firm is attractive below $34 per share (the green line), but quite expensive above $50 per share (the red line). The prices that fall along the yellow line, which includes our fair value estimate, represent a reasonable valuation for the firm, in our opinion.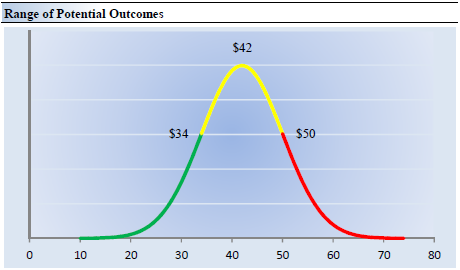 Future Path of Fair Value
We estimate Waste Management's fair value at this point in time to be about $42 per share. As time passes, however, companies generate cash flow and pay out cash to shareholders in the form of dividends. The chart below compares the firm's current
share price with the path of Waste Management's expected equity value per share over the next three years, assuming our long-term projections prove accurate. The range between the resulting downside fair value and upside fair value in Year 3 represents our
best estimate of the value of the firm's shares three years hence. This range of potential outcomes is also subject to change over time, should our views on the firm's future cash flow potential change. The expected fair value of $52 per share in Year 3 represents our existing fair value per share of $42 increased at an annual rate of the firm's cost of equity less its dividend yield. The upside and downside ranges are derived in the same way, but from the upper and lower bounds of our fair value estimate range.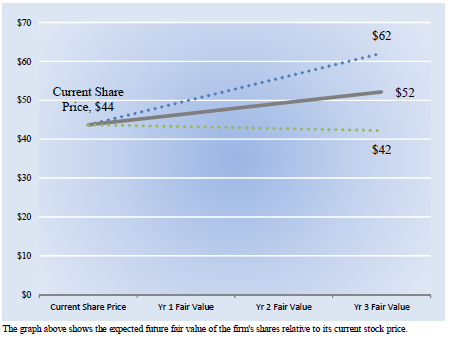 Pro Forma Financial Statements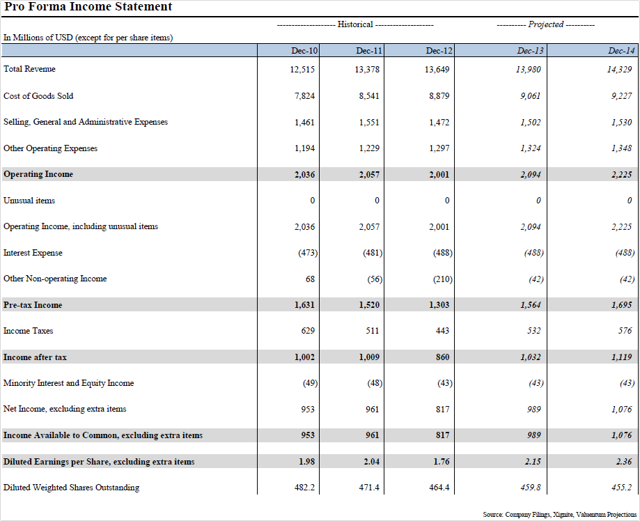 Click to enlarge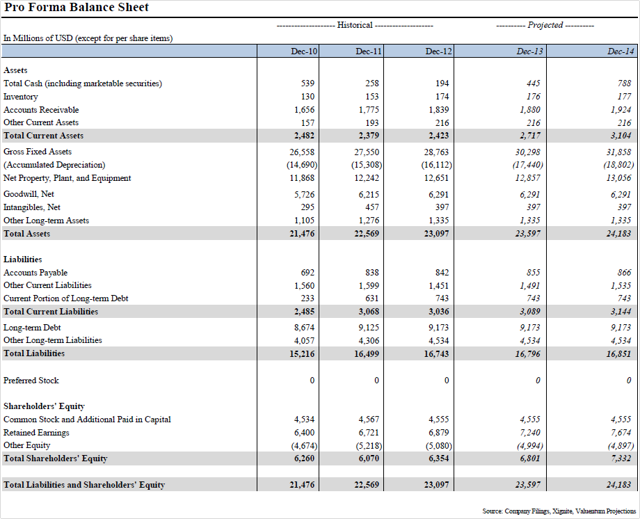 Click to enlarge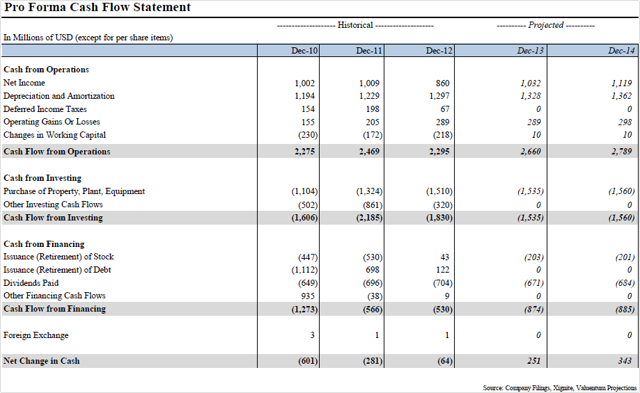 Click to enlarge
Valuentum's Take
We're huge fundamental fans of the garbage hauling industry and hold Republic Services in the Best Ideas Newsletter portfolio. Waste Management is a fantastic company as well, and we'd be interested in the company at the right price (the lower end of the fair value range). In any case, we think defensive environmental exposure makes sense in today's volatile (and pricey) market environment.
Disclosure: RSG is included in the Best Ideas portfolio. I have no positions in any stocks mentioned, and no plans to initiate any positions within the next 72 hours. I wrote this article myself, and it expresses my own opinions. I am not receiving compensation for it (other than from Seeking Alpha). I have no business relationship with any company whose stock is mentioned in this article.