I've been watching many of the more recent REIT spinoffs that have occurred as value-enhancing separations undertaken by REIT management teams. Depending on how you "spin it" (pun intended), some of the REITs have bifurcated their portfolios as a means to separate the treasure from the trash.
I suppose the underlying question for REIT investors should be whether or not the security they own (or will own) provides meaningful value enhancement as a result of the divorce and the subsequent marriage induced by creative financial engineering.
Some of the more recent REIT spinoffs such as Ashford Hospitality Trust (NYSE:AHT) and Simon Property Group (NYSE:SPG) seem to create value as both of the newly listed companies - Ashford Hospitality Prime and Washington Prime Group Inc. - seem to create value by optimizing strategic focus and operational efficiency.
In the case of Simon's new REIT, Washington Prime Group, it's expected to own or have an interest in 54 strip centers and 44 malls (in 23 states). The primary benefits for the new REIT will be to provide a narrower focus on a smaller base of assets that will provide enhanced transparency. The creatively restructured concept is simply based on the theory that two parts are worth more than the whole. The spinoff will occur sometime in the second quarter with a value of the new entity of around $6 billion.
Similarly, Ashford recently spun off an 80 percent interest in eight hotels that consist of the highest RevPAR-performing properties. The new externally-managed REIT, AHT, was designed to provide enhanced transparency and to maximize value for both related hotel REITs. AHT invests primarily in high RevPAR, full-service and urban select-service hotels located predominantly in domestic and international gateway markets.
American Realty Capital Proposes a Spinoff
Last week American Realty Capital Properties (ARCP) announced that it was planning to spin off its multi-tenant retail assets into a new REIT called American Realty Capital Centers ("ARCM"). Just two weeks ago I called that play (and I was spot-on) in an article I wrote on Seeking Alpha:
ARCP owns around 14% of its assets in the form of Multi-Tenant Retail properties. Although there are synergies providing a meaningful and cost of capital advantage, I believe that it's likely that ARCP will "spin off" the Multi-Tenant assets into a separate REIT. Of course, I would not rule out a merger with another Shopping Center REIT either.
I like being a few steps ahead, especially when I own shares in the company. Now that it's official however, I need to examine the merits of the spinoff strategy in an effort to make sure that there is value to both current ARCP investors as well as prospective owners in ARCM. Here are some of the key benefits referenced in ARCP's March 13, 2014 Investor presentation:
ARCP intends to unlock value by creating a leading shopping center REIT via a strategic spinoff
ARCP intends to focus ARCP's strategy as a pure-play net lease REIT
ARCP intends to generate $400 million of equity capital embedded in shopping center assets (proceeds)
ARCP intends to reduce equity capital markets activity for 2014 by approximately 23.5 million shares
ARCP intends to deleverage the balance sheet to 7.0x
ARCP intends to increase percentage of investment grade to 52%
ARCP intends to structure the spinoff such that ARCP's operating partnership will retain 25% ownership of ARCM for additional source of value appreciation in addition to growth in earnings and dividend
ARCP intends to leverage existing platform of over 190 professionals, who have sourced around $4 billion of shopping center real estate since 2008 and operate shopping center portfolio today
ARCP intends to reduce materially ARCP's capital expenditures
ARCP intends to improve credit profile
The contemplated transaction should be completed by the end of 2Q-14 and ARCP's operating partnership will retain a 25% ownership interest in ARCM. In other words, with the proposed spinoff, ARCP shareholders will get one ARCM share for every 10 shares of ARCP they own.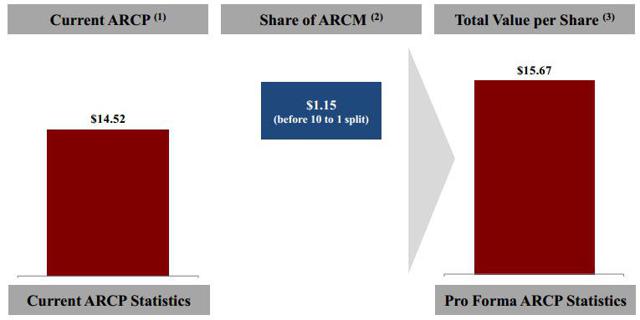 ARCP's new portfolio (post spinoff) is expected to create significant value for ARCP shareholders as the company's overall credit metrics will improve and provide value uplift. The transaction could unlock $400 million of equity capital from ARCP's portfolio and should reduce 2014 equity share issuance guidance by 23.5 million. Additionally, net-debt to EBITDA for ARCP will be slightly reduced from 7.2x to 7.0x. Secured debt will be reduced by $567 million.

ARCP's current $1.00/share annual dividend or 6.9% yield is the highest in the sector. Management anticipates that ARCM will have a $0.73/share dividend. For every 10 shares of ARCP an investor will get one share of ARCM. This would result in a combined dividend of $1.073 or a 7.3% yield. ARCM's leverage should increase as the portfolio has only $567 million of mortgage debt. Management plans to put on an additional $400 million of unsecured debt at closing. This will increase leverage to 7.5x.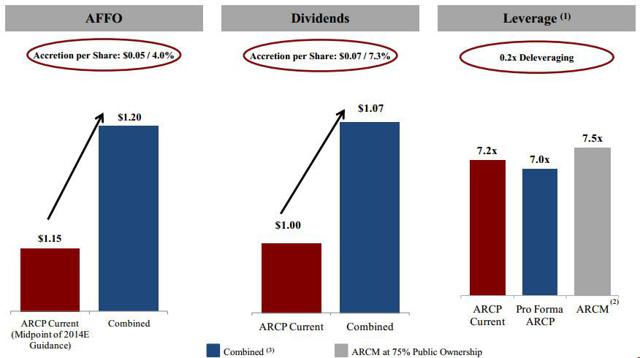 By creating a focused shopping center REIT, ARCM proposes to unlock the value embedded in ARCP's shopping center portfolio and it's expected that higher overall valuation combined with greater earnings and dividend growth will translate into the following:
Create a specialized and focused entity with the strategy of aggregating the fragmented shopping center space
Highest quality assets located in top MSAs
ARCP provides best-in-class, investment grade platform as ARCM's advisor, with dominant aggregation experience, access to deeply experienced acquisition and underwriting teams, at below market expense
Earnings growth generated by rental growth and accretive acquisitions
Appropriately capitalized to pursue growth opportunities
Independent Board of Directors
American Realty Capital Centers - The Landlord of Where America Shops®
ARCM's specialized vehicle is expected to allow the company to best seize the opportunity and maximize shareholder returns. ARCM's mission is to own stable, quality power centers, grocery centers and anchored centers that effectively serve their communities and create shareholder value. The initial ARCenters portfolio will own 79 assets, primarily, multi-tenant shopping center properties with 11.8 million sf located in 26 states.

The portfolio will be 96.3% leased and 47% of ABR is derived from the top 20 MSAs. Anticipated 2014 cash NOI is $139 million and the 3-mile population and income demographics are 69,000 and $71,000, respectively.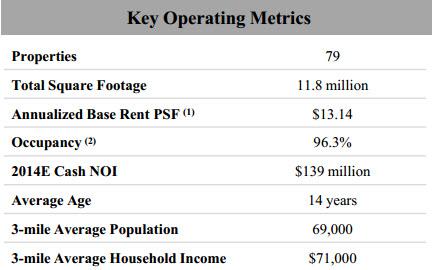 ARCM's portfolio will consist of predominantly power centers (73%), followed by grocery anchored (12%) and other anchored (12%). ARCM will also own a fraction (3%) of single tenant properties due to cross-collateralization obligations.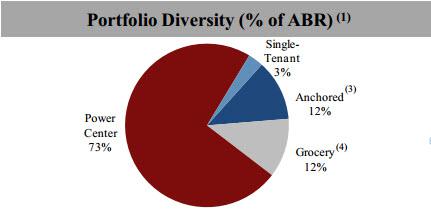 ARCM's Top Tenants include PetSmart (4.6% of ABR), Kohl's (3.3%), and Dick's Sporting Goods (3.0%).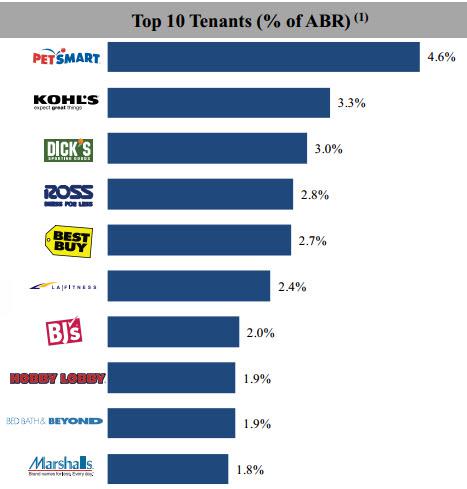 ARCM's business strategy as outlined in the latest presentation:
Drive disciplined external growth through rigorous asset underwriting and acquisition standards
Enter new markets with strong demographics and potential for growth
Highly selective and robust acquisition pipeline
Execute on targeted, value-add development and re-development projects to enhance performance
Maintain a strong balance sheet with access to multiple sources of capital
ARCM's portfolio appears to be well-balanced with properties located in 26 states, with the top ten states representing 82 percent of ABR.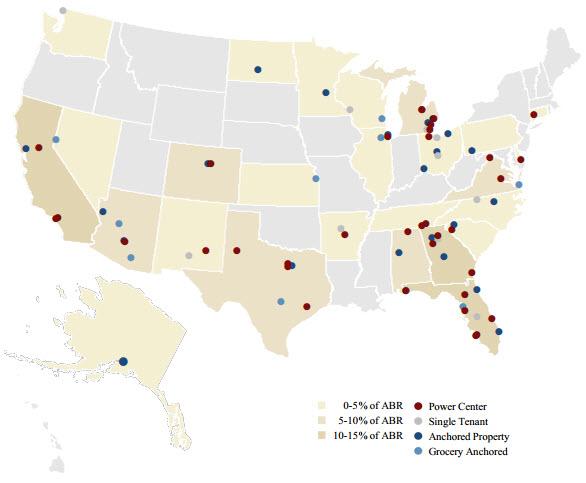 ARCM's top states include California, Georgia, Florida, and Texas.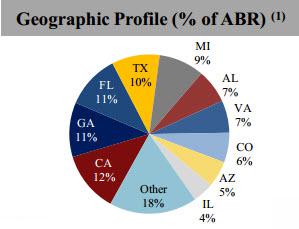 ARCM's capital structure will consist of around $967 million of total debt outstanding (including new unsecured debt of $400 million) at time of spinoff. The new REIT is negotiating up to $750 million in credit facilities to be used to fund the dividend to ARCP and provide growth capital. The weighted average interest rate and years to maturity on existing $567 million of debt of 4.3% and 6.6 years, respectively (71.8% fixed rate, 28.2% floating rate). Here's a snapshot of ARCM's anticipated capital structure: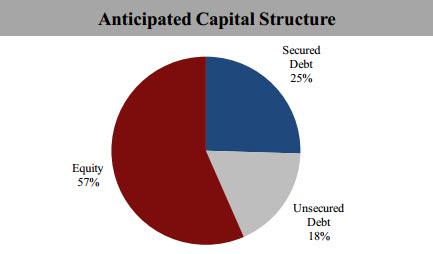 ARCM's debt to Total Capitalization is expected to be around 43.4 percent.

Here are some key 2014 estimated run rate financial metrics for ARCM: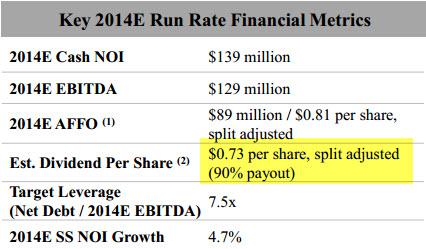 The $2.22 billion value put on ARCM implies a 6.25% cap rate on 2014 cash NOI of $139 million. That might be a bit aggressive for power centers. However, the 6.4% dividend yield is 250 bps above the shopping center average with one of the highest dividend yields in the shopping center sector.

Why I Think External Management Makes Sense
As some of you know, I'm not a fan of externally managed REITs. It simply irritates me when companies hire outside management teams where there is little alignment of investor and manager interests. However, in the case of ARCM, I believe that an externally managed model is attractive.
ARCP (including the new COLE management team) has extensive experience in sourcing, leasing, and managing retail assets. The overall team has acquired around $4 billion of shopping centers since 2008 and the 30 member acquisition team has sourced over $6 billion of acquisitions in 2013.
Under the terms of the spinoff, ARCM will receive property management services from ARCP, for which ARCP will receive expense reimbursements. This means there will be no in-place management team for ARCM and that will create a low cost structure consisting of a management fee (paid by ARCM) of 50 bps per annum up to $3.5 billion in book value, reduced to 40 bps for book value of assets over $3.5 billion.
ARCM will have its own board of directors and Nicholas Schorsch will serve as Chairman of the new REIT. No other ARCP directors or employees will be directors of ARCM.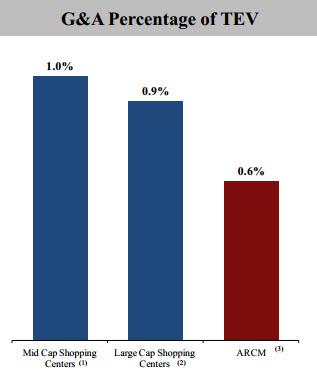 As mentioned, under most conditions I wouldn't be attracted to the externally-managed model, however, in the case of ARCM I believe there is value to the dedicated resources of ARCP's team of over 190 professionals and I believe that the economies of scale should enhance the benefits related to acquisition, portfolio management, financing, management, leasing, and other areas.
Benchmarking ARCM
Upon review of ARCM's competitive positioning I find the new REIT highly attractive. Here is a snapshot of the company's 2014 estimated AFFO multiple (and the peer group):

Here is a chart that details ARCM's metrics compared with the larger shopping center REIT peers: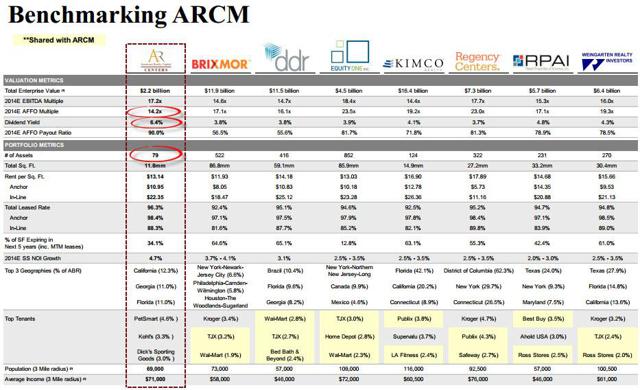 Here is a chart that details ARCM's metrics compared with the smaller shopping center REIT peers: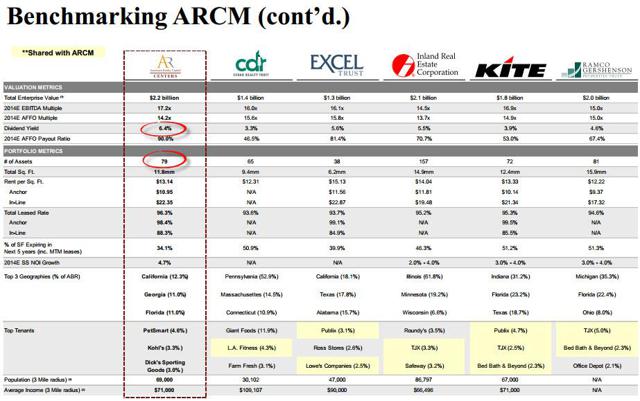 What Does That Leave ARCP?
As evidenced by the snapshot below, ARCP's business will be streamlined and the impact to the company's debt ratings is unchanged.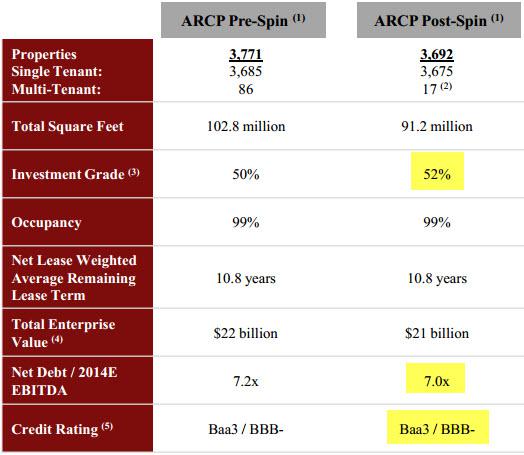 It's clear that the market has not given ARCP full credit for its high-quality net lease portfolio and once the company spins off the shopping center assets, it's likely that the market will reflect the premium. Here is a snapshot that illustrates ARCP's post-spinoff asset distribution: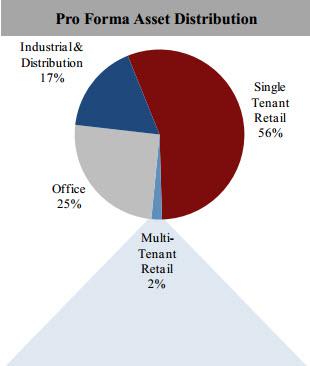 Here is a snapshot of ARCP's pre-spin and post-spin Top 10 Tenant list: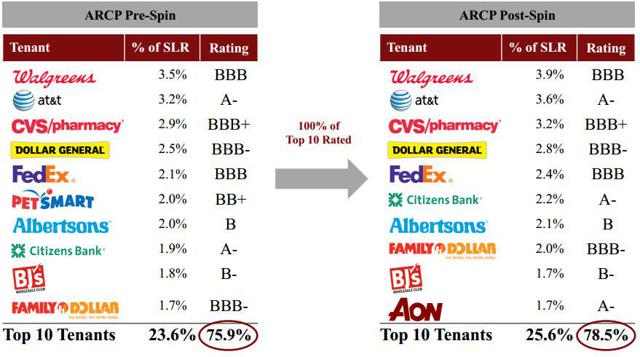 ARCP's debt service coverage levels will not have any meaningful change: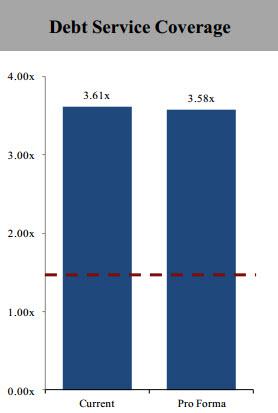 ARCP's percentage of secured debt should fall from 18.3 percent to 17.4 percent: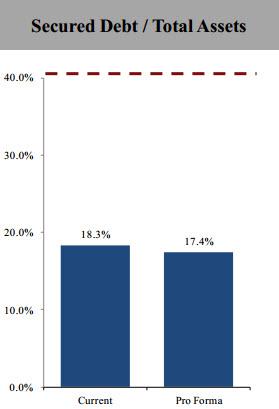 ARCP is expected to maintain a meaningful margin to its bond covenants. Here is a snapshot of unsecured assets to unsecured debt.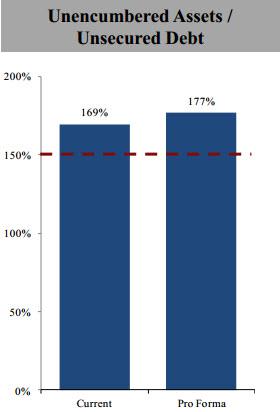 Here is a summary of ARCP's improved leverage profile post spinoff: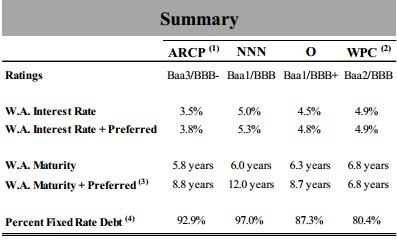 Here is a snapshot of ARCP (and select peers) weighted average interest rate post spinoff: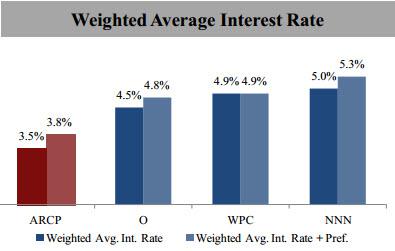 Here is a snapshot of ARCP (and select peers) weighted average debt maturity post spinoff: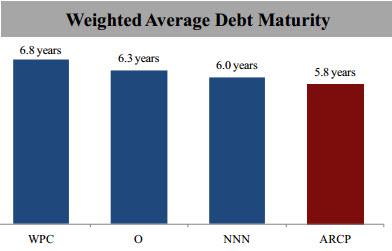 Here is a snapshot of ARCP (and select peers) percent of fixed rate debt post spinoff: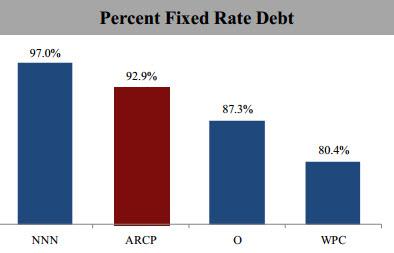 Here's How I Spin This Deal
I commend Nicholas Schorsch and his management team for deciding to create a specialized and focused entity with the strategy of aggregating the fragmented shopping center space. Given Schorsch's track record for growth, I would expect ARCM to grow into a dominating REIT (in a very short time).
Also I expect ARCP and ARCM to each benefit from an experienced management team with strong relationships, and leverage the breadth of the management platform within ARCP. In addition, I expect that ARCP's Advisory platform (Cole Capital) will roll-out Shopping Center funds consistent with the Triple Net funds that gained popularity over the recent years.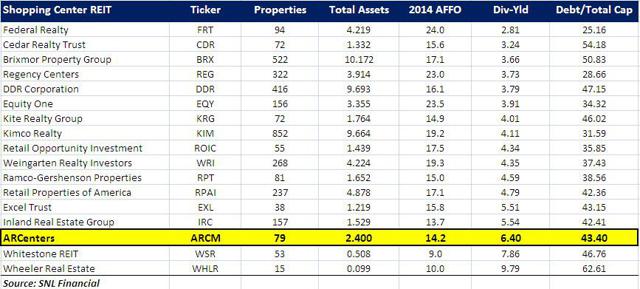 I think we are witnessing the creative talents of Nick Schorsch's one-of-a-kind business acumen in which the world of financial engineering and best in class talent unite to unlock value embedded in the shopping center portfolio. As noted above, the cap rate on the spinoff deal seems moderately high; however, the portfolio is solid and the management team is vetted.
In my most recent article on ARCP I stated that "after researching the latest earnings results, I can conclusively say that ARCP is an incredibly fit REIT. I am re-initiating a BUY recommendation at $14.75". The latest spinoff announcement strengthens my outlook and I intend to selectively increase my ownership (in ARCP). ARCP closed at $14.50 with a dividend yield of 6.90%.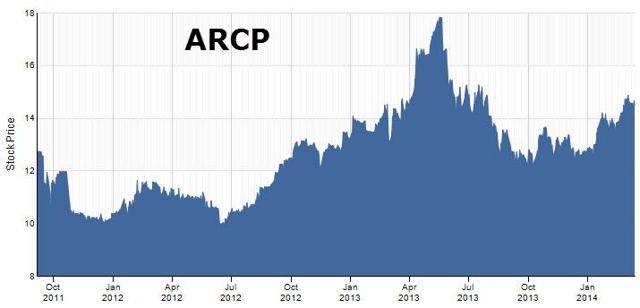 In regards to ARCM, I'm looking forward to becoming an owner soon. This may be one of the best shopping center REITs in the sector and I expect to see this REIT grow into a sizable force over the next few years. It's very clear to me that Nick Schorsch has a passion for success and much like my friend and mentor Donald Trump, he doesn't like to lose. As Trump said:
You have to think anyway, so why not think big?

REIT Newsletter: The author is also the Editor of a monthly newsletter called The Intelligent REIT Investor. For more information or to subscribe click HERE.
Sources: SNL Financial and ARCP Filings.
REITs mentioned: (NYSE:BRX), (NYSE:DDR), (NYSE:EQY), (NYSE:KIM), (NYSE:REG), (NYSE:RPAI), (NYSE:WRI), (NYSE:CDR), (NYSE:EXL), (NYSE:IRC), (NYSE:KRG), (NYSE:RPT), (NASDAQ:ROIC), (NYSEMKT:WSR), (NASDAQ:WHLR), and (NYSE:FRT).
Disclaimer: This article is intended to provide information to interested parties. As I have no knowledge of individual investor circumstances, goals, and/or portfolio concentration or diversification, readers are expected to complete their own due diligence before purchasing any stocks mentioned or recommended.
Disclosure: I am long O, DLR, VTR, HTA, STAG, UMH, CSG, GPT, ARCP, ROIC, MPW, HCN, OHI, LXP, KIM. I wrote this article myself, and it expresses my own opinions. I am not receiving compensation for it (other than from Seeking Alpha). I have no business relationship with any company whose stock is mentioned in this article.