When a potential investor looks to establish a long-term position in the oil and gas sector, a firm's ability to overcome weather-related adversity is certainly something to consider. With that said, I not only wanted to examine Hess Corporation's (NYSE:HES) recent expansion-related developments with regard to its Tioga, North Dakota plant, but also note a number of reasons behind my decision to remain long on its stock.
Recent Developments Pertaining To Tioga
On Friday, March 14, Hess announced that it would begin selling natural gas from its Tioga, North Dakota plant later this month. This announcement comes after the company had first fired up operations at the Tioga station several weeks after severe weather delayed its initial time frame for the expansion. As a result of the company's expansion-related developments, the plant will now be able to process an estimated 250M cf/day which is nearly twice the number that had been originally estimated. If Hess can meet and/or exceed its latest production-related estimates, there's a a very good chance the company's natural gas revenues could see an increase of at least 3%-5% (if not more) over the next 12-24 months.
Recent Performance & Trend Behavior
On Friday, shares of HES, which currently possess a market cap of $26.84 billion, a forward P/E ratio of 16.89, and an annual dividend yield of 1.25% ($1.00), settled at a price of $80.28/share.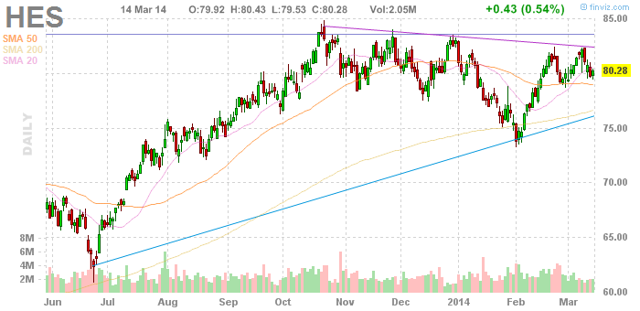 Based on their closing price of $80.28/share, shares of HES are trading 0.32% below their 20-day simple moving average, 1.57% above their 50-day simple moving average, and 4.81% above their 200-day simple moving average.
It should be noted that these numbers indicate a slight short-term downtrend, as well as a very moderate mid-to-long term uptrend for the stock, which generally translates into a holding pattern for most near-term traders and a stronger buying mode for most long-term investors.
Comparative Forward P/E Ratios Set Hess Apart From One Of Its Peers
Although the above referenced numbers indicate a long-term uptrend for the company's stock, I actually think its unit price of $80.28/share offers investors a considerable point of entry. Why? Well, I think that since shares are trading at a much better forward P/E ratio than one of its sector-based peers, this could be a great buying opportunity for many investors.
As of Friday's close, Hess Corp's forward P/E ratio of 16.89 was much lower than the forward P/E ratios of Williams Partners (NYSE:WPZ) (forward P/E ratio of 20.17 as of 3/14), which were considerably higher. A stronger forward P/E ratio clearly signals a greater level of affordability for Hess Corp., especially when compared to Williams Partners, LP.
Conclusion
For those of you who may be considering a position in Hess Corporation, I strongly recommend keeping a close eye on the firm's recent trend performance, any further developments with regard to its Tioga-based natural gas operations and its ability to continue to enhance shareholder value over the next 12-24 months, as each of these factors could play a role in the company's long-term growth.
Disclosure: I am long HES. I wrote this article myself, and it expresses my own opinions. I am not receiving compensation for it (other than from Seeking Alpha). I have no business relationship with any company whose stock is mentioned in this article.