The financial crisis of 2008 caused massive damage to automakers. On a global level the automotive industry has recovered from the economic crisis and the profits in 2013 were higher than the 2007 pre-crisis period. The recent market share among few key players has led to strong competition in the industry. The top ten automakers in the U.S. account for around 90% of the total vehicles sold. Ford's manufacturing strategy that aims to produce multiple models in worldwide plants in order to reduce production expenditure and adapt swiftly to changing consumer preferences has helped the company to gain a competitive edge.
Ford's Growth is Derived from the Chinese and the U.K. Markets
The Ford Motor Company (NYSE:F) and its Chinese joint venture showed tremendous growth in February with sales of 73,040 vehicles reflecting an increase of 67% year over year. This venture is flourishing as the growth is continuously showing an upward trend following a 35% increase in December and a 53% increase in January. Ford's China sales are bolstered by continued strong demand for its Ford Focus, the best-selling vehicle in the country last year. Ford is focusing on the Chinese market where it arrived relatively late but so far its joint venture has been very successfully with very good penetration. Ford is working hard to gain a significant market presence in China where its sales volume surpassed the sales volume of Honda (NYSE:HMC) and Toyota (NYSE:TM) last year when the company sold 935,813 commercial and passenger vehicles.
Ford's commercial vehicle investment in China, Jiangling Motors Corporation (JMC), has also gained momentum with steady growth. February's sales increased by 22% and reached 16,756 vehicles compared to 13,684 vehicles in February of 2013.
Overall, February car sales in the U.K. increased by 3% reaching 68,736 cars compared to February of 2013. During the month Ford lead the U.K. cars sales with 9,935 cars sold. Ford has extended its market share of retail cars and in the February its retail cars share grew to 15.3%. The strong dealer network in the U.K. and continued investment in new innovative products has set the platform for Ford's fast growth in a more profitable retail and net fleet sector.
The U.S. market did not perform well for Ford and the sales of 183,947 vehicles in February reflected a decline of 6%. The winter weather delayed the portion of fleet orders resulting in a decline of 10% in the fleet sales and it has ultimately hit the overall growth in the U.S. market. However, the F-series truck once again performed well for Ford during February with sales reaching 55,882 vehicles and these are the best numbers from the U.S. market in eight years. To fuel the earnings from the popularity of the F-Series and capture more market share Ford recently introduced the 2015 F-Series super duty truck that the company believes to be the best in its class. As the housing market and economic conditions recover it can be expected that Ford's sales combined with the new F-150 in the U.S. will significantly increase the earnings.
Ford's Dividend Profile is Improving
Ford's dividend profile has been improving year over year after the financial meltdown of 2008. The impact of the crisis wiped out Ford's reinstated payout in the first quarter of 2012 with a quarterly dividend of $0.05 per share. Since then Ford has increased its quarterly dividend payments to $0.10 in 2013. Continuing this increase, in the first quarter of fiscal year 2014 the company again increased its quarterly dividends by 25% to $0.125 per share. A more than 150% increase in just two years is quite a good return to its shareholders. This shows Ford's strong commitment towards shareholders' returns.
This year's expected annual dividend of $0.50 would result in a dividend yield of 3.19% and this dividend yield has doubled since 2012. The company holds a strong balance sheet and the favorable auto industry will provide earnings growth so it is expected that Ford will continue increasing the dividends and this will eventually improve the dividend yield.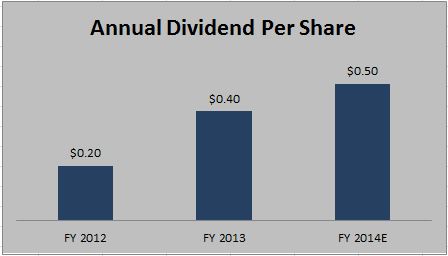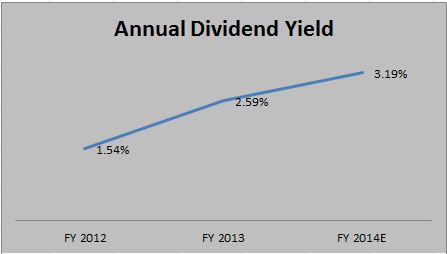 Source: Morningstar
Ford's 2013 year-end payout ratio was 22.10% and the expected payout ratio will remain around 24%. The stable payout ratio will result in maintained dividends according to the earnings and it indicates that Ford's fundamentals are improving.
The Automotive Industry Outlook and Ford's Strategy
According to IHS the average age of vehicles in the U.S. reached an all-time high of 11.3 years in 2013 and is expected to reach 11.5 year by the end of 2015. The high average age will result in high replacement demand for cars and the industry growth will show an upward trend in the coming years.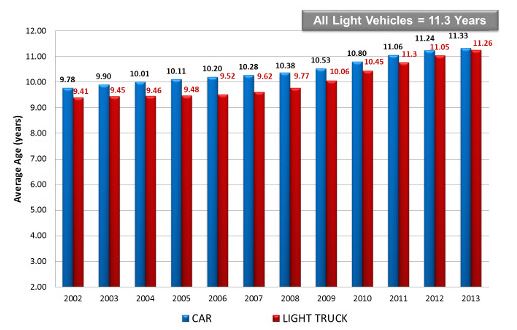 Source: IHS
A combination of the strong pent-up demand due to high aging vehicles in the U.S., low gas prices, improving macroeconomic conditions, and recovering housing market will drive the growth of the industry. The forecast by Edmunds.com anticipates that in the U.S. vehicles sales in 2014 will hit 16.4 million increasing from 15.6 million in 2013 and this will be the highest sales volume since 2006.
Auto sales in the U.S. grew 8% to a six-year high in 2013. The extremely cold weather led to a 3% year over year decline in U.S. auto sales in January 2014. However, in February of 2014 sales increased by 0.8% year over year and the outlook for 2014 remains good.
Toyota and Ford expect their growth rates to slow down in 2014. Ford expects the U.S. industry volume will range between 16 and 17 million units in 2014 while Toyota expects it to be about 16 million. Meanwhile, General Motors (NYSE:GM) expects industry sales in the range of 16 to 16.5 million in 2014. Comparing to of its two competitors the position of Ford's sales seems to be good enough to mark another growth year for the company.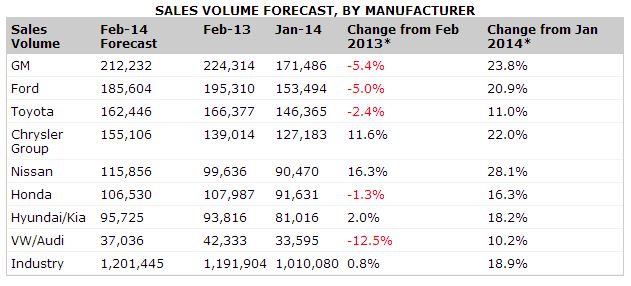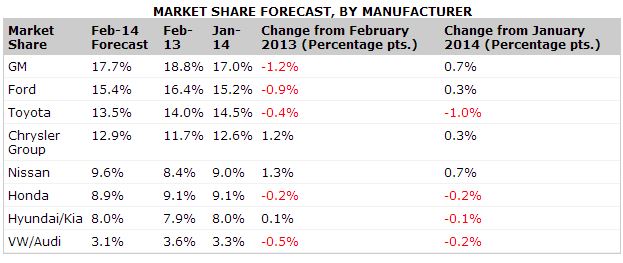 Source: Edmounds.com
Ford is the second biggest automaker in the U.S. and is on the right track to capture a bigger slice of the market. Recently Ford has mapped out a plan to build one-third of vehicles globally by adding more plants in the emerging markets, overhauling its production methods, and running most of its factories around the clock by 2017. The company is planning to boost its production capacity by 30% by the end of 2017. Another aspect of expansion is that Ford intends to operate around 80 factories and build nearly all its cars and trucks off nine platforms, down from the current 15 platforms. By that year, Ford factories will be able to build an average of 4 to 5 different models which is an increase from the current average of just over 3. By 2017 Ford will launch 114 new or modified vehicles worldwide.
The move to low cost regions is driven by the cost and demand factor. Ford has taken strategic measures to improve its profit margins by reducing production costs. The company is doing this by shifting its manufacturing facility to the emerging markets where the production costs are low and the demand in the automotive industry is increasing. For example China and South America will represent more than 50% of the growth in the global light vehicle production from 2008 to 2015. Ford is building 14 new factories as part of a global expansion that began in 2011 in countries like China and India. A new plant in the eastern city of Hangzhou that cost $760 million will have the capacity to build 250,000 vehicles annually and will open next year. Ford expects that its Chinese production capacity around that time will reach 1.2 million passenger cars, double the level of 2012.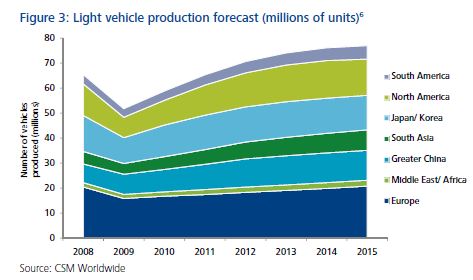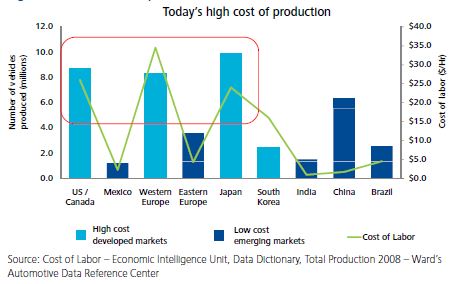 Source: Deloitte
China is the world's largest and fastest growing auto market. Between 2005 and 2011 China's automotive sector grew at a compound growth rate of 24%. A recent study from KPMG indicates that the Chinese market will continue to expand considerably and it is expected to account for 30% of global automotive sales by 2020 alone. The company is very keen on benefiting from this market and it is predicted by Ford's management that the company would sell one million units in China by the end of 2014. To achieve this target the company recently began expanding its research and development facility in China and increasing its work force by 50%.
Ford expects the Asia-Pacific region to account for 70% of its global growth in this decade and generate 40% of its vehicle sales in four to five years. The company expects its global sales to increase 50% to 8 million vehicles by 2015 on the back of the growth potential in Asia and the rising demand for small cars. The company anticipates small cars to account for 55% of the total sales by 2020. One-third of the small car sales will come from Asia. Ford projects compact car sales in India to reach about 2 million vehicles in 2018, almost double from the 2013 level.
Valuation and Conclusion
On the basis of fundamentals the stock is undervalued. Currently the stock is trading at a lower trailing twelve months P/E ratio of 8.9X compared to the industry average P/E ratio of 11.5X. Furthermore a forward P/E ratio of 7.9X is even more attractive for Ford and makes it cheaper relative to the industry. At the moment the stock is trading at a discount of about 23% compared to the automobile industry. The stock is trading at market value of $15.62 with an estimated fair value of $26 and an upside potential of 66.45%.
On the basis of all these facts, I will give this stock a buy rating.
Disclosure: I have no positions in any stocks mentioned, and no plans to initiate any positions within the next 72 hours.
Business relationship disclosure: The article has been written by a Blackstone Equity Research research analyst. Blackstone Equity Research is not receiving compensation for it (other than from Seeking Alpha). Blackstone Equity Research has no business relationship with any company whose stock is mentioned in this article.