One of the strongest developing megatrends is closely tied to the new American new energy revolution. The shale boom has sent oil and gas production to record highs but transportation infrastructure has failed to keep up. Master Limited Partnerships (MLPs) and general partner companies like Kinder Morgan Incorporated (NYSE:KMI) stand to benefit from an advantaged tax structure and strong demand for the foreseeable future. Where there was once doubt that the industry could convince regulators to grant licenses for natural gas exports, the recent conflict with Russia has driven the argument in the industry's favor.
This article is part of our megatrend series, a look at the trends that will drive markets over the next decade. Within each megatrend, we will focus on two companies with the potential to outperform. The idea is that, even if the individual companies fail to execute on their strategic plans, the overwhelming force from the megatrend should drive strong returns.
Last week, we highlighted Agrium (NYSE:AGU) and Potash Corp. (NYSE:POT) within the nutrient producer megatrend. While weak crop prices and a breakup in the oligopoly pricing structure for potash has limited returns lately, the demand for nutrients to meet production needs is only getting stronger. Both companies pay cash yields over 3% and have competitive margins and scale advantages.
The Megatrend with the Tax Advantage
The United States is on track to surpass Russia as the world's top oil producer by 2015 and the boom in shale gas has kept natural gas prices up to a fifth of what they are around the globe. The problem is the infrastructure to move these products and their derivatives is not keeping up. Transportation by rail is more expensive than through pipelines but regulatory hurdles and time to construct pipelines means infrastructure has lagged demand.
The best way to play this megatrend is through midstream master limited partnerships. These specially-structured companies hold the pipeline and storage assets but investors report the business profits and expenses on their own taxes. This results in a minor headache with a K-1 form at tax time but a huge tax benefit for the company, making it a more efficient way to operate the assets compared to a traditional corporate structure.
Midstream companies, as opposed to upstream companies which explore and produce and downstream companies which refine and retail the products, price their business mostly on the amount of products passing through the pipes or stored in facilities. This means success is less a function of commodity prices and driven more by volume, and that volume looks like it will be increasing for a very long time.
Pipeline acquisitions grew 54% last year to almost $42 billion as upstream drillers look for cash to fund exploration. Selling into a master limited partnership makes sense because the partnership can operate the assets in a tax-advantaged structure. Non-conventional shale plays deplete at a rate as high as 50% in the first year, meaning producers need a constant source of funding for drilling new wells. This need for capital expenditures to maintain revenue is driving asset sales of midstream assets.
MLPs spent an estimated $28.8 billion in pipeline and infrastructure investments last year, double the average over the five years to 2009. The high level of spending has limited distribution increases but once sufficient midstream infrastructure is in place, free cash flows could surge across the industry.
All the benefit, none of the tax headache
The K-1 form is not really that difficult once you learn what goes where and the tax benefits are great. I understand though that some investors don't want to mess with it. They want all the benefit of a megatrend income producer without the hassle. For that, Kinder Morgan Incorporated could be just the solution. The company receives incentive distributions from its general partnership of both Kinder Morgan Energy Partners (NYSE:KMP) and El Paso Pipeline Partners (NYSE:EPB) as well as 10% and 41% of the limited partnership interest in each entity. Management has an aggressive schedule to drop down the remaining assets to the two partnerships this year and will convert to a general partner.
Kinder Morgan is the 3rd largest energy company in North America (pdf) and the largest independent transporter of petroleum products. Through almost 70,000 miles of natural gas pipelines, the company is connected to every important resource play in the United States. Kinder Morgan has recently diversified its asset-base even further with the acquisition of American Petroleum Tankers (APT) and State Class Tankers (SCT). The tankers are chartered by major integrated oil companies and work on fee-based contracts.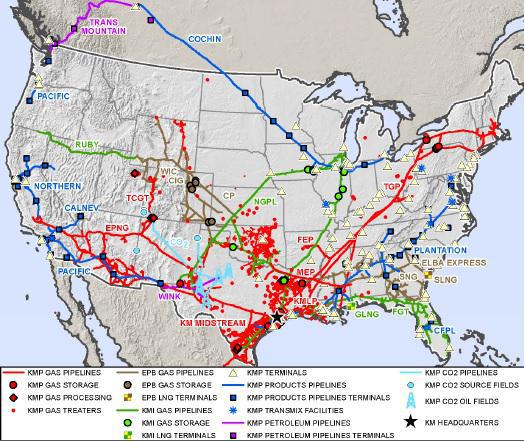 The company has a $14 billion backlog of growth capital projects, of which 90% are for fee-based services. Kinder Morgan spent over $40 billion in capital expenditures during the last 16 years with a return on invested capital of 13.9% over the last decade.
The shares pay a distribution of 5.1% and the partnership entity has increased its distribution by an annualized rate of 13% over the last 17 years. Management has set a compound annual growth target of 8% for dividends through 2017, assuming no major acquisitions.
Some risk for the return
The company is not totally immune to a drop in commodity prices. Management estimates that every change of $1 per barrel in the price of crude oil translates to a change of $7 million in distributable cash flow. For every $0.50 per MMBtu change in the price of natural gas, the company sees a change of $1 million in distributable cash flow.
Interest rates can also affect financial performance with a 1% increase in floating rates translating to an increase of $54 million in interest expenses. Besides the financial risks, the company is exposed to risks of regulatory changes around pipeline transportation and the risk of a change in the tax code.
One reason to thank Vladimir Putin
The recent tension in Ukraine is leading some to believe that the Energy Department may expedite reviews and approval for some companies to export liquefied natural gas. While even currently approved ports would not be ready to export until late-2015, and so would not help the current political tension, a stronger call for export approvals has emerged over the last several weeks.
Kinder Morgan and Royal Dutch Shell (NYSE:RDS.A) have filed an application with the Energy Department to export from the Elba Island LNG terminal. Kinder Morgan will own 51% of the partnership and manage the facility while Shell will have rights to all the liquefaction capacity. The terminal is expected to be able to ship up to 350 million cubic feet of gas per day.
I added shares of the partnership entity to my own portfolio in October and argued that the share price was as much as 36% below fair value of cash flows. Investors that want a stable dividend in a megatrend sector, but do not want the hassle of extra tax forms, should consider Kinder Morgan Incorporated as the best of both worlds.
Disclosure: I am long KMP, POT, AGU. I wrote this article myself, and it expresses my own opinions. I am not receiving compensation for it (other than from Seeking Alpha). I have no business relationship with any company whose stock is mentioned in this article.