On February 26th, shares of Tesla Motors (NASDAQ:TSLA) hit a high of $265 after strong 2014 guidance and the gigafactory announcement. Tesla was a big winner over the past year, trading for less than $35 a year earlier. Due to the transition of vehicles to Europe and Asia, Q1 deliveries will not match production for the quarter. As a result, revenues may not be as much as some had hoped. Additionally, the company will take on added expenses to grow the business, which will negatively impact earnings. Tesla shares have come off their highs recently, and some may wonder about the weaker Q1. Today, I'll examine how much weakness may be priced in, and detail what Tesla needs to do to get shares moving higher again.
Q1 weaker than Q4:
Tesla laid out its 2014 roadmap in its Q4 investor letter. As I mentioned above, production is expected to outpace deliveries by 1,000 vehicles in Q1, as the company needs to support Europe and Asian markets. The company expects deliveries to ramp up throughout the year as the pipeline is filled, and as production ramps up from 600 units/week currently to about 1,000 units/week by the end of the year. Expenses are expected to rise a bit as well as the company works on the Model X as well as building out its retail presence and supercharger network. In the following table, I've compared Tesla's Q1 2014 versus Q4 2013 and Q1 2013. Revenue and earnings numbers are non-GAAP.

*Production and delivery number from guidance in investor letter above. Revenue and EPS numbers are current analyst estimates.
In Q4, Tesla had non-GAAP revenues of $761.34 million, and the company had 6,892 deliveries. If you extrapolate those numbers out on the 6,400 deliveries expected this quarter, you get about $707 million in revenues. Current estimates are for $699.21 million, so Tesla would be ahead of that. For Q1, I think $700 million will be the "magic number" to look for. If Tesla comes in under that number, I think investors will look at Q1 as being weak. Sure, Tesla could make this up during the rest of 2014, but the short-term investors may be worried. I think if Tesla comes in over $700 million, those fears will be a bit less. Remember, Tesla says that production will improve significantly in the second half of the year. Analysts are currently looking for just $1.51 billion in revenues during the first half of the year, while the full year estimate stands at $3.64 billion.
Obviously, the earnings per share number is a bit more difficult to predict, as there are a lot more inputs. Deliveries and revenues are just part of it, as with the expense numbers. We know Tesla is going to invest heavily in the business. After a slight gross margin increase in Q1, the company expects gross margins to improve at a faster pace as the year goes on. Don't forget, the extra share count each quarter will negatively impact earnings per share. For calculating non-GAAP EPS (what analysts use), Q4 2013 had a diluted share count of 137.78 million, up from 113.76 million in the prior year period, as per the investor letter.
As you can see in the table above, analysts expect just a $0.14 per share non-GAAP profit in Q1. That number jumps to $0.28 in Q2, another basic double to $0.55 in Q3, and a sharp rise to $0.94 in Q4. Obviously, rising revenues and margins should help increase profits throughout the year. I personally think it will be tough to achieve some of the back half of 2014 numbers without a strong start to the year. I think that Tesla needs to see Q1 EPS in a range of $0.15 to $0.20 (non-GAAP), as a minimum if it wants to get those higher numbers throughout the year. If Tesla is below $0.15, I think you'll see a lot of estimate cuts for the second half of the year. But if Tesla comes in above $0.20 in Q1, you will probably see most estimates go above $2.00 for the year (estimate now is $1.90).
NJ and other states fighting back:
One reason cited for the recent fall in shares has to do with Tesla having to stop sales in New Jersey without a dealer. Starting April 1st, Tesla must stop sales as part of the state's Motor Vehicle Commission rule change that requires auto retailers to have a franchise agreement with an auto manufacturer to be granted a license to sell cars in the state.
So far, analysts only see this issue as a minor speed bump for Tesla. Wedbush maintained an Outperform rating and $295 price target, stating that "the company has relatively few sales in NJ, and customers can easily circumvent the rule change by purchasing vehicles online and taking delivery in other locations." Additionally, Baird maintained an Outperform rating and $245 price target, noting that NJ only contained two out of roughly 50-60 retail locations. The analyst there noted that short-term headline risk could knock the stock down, but that over the long term, the global opportunity will offset individual US state decisions. We might start to hear more US states coming out with this type of news, as New York is now looking at this current issue.
Short interest continued higher, so does share count:
When do the shorts give up? That's a question many continue to ask when it comes to Tesla. Tesla has been a heavily shorted stock in the past year. At the most recent update on short interest, we saw a rise in short interest of nearly 2.4 million shares. At the end of February, short interest stood close to where it did in the middle of January, just off the end of 2013 high. In the chart below, you can see Tesla short interest going back nearly two years.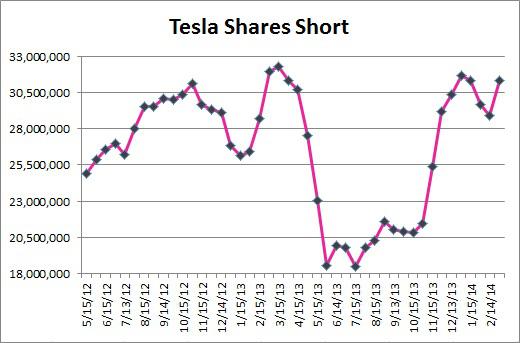 Tesla remains a highly shorted stock, but there is a key point to remember. The share count continues to increase each quarter, and that will continue as management is compensated through options, and Tesla's convertible debt is converted to equity. Until Tesla starts a buyback program, which is probably years away at this point, the share count will continue to rise.
As the 10-K filing shows, Tesla's outstanding share count ended 2013 at 123.09 million. That was up from 114.21 million at the end of 2012, a rise of almost 8%. Additionally, Tesla's float has risen throughout this process. Still though, Tesla has a large amount of shares short, with about 23.5% of the outstanding share count and 34.2% of the float shorted given Yahoo's share numbers.
Perhaps the recent fall in Tesla stock will encourage some shorts to get out, but these shorts may be hoping for a much large collapse. One thing is certain. If short interest in this name continues to be a large percentage of the float, it will continue to support the short squeeze case on good news. We saw large rises in shares after the Q4 deliveries pre-announcement and the gigafactory announcement. Short interest didn't exactly drop after those singular announcements, as more shorts probably came in at higher prices. But it seems like a gradual short covering, like the one we saw last spring, could lead to another slow but large climb in the stock.
Support at the 50-day?
When Tesla pre-announced Q4 deliveries in January, the stock was basically at its 50-day moving average. The rally that ensued pushed the name off the 50-day, and shares have been above it since. The rally to $265 widened the spread between shares and the 50-day. That spread has obviously narrowed with shares coming back down, plus the 50-day still rising. You can see Tesla shares over the past six months, against the 50-day moving average, in the chart below.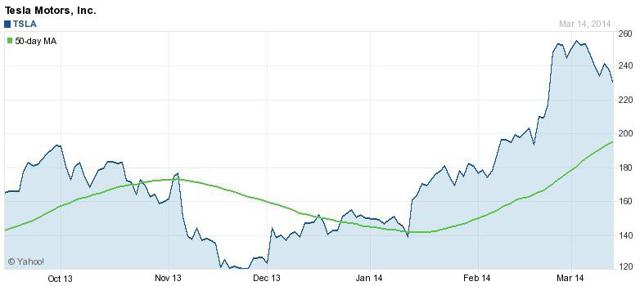 (Source: Yahoo! Finance)
The 50-day moving average should cross $200 at some point this week, and Tesla shares could eventually hit the moving average. If shares continue to retreat, you would think the 50-day moving average would be a key level of support. If Tesla does not bounce off the 50-day, the 100-day moving average would be in play next. That moving average currently is around $171 but is rising.
Final thoughts:
Tesla shares have pulled back recently over concerns about Q1 weakness along with some issues with US state sales. Still, the stock has been a big winner in the past year. Q1 is going to be a weaker quarter than Q4 due to some vehicle transitions to Europe and Asia, as well as increased costs. As 2014 continues, revenues, margins, and earnings are expected to improve. I'll be watching the $700 million revenue number and $0.15 to $0.20 non-GAAP EPS range for Q1. Those two numbers should provide some sort of insight into the rest of the year. Additionally, short interest remains high, which will continue the short squeeze argument for some time. I said in my prior article that investors could wait for a pullback, and one has certainly come. Shares might not find support until they reach the 50-day moving average, which is still a bit below current levels. While there could be some near term choppy trading, I think the Q1 report will be the next major test. If that report is good, I maintain my view that $300 could be reached at some point this year.
Disclosure: I have no positions in any stocks mentioned, and no plans to initiate any positions within the next 72 hours. I wrote this article myself, and it expresses my own opinions. I am not receiving compensation for it (other than from Seeking Alpha). I have no business relationship with any company whose stock is mentioned in this article.
Additional disclosure: Investors are always reminded that before making any investment, you should do your own proper due diligence on any name directly or indirectly mentioned in this article. Investors should also consider seeking advice from a broker or financial adviser before making any investment decisions. Any material in this article should be considered general information, and not relied on as a formal investment recommendation.