We're more than two months into 2014 already, but that still leaves a majority of the year remaining. One interesting name to watch this year is cigarette giant Philip Morris (NYSE:PM), which I cover extensively for this site. This year is going to be a transitional year for the company, as it looks to get into new product lines towards the end of the year and into 2015. This will result in an "investment year", which the company said will impact earnings. There are a lot of questions to ask regarding Philip Morris, and today, I'll break down some of the key questions and my view on these issues.
How bad will the currency hit be?
One of the biggest issues in recent years for the company has been currency headwinds. Being an international company that operates in more than 180 markets, currencies are going to have an impact on the business. In 2012, the company's earnings per share were negatively impacted by $0.23 due to currencies. During the first half of 2013, the bull camp was hoping that currencies would reverse soon and that currencies would become a tailwind. That didn't happen, and the currency loss widened to $0.34 a share in 2013.
Back in November, Philip Morris announced that 2014 earnings would be weak due to 2014 being an investment year. That's completely understandable, and caused analyst estimates to come down a bit. More on those later. But the real surprise may have been the company's guidance for the 2014 currency hit. When Philip Morris announced Q4 results, the company forecasted a $0.71 per share hit from currencies. That's more than double the hit taken in 2013, and has caused estimates to drop even more. Again, the company is forecasting currency-neutral EPS to rise by 6% to 8% this year. That's lower than the low double-digit target the company has, which it expects to return to in 2015.
As I stated above, 2014 has a lot of time left. The company said that its initial 2014 forecast was based on prevailing currency rates, so I would almost guarantee that $0.71 won't be the exact hit when all is said and done. The question is, which way do they go? Currencies will impact earnings per share, which also means that net income and free cash flow are impacted. Free cash flow was hit by $420 million last year thanks to currencies, so that hit could be near $1 billion this year. Hopefully, the impact isn't as bad. Higher-than-expected net income and free cash flow could be positive for the dividend, buyback, or additional business investments.
How much higher does the debt pile go?
One concern investors have had over time is the company's debt pile, which has grown tremendously. While I was never tremendously worried about the rising debt amount, I did fairly point out that the balance sheet was getting weaker. In recent years, Philip Morris has taken out a lot of debt, and investors were rewarded through stock buybacks. In the table below, I've compiled some key balance sheet numbers since the end of 2010. Dollar values are in millions.

*Liabilities-to-assets ratio.
Net debt finished 2013 at more than $25.5 billion, up from less than $20 billion at the end of 2012 and $14.8 billion at the end of 2010. At the same time, the share count has come down nicely thanks to the buyback. The company used low interest rates to its advantage, partially to buy back shares with dividend yields higher than the interest rate it was paying for debt. The good news is that a large part of the company's debt isn't due until 2019 or later, so investors shouldn't have to worry that much in the next few years.
With the debt amount rising a bit in 2013, plus 2014 being an investment year, the company decided to scale back the buyback to $4 billion in 2014. Initial expectations were for $6 billion under the current 3-year, $18 billion plan. The company doesn't want to put its credit rating at risk by issuing a lot more debt, so this is a smart move to scale back the buyback until results improve a bit. To view all of the company's debt information, see pages 50-51 of the 10-K exhibits.
I think there may be an opportunity for Philip Morris in regard to some of its debt during 2014. With the 10 and 30-Year US Treasury rates coming a bit off their highs recently, Philip Morris should look to refinance some of its debt if possible and if the math works financially (depending on any early repurchase details). The company had $1.25 billion of debt (face value) due in March 2014, with an interest rate of 6.875%. Even if the company doesn't pay that back this month, that issuance could easily be refinanced at a lower rate. Here are a couple of other debt issues I would look to refinance, if possible:
$2.5 billion face value, due May 2018, interest rate 5.650%.
$1.0 billion face value, due March 2020, interest rate 4.500%.
$1.5 billion face value, due May 2038, interest rate 6.375%.
These are just three examples that I think could be potentially refinanced at lower rates. There are also some Euro notes that fit the bill. Think about it this way. A reduction of 25 basis points in interest on $1 billion in debt is $2.5 million dollars saved a year, pre-tax. If you can do that on a couple billion in debt, over a decade or longer, it adds up. Additionally, the company could push its maturities back a couple of years. Especially with that May 2038 issue above, if the company could issue 30-year notes now at 5.000% or less, the savings could be tremendous over 30 years.
I do think that the debt pile will rise again in 2014, but not at the rate we saw in 2013. I would look for the net debt number to rise towards $30 billion by the end of 2014. As I mentioned above, refinancing some debt could be a good strategy, and the company should examine all of its options. The cost savings might not be tremendous up-front, but in the long run, they could really add up.
What's the dividend raise?
A lot of Philip Morris investors care most about the dividend. The company recently declared its $0.94 quarterly dividend, and you still have a week or so to get in on it. Since the spin-off from Altria (NYSE:MO) a few years ago, the dividend has risen nicely, more than doubling from $0.46 per share. As of Friday's close, the current $3.76 annual payout represents an annual yield of 4.71%. This is a nice yield, but as you can see from the chart below, it does trail domestic peers, such as Lorillard (NYSE:LO), Reynolds American (NYSE:RAI), and Altria.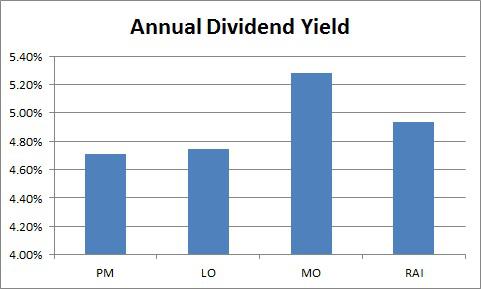 Generally speaking, Lorillard and Reynolds raise their dividends early in the year, and Altria and Philip Morris have raises later in the year. Since my last update on Phillip Morris, all of these names have seen rises in stock price, pushing their yields lower. Rumors of Reynolds acquiring Lorillard has pushed those two names a bit higher. Philip Morris shares are up the least since my last update. That means that Philip Morris' yield has declined the least, and thus, its yield is getting closer to the other three names.
Investors will be expecting a solid dividend raise in 2014, and there are a couple of factors to examine. First, at the end of 2012, the company had approximately 1.654 billion shares outstanding. At the end of 2013, that was down to 1.589 billion, a little less than 4% decline. Those are end-of-year numbers, and the company will probably look at the mid-year numbers when Q2 is reported, probably sometime in July. With the buyback slowing down, the outstanding count may not come down as much from Q2-2013 to Q2-2014. It still will come down, however. The last two dividend raises have been over 10%, basically 10.4% in 2012 and 10.6% in 2013. Given the company's decision to slow the buyback down, focus a little on debt, and have 2014 be an investment year, I would not expect a large raise this year. Right now, I'd target a $0.06, or 6.38% raise to $1.00 per quarter as the raise, and take anything over that as a bonus. I've also stated that over the next few years, I expect a little more money to be funneled to investors via the dividend rather than buybacks. However, I think 2014 may not be a tremendous dividend raise, for the reasons listed above. Even so, a raise to $1.00 would put the annual yield over 5% if shares are trading below $80.
Where do things stand now?
Since I've already covered a lot of information, this won't be my usual full financial/numerical update on the cigarette space, like my last article was. I'll probably do one of those at the end of the month or in early April to detail where quarterly expectations stand going into earnings season. For now, though, I will do a quick update on forecasts and valuations. In the table below, I've compared growth and valuation numbers for 2014 for the four names.

Since my last update, there haven't been any major analyst estimate changes. Philip Morris has seen its analyst revenue average edge up slightly, and so has Lorillard. Reynolds has seen its revenue and earnings forecasts trimmed a little. The key here is that the premium Philip Morris trades at has come down a bit, since the other three names have rallied a bit recently. In my last update, Philip Morris traded at a 21.64% premium on P/S for 2014, and that number is now 14.79%. On 2014 P/E, the premium has dipped from 10.83% to 4.14%. Philip Morris looks a bit more reasonable as compared to the others now, as opposed to my last update.
Like I've said in recent articles, Lorillard remains the best growth name in this space due to the company's success with e-cigarettes. That's a reason why you hear the rumors about other names interested in Lorillard. Obviously, Philip Morris is not expected to have a good year, but with expectations low, there is room for the company to beat. Once we get into 2015, Philip Morris' growth story should be back on track.
A stock under pressure:
Although they are off their recent lows, Philip Morris shares have been trending lower since the "warning" in November about 2014. Investors looked at the investment year as a reason to sell, and shares dropped from the low $90s to $75 before recovering a bit. As shares started to fall and kept falling, it dragged the moving averages lower, as you can see in the chart below.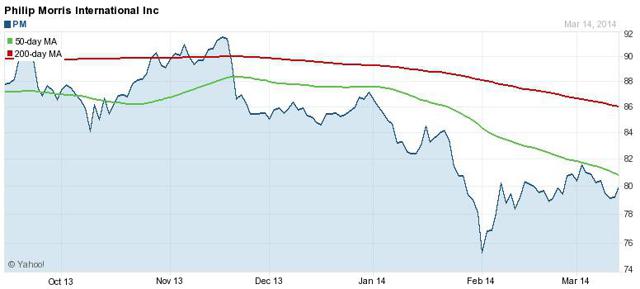 (Source: Yahoo! Finance)
Philip Morris shares have been unable to break back above the 50-day in a meaningful way since breaking through that level in late November. That moving average has been a ceiling for the stock, as you can see above, and I don't expect that to change until we get some positive news from the company. For now, I feel that the stock will be trapped under the 50-day until we see the 50-day start to level off a bit. Perhaps the Q1 report will be the key to getting this stock going again.
Final thoughts:
Philip Morris has a number of questions to answer in 2014, and today I provided my thoughts on some key issues. Currencies will be a major issue for the company, even more so than in previous years. The debt pile looks like it will rise again, but the company seems determined to keep an eye on the rise. Investors will also be expecting a dividend raise later this year, and I'm guessing a smaller raise is coming. In the end, Philip Morris shares have fallen as investors expect a down year, and shares may not recover until conditions start to improve. Until then, investors will appreciate the solid dividend and company buyback.
Disclosure: I have no positions in any stocks mentioned, and no plans to initiate any positions within the next 72 hours. I wrote this article myself, and it expresses my own opinions. I am not receiving compensation for it (other than from Seeking Alpha). I have no business relationship with any company whose stock is mentioned in this article.
Additional disclosure: Investors are always reminded that before making any investment, you should do your own proper due diligence on any name directly or indirectly mentioned in this article. Investors should also consider seeking advice from a broker or financial adviser before making any investment decisions. Any material in this article should be considered general information, and not relied on as a formal investment recommendation.