"You have got to buck up, man. You cannot drag this negative energy in to the tournament!"
Intel (NASDAQ:INTC) is bringing negative energy into the proverbial tournament. It simply has got to shake this bad mojo. And they will; I guess it's just going to take a little more time.
The company, although still up 14.6% over the last twelve months, continues to look lethargic in trading.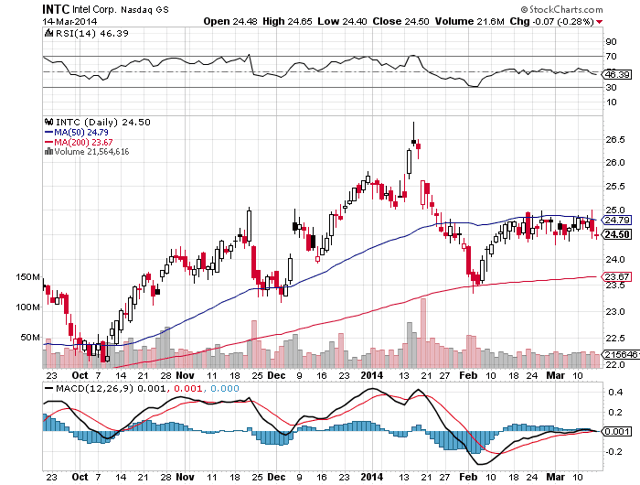 Click to enlarge
Since the beginning of 2014, it's off 5.6% - part and parcel with the way the major markets have been trading.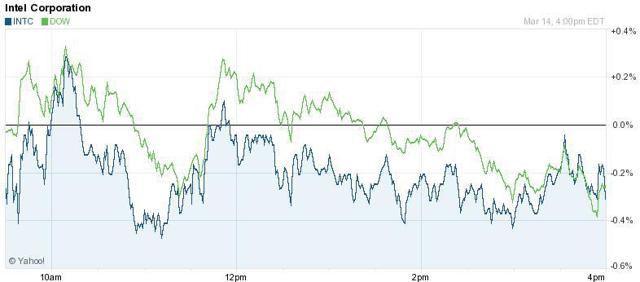 Click to enlarge
As a long, I see the company in a quicksand of sorts that it keeps trying to pull itself out of. As soon as it seems to make a little progress over the past year, it is hit by something negative - whether it be increased costs, a slumping PC market, or being outdone in mobile/tablet yet again.
I just thought Intel had been turning a corner. I recently wrote about Intel working to "steal Apple's mojo" by being its sole provider for upcoming biometric and smartwatch products that the company is likely to start producing. I left that article, 6 days ago, feeling refreshed and good about my perma-long position in Intel.
So, naturally, it didn't surprise me when I read the following piece in the San Jose Mercury News Business Section this morning on the slowing smartphone industry:
The smartphone business has generated staggering wealth for companies such as Apple and triggered a recent scramble by Hewlett-Packard and Intel to try for a piece of the action.

But it now looks like its best days may be behind it, a troubling trend for companies here and elsewhere that have hitched their fortunes to the smartphone juggernaut. Although smartphones remain wildly popular, their sales -- about $338 billion last year -- are growing at a slower pace and their prices are dropping fast, making it harder to wring a profit from them.

That comes at the worst possible time for Intel, HP and other Silicon Valley companies whose businesses heavily depend upon the personal computer. With PC sales dwindling, they've been urgently seeking ways to tap into the smartphone boom, but some analysts think they may be too late. Even mighty Apple is considered at risk because it gets the vast majority of its revenue from the iPhone.
This is not the news that Intel, nor its shareholders want to hear. The company's Achilles heel thus far has been its inability to get its processors into mobile in a timely fashion, and with the market seemingly slowing growth, people will wonder "is it too little too late?"
No, it's not too late. And, a lot of my confidence stems from the massive cash resources and experience in the sector that Intel holds as a competitive advantage to those who are potential competitors in continue to develop chips.
From the same article, it notes that the company doesn't seem to think it'll be effected from this - citing that electronics have always gone through a period of slowed demand and decreased pricing.
I tend to agree with that sentiment. Intel, for me at least, remains a marathon, not a sprint.
For those looking for a quick 20% scalp, or a trade of the likes, Intel isn't the stock you want to be in. The company has tons of work ahead of it to do, but I contend remains a good vehicle for your investment in the interim for a couple of reasons:
You can "set it and forget it", like the Showtime Rotisserie Grill. You can put your money into Intel and forget about it while collecting dividends.
If you use a DRIP program, the lower Intel dips, the higher your dividend yield.
Long-term, Intel is going to be just fine.
This is one of the reasons I recently called Intel one of 3 dividend payers to buy if markets continue to dip. In addition to the above presented argument, I cited the following reasons for giving Intel a "buy":
So far, in 2014 the company has kept to its leaked roadmap of processor enhancements.
The company continues to focus on mobile and tablet, as well as its Quark series to establish a foothold in mobile and biometrics.
The company's relationship with Apple remains firm.
Recent incentive plans brought on have employees focused on driving the results necessary to positively increase the stock price.
I'll remain long on Intel, holding my position and potentially adding to dips over the coming weeks.
Best of luck to all investors.
Disclosure: I am long INTC. I wrote this article myself, and it expresses my own opinions. I am not receiving compensation for it (other than from Seeking Alpha). I have no business relationship with any company whose stock is mentioned in this article.