I wrote about Las Vegas Sands (NYSE:LVS) back in December 2013, stating that the company is set to reap benefits from strong growth in Macau. I also pointed out that the other stock to keep an eye on is Melco Crown (NASDAQ:MPEL), which is also delivering strong growth and is expected to outgrow its competition on new Macau projects. Recent developments warrant an even more favorable outlook, as the growth expectations have risen since December, and Macau continues to grow ahead of analyst expectations. My opinion is that Las Vegas Sands and Melco Crown are the best positioned companies in Macau, and investors should continue to see continued growth of their share prices.
Latest growth trends in Macau
Macau gaming revenue rose 40% in February, as traffic around Lunar New Year holiday exceeded expectations, and the revenue was ahead of analyst estimates for 29% to 35% growth. More than 770k mainland Chinese visitors traveled to the city during the holidays from January 31 to February 6, a 23% increase from last year, representing sharp growth acceleration over January's 7%, which was the slowest growth since October 2012. Gaming revenue growth trends are so far favorable in March, with 16% Y/Y growth in the first nine days of the month, according to an estimate from Wells Fargo. Analysts are expecting 13% to 18% growth in March. Citi expects gaming revenue to rise 22% this year, as demand stays strong from the China Mainland and as there is tight supply of casinos in the region. This bodes well for Melco Crown and Las Vegas Sands, as well as other companies that are operating in Macau, such as Wynn Resorts (NASDAQ:WYNN) and MGM (NYSE:MGM).
Comparing the strengths and advantages of Melco Crown and Las Vegas Sands
While Las Vegas Sands will use the last of its Macau land to open its Parisian complex, which is slated to open at the end of 2015, Melco is set to start the second expansion phase in Macau starting in early 2015. Studio City is on track to open in mid-2015 and Tower 5 at City of Dreams in Macau is making progress toward its late 2016, early 2017 opening. This puts Melco in a better position to outgrow Las Vegas Sands and other peers in 2015 and beyond.
On the other hand, Las Vegas is gaining market share in Macau and has the strongest growth and margins in Macau. Las Vegas Sands is also expected to continue to be the leader in Macau on hotel capacity by 2017, with 44% of all gaming operator hotel rooms.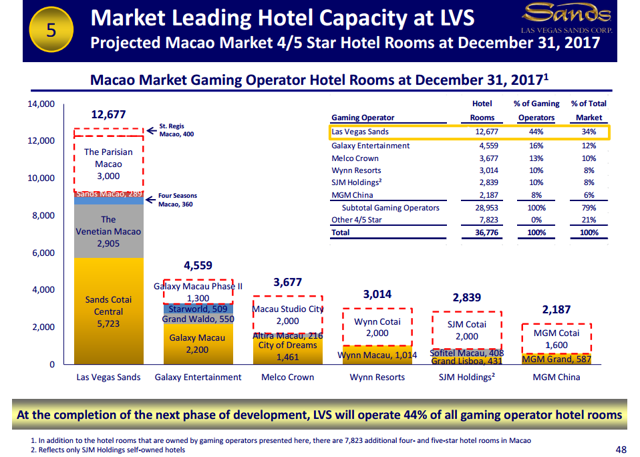 Source: Las Vegas Sands Q4 report presentation
Valuation and peer comparisons
When valuation and growth trends are compared, Melco Crown and Las Vegas Sands are the ones with the most favorable numbers, as compared to MGM and Wynn Resorts. MGM has the lowest P/S ratio and EV/EBITDA, but its revenue growth is almost non-existent, and the company has not been profitable in 2013, although it is expected to become profitable in 2014 and to deliver strong EPS growth in 2015. However, most of the green fields in the table below, which mark the best number in the peer group, belong to Melco Crown and Las Vegas Sands.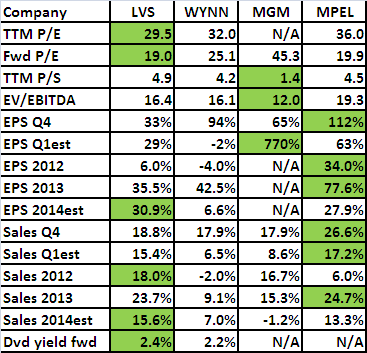 Source: Yahoo! Finance
Conclusion
My opinion is that there is no clear winner here, and that investors should own both stocks if they want exposure to casino stocks. Las Vegas Sands is the dominant player in Macau, while Melco Crown is set to outgrow its competition in the following years, as it opens new locations in Macau. Both companies also intend to enter the Japanese market if legislation is passed there, which will enable them to gain significant exposure there and grow their top and bottom line and deliver more value to their shareholders.
Disclosure: I have no positions in any stocks mentioned, but may initiate a long position in MPEL, LVS over the next 72 hours. I wrote this article myself, and it expresses my own opinions. I am not receiving compensation for it (other than from Seeking Alpha). I have no business relationship with any company whose stock is mentioned in this article.