Bank of America (NYSE:BAC), what am I going to do with you?
Part of me feels conflicted penning an article about BP (NYSE:BP), and why I'm staying away from the oil and gas company due to its pending legal liabilities - and then going back to my year-old argument for Bank of America that the company's legal issues are going to be "one and done" once settled, and are nothing really that I'm worried about.
Call it a hunch, a guess.
Despite having a rough week last week, where the macro markets obviously pulled BAC down - the stock continues to perform well - up 7.9% since 2014 alone, and up 33.7% in the last 12 months.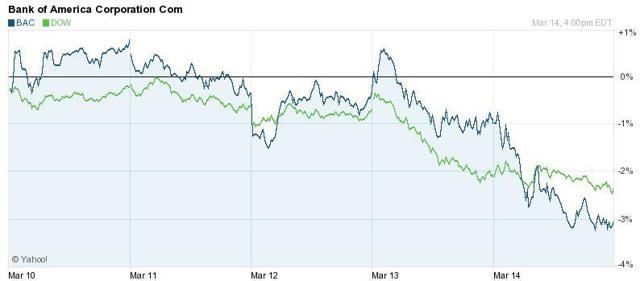 Those who read me know that I'm a perma-bull on Bank of America, and more than happy with the job that Brian Moynihan has done as the company's CEO over the past few years. The very last piece in the puzzle for me is going to come after the bank passes its stress test and (hopefully) raises its dividends.
Here's three things that BAC investors need to know for where BAC currently stands.
1. Don't "Stress" the Dividends, They're Coming
Those of you that read me often know that there were three stocks I was predicting would implement dividends in 2014: Ford (NYSE:F), General Motors (NYSE:GM), and Bank of America. But, alas, while the latter two have done their part, we've seen another quarter go by as BAC shareholders, where the preferred holders make their dividend, and us common folk get our penny a share.
BAC is expected to get the results of its stress test back on March 26th, less than 10 days away. As a product of these results, the street is expecting BAC to implement a higher dividend for its common shareholders and increase the bank's current stock buyback.
What are the CCAR stress tests?
The Comprehensive Capital Analysis and Review (CCAR) and Dodd-Frank Act (DFA) stress tests are regulatory tools the Federal Reserve uses to ensure that financial institutions have robust capital planning processes and adequate capital. CCAR is an annual exercise by the Federal Reserve to ensure that the largest bank holding companies have sufficient capital to continue operations throughout times of economic and financial stress and robust, forward-looking capital planning processes that account for their unique risks. As part of the CCAR, the Federal Reserve evaluates institutions' capital adequacy, internal capital adequacy assessment processes, and their plans to make capital distributions, such as dividend payments or stock repurchases. DFA stress tests are forward-looking exercises conducted by the Federal Reserve and financial companies regulated by the Federal Reserve to help ensure institutions have sufficient capital to absorb losses and support operations during adverse economic conditions.
If you own BAC warrants, you're going to want to read this excellent article by Adam Jones published just this morning on warrant strike price adjustments that come with the bank implementing a dividend over $0.01.
2. The Legal Mess Will End - Eventually
Last we heard on the legal front, it's starting to seem like every time BAC takes two steps forward, it takes one step back. While continue to pummel through legacy legal issues related to the 07-08 subprime crisis, we've seen the bank just recently disclose two new investigations; one by the U.S. Attorney General's Office of NY and also by "government authorities in Europe and Asia". The Charlotte Observer reported:
Bank of America disclosed Tuesday that it is the subject of two investigations by authorities inside and outside the U.S.

In a filing with the Securities and Exchange Commission, the Charlotte-based bank said the civil division of the U.S. Attorney's Office for the Eastern District of New York is investigating its compliance with the Federal Housing Administration's Direct Endorsement Program.

Under the program, FHA-approved lenders can underwrite FHA-backed mortgages without prior review by the U.S. Department of Housing and Urban Development. Federal fraud lawsuits have been filed against other big lenders in recent years, alleging "reckless" practices under the program.

In the same securities filing, Bank of America said government authorities in North America, Europe and Asia are investigating the bank's "conduct and practices" in certain foreign exchange markets "over multiple years."

The disclosure comes as other banks are probed over potential manipulation of foreign-exchange markets. Authorities in multiple countries have examined possible manipulation in the U.S., U.K., Switzerland and Hong Kong.

Bank of America said it is cooperating with both investigations. A spokesman declined to comment beyond the SEC filing.

Also Tuesday, Bank of America said it has boosted its estimate of potential litigation-related losses to $6.1 billion, an increase of $1 billion over its previous estimate. The losses would be beyond what the bank puts into its legal reserves to cover litigation-related costs.

Bank of America has paid more than $50 billion in litigation costs since the financial crisis. Much of the costs resulted from legal issues stemming from Countrywide Financial Corp., which the bank bought in 2008.

The bank said litigation expenses were $6.1 billion last year, up from $4.2 billion in 2012. The figures represent funds spent on settlements.
So, yes, while the bank's legal fees continue to pile up, there's many things that differentiate this from a BP situation, where legal woes would give me pause about investing. First, in a case like BP, we are dealing with a smaller balance sheet. Not that either one of them isn't filthy loaded, but BAC has about $1.8 trillion more in assets than a company like BP. So, it's in another league there.
Additionally, BAC seems to be getting somewhere, where BP seems to be spinning its wheels in court. At least BAC has put some of its issues behind it, even though it has cost a fair amount. But, again, you only have to do it once.
Until Moynihan gives me a reason not to, I'm going to trust that the bank is going to be able to deal with this litigation and come out of the other side of it stronger.
3. Automation is King
After penning a couple of articles last week on Intel (NASDAQ:INTC), Apple (NASDAQ:AAPL), and the effects of being on the front line of the adoption curve in any business, it seemed like a good segue to touch on some new Bank of America news that I don't really mention as often as I should. This information, while important, is generally considered as part of my supplemental bullish argument on the bank.
You may have noticed the prevalence of automated checkout machines at your food store, automated stamp machines at the post office, automated electronic blackjack dealers at the casino, and automated everything machines at - well, everywhere. At its core, this is a smart move for people who run a business - one employee can look over four machines instead of needing 4 employees for 4 machines to manually scan out groceries. It's about efficiency.
"Here I was, I thought I was a comedian. Evidently, I also work at a grocery store! Holy s***, I can't believe I forgot my apron!"
While there is an argument for not using such technology, it's only a matter of time before it's everywhere, replacing humans with much less chance of committing any of the wide array of actions that are human errors.
I had written in the past about Bank of America starting to institute ATM machines with more functionality than "normal" ATMs. Yes, other banks are starting to do this, but Bank of America has consistently been on the forefront of the automated banking rush. It was one of the first to accept checks at ATMs, allow people to scan in checks to deposit, and it's continuing to move forward with new virtual tellers.
Fox Business reported on Bank of America's virtual tellers:
ATMs are getting a human touch. Virtual tellers are being offered by Charlotte, N.C.-based Bank of America and Pittsburgh-based Dollar Bank. Along with just dishing out cash, this new breed of ATMs lets you speak with a teller. You simply push a button at the ATM and the teller appears on a video screen. You can deposit checks and get cash back, withdraw odd amounts like $1 in cash or get Spanish translations.

Bank of America has 150 of these virtual tellers in the U.S. ATMs currently don't serve people's needs, says Christian Mande, e-commerce channel executive at Bank of America. This new breed of ATMs provides convenience, speed and access. Bank of America, Wells Fargo and several other banks already offer talking ATMs for the blind.
And now, the bank is also taking a page out of the ING (ING) book with its approach to checking. It's trying to add to revenues by charging $4.95/month for a checking account and go down the route of "checking without checks". These days, how many checks do you really wind up writing? I can pay everything, including my mortgage, directly from any debit or credit card with Visa (NYSE:V) or MasterCard (NYSE:MA) logo.
So, the "no check" part shouldn't be too much of an issue. It's going to be whether or not lower income customers will subject themselves to a $4.95/month fee to have a checking account.
The Washington Post reported:
Big banks have wrestled with how to serve customers who keep low balances. They tend to have lower incomes and less of a chance to qualify for mortgages, auto loans and other products that earn money for banks. Customers with low balances usually bear the brunt of bank fees--a charge for having an account, a charge for overdrawing the account.

In the last few years, big banks, like PNC and JPMorgan, have used prepaid cards to reach this group. But Reiss said Bank of America preferred a more traditional approach that would give customers full access to the financial system.

Greg McBride, senior analyst at Bankrate.com, says the bank made the right choice.

"Call me old fashioned, but if you're going to build wealth and save and invest for the future, you need to be part of the traditional financial system," he said.

But a checking account without checks? Novel, but not new. Remember the crop of online banks that popped up in the 2000s with the promise of high interest rates on savings accounts (THINK: ING)? Most of them offered checkless checking accounts as well. But few, if any, megabanks have gotten in on the action, until now.
The point is that the bank is trying to stay on the front-end of the adoption curve for changes in how people bank, and I believe this is going to serve it well in the long run.
Conclusion
Bank of America's success over the past few years has been due to efficiency. Those watching the bank may have noticed that the bottom line continues to improve, even amidst the waning top line growth. The reasoning behind this is that the bank continues to make targeted cuts (mostly in its mortgage division) and close certain branches.
For the bank, success will continue to be about efficiency as the bank moves forward with its new ATM technology.
Additionally, as litigation continues to churn its way through BAC's legal department, the bank gets a step closer to becoming free of major issues.
Third, the bank will begin offering a bit of insurance to invest in the form of a dividend for investors, which will likely catapult some capital into BAC stock.
I remain long and strong Bank of America, reserving my right to add at any time.
Disclosure: I am long BAC, INTC, F, GM. I wrote this article myself, and it expresses my own opinions. I am not receiving compensation for it (other than from Seeking Alpha). I have no business relationship with any company whose stock is mentioned in this article.