I wrote my last article on Ford (NYSE:F) nine days ago. It was titled "Ford Can't Stay This Cheap Forever". The article came on the heels of continuous good news from the UK in terms of auto sales and a winter that isn't showing signs of it - but one that we know has to eventually end.
One of the major points that I was trying to make from my last article was that Ford's stock - for whatever reason, technical moves, macro market indices - continues to slump downward as the good news continues to come in for the automaker.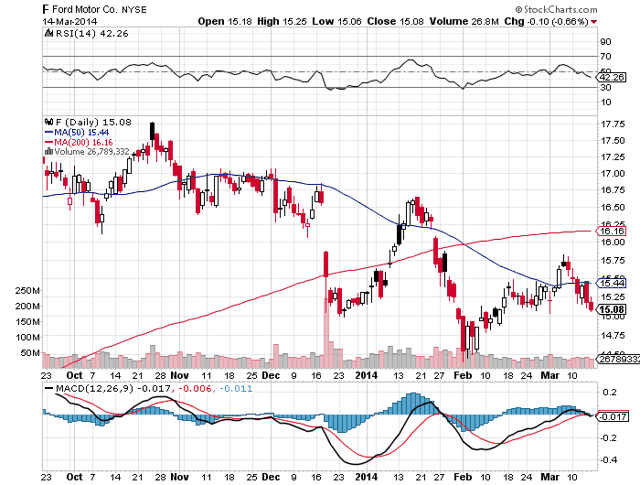 The slump could be a product of rival General Motors (NYSE:GM) and the surrounding headlines regarding GM's ignition switch recall. But, the days since my last article have hardly been ceremonious for Ford.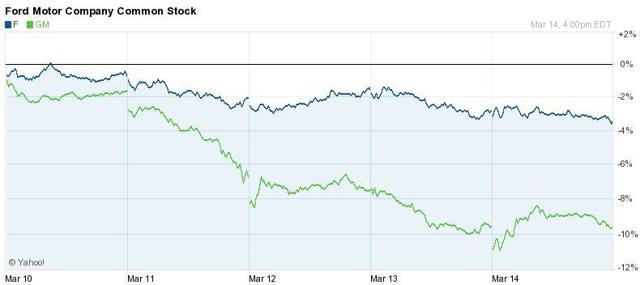 Source Yahoo Finance
So much of my original thesis on Ford was that it, like GM, was going to be able to drive growth globally for itself. So far, both companies - even in the midst of the current GM headlines - have been able to do so. With a current Beta of 1.35, Ford's slumping could also be due in part to the Dow lagging over the past two weeks.
Source Yahoo Finance
But, as long as the fundamentals are there, I continue to feel that Ford is a buy as it aimlessly drifts lower. Yet again, on Friday, my reasons for being long Ford got another shot in the arm.
Ford reported European sales in February that continued to outpace market growth:
Ford European sales rose 11.6 percent in February, outpacing the industry's 8 percent improvement year-over-year. It was Ford of Europe's ninth straight month of year-over-year sales increase
Ford increased total market share, retail market share and commercial vehicle market share in February
Ford's commercial vehicle (CV) sales volume rose 15.8 percent in February; Ford's CV market share, at 9.7 percent for the first two months of the year, was its highest in 16 years
New Transit two-ton now on sale, one of 10 new Ford vehicles being launched in 2014
In addition, the NY Times is reporting that the European auto market continues to strengthen:
European auto sales rose in January, their fifth straight month of gains, an industry report showed Tuesday, as the Continent's mass-market automakers led a modest but broad expansion.

New car registrations, a proxy for sales, rose 5.5 percent compared with January 2013, the European Automobile Manufacturers Association reported from Brussels. Sales were led by Volkswagen, Renault and PSA Peugeot Citroën.

The January figure, largely in line with expectations, added to growing confidence that Europe's auto market has finally passed the worst, as buyers - many driven by a need to replace older models - return as the economy slowly recovers.

Although the market has now been ticking steadily upward since bottoming out in August, the association cautioned that in absolute terms, the roughly 936,000 vehicles sold in January represented the second-lowest volume recorded since it began tracking the data in 2003. That means the January 2013 figure was the lowest and thus a low base for comparison.
So, as the sector continues to right itself, prospects globally continue to look good for the U.S.-based automaker.
In addition, dare I say it, we are starting to really pull into the tail end of this winter. I know I've been saying that for a month, but for god's sake, it's now March. As temperatures warm up and consumers unthaw themselves, Ford (and GM) should see a rise in domestic sales in the coming months.
As such, I continue to advocate buying Ford on the dips, as I will likely be doing, and keep my price target for Ford at over $20.
Best of luck to all investors.
Disclosure: I am long F, GM. I wrote this article myself, and it expresses my own opinions. I am not receiving compensation for it (other than from Seeking Alpha). I have no business relationship with any company whose stock is mentioned in this article.